July 16, 2012
2011-12 Season - Vikings 2012-13 schedule will be tough once again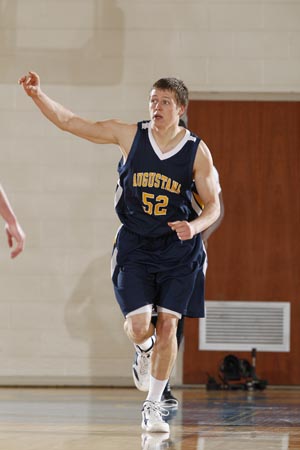 Senior Brandon Kunz and his Augustana teammates will once again tackle a rugged schedule in the 2012-13 season. The Vikings will open the campaign with three straight road games including the season opener on November 15 at Aurora.
Coach Grey Giovanine's Augustana men's basketball team, which graduated six seniors from last year's 19-7 squad, will be tested with three road dates right out of the gate in 2012-13. This year's schedule has been announced and the Vikings open on Thursday, November 15 at Aurora, followed by contests at St. Norbert on Tuesday, November 20 and the University of Chicago on Saturday, November 24.
"Once again we are playing a schedule that will provide great challenges and opportunities for a team that will be inexperienced and I think, exciting to watch as the season unfolds," said Giovanine, who has compiled a record of 245-100 (.710) in 13 years at the Vikings' helm. His Augustana teams have won five College Conference of Illinois & Wisconsin titles and participated in four NCAA Division III national tournaments.
The rest of the 11-game non-conference slate includes nine opponents Augustana faced a year ago. The two new foes will be Wisconsin-Platteville, whom the Vikings face in their home opener on Tuesday, November 27 and Loras, which visits Carver Center on Thursday, December 20.
After hosting UW-Platteville, another Wisconsin Intercollegiate Athletic Conference squad, Wisconsin-Oshkosh, comes calling two days later. The Vikings will play their third straight home contest on December 5, when St. Ambrose visits Carver Center to renew the long-running Quad City rivalry. The Bees went 25-9 last year, won the Midwest Collegiate Conference, reached the NAIA Division II national tournament in Point Lookout, Missouri and finished 17th in the final national poll. Augustana will then hit the road to face yet another WIAC member, traveling to Wisconsin-Stevens Point, which finished 20-8 a year ago and reached the NCAA Division III tournament.
The College Conference of Illinois & Wisconsin portion of the schedule will include six games against three 2011-12 NCAA tournament participants, all of which finished the season ranked 16th in the nation or higher by D3hoops.com. Defending regular season and conference tournament champion North Central hosts the Vikings on January 12 and visits Carver on February 9. Wheaton, which finished second in both the CCIW regular season and tournament, will play at Augustana on January 16 and host the Vikings on February 6. Augustana faces Illinois Wesleyan, the CCIW's third-place finisher a year ago before making a final four run, on the road on January 9 and at Carver Center on January 30.
After a year of being played on Tuesdays, this year's mid-week conference games return to Wednesday evenings, although the Vikings do close the regular season on Tuesday, February 19 against Millikin at home. With the exception of Augustana's conference opener, a January 2 home date with North Park, all of the team's Wednesday CCIW games will be 7:30 p.m. starts. All of the Vikings' Saturday contests, as well as their CCIW-opener, are scheduled to start at 7:00 p.m.
2012-13 AUGUSTANA VIKINGS MEN'S BASKETBALL SCHEDULE
| | | | |
| --- | --- | --- | --- |
| DATE | OPPONENT | SITE | TIME |
| November 15 | Aurora | Aurora, Illinois | 7:30 p.m. |
| November 20 | St. Norbert | De Pere, Wisconsin | 7:30 p.m. |
| November 24 | Chicago | Chicago, Illinois | 7:00 p.m. |
| November 27 | Wisconsin-Platteville | HOME | 7:30 p.m. |
| November 29 | Wisconsin-Oshkosh | HOME | 7:30 p.m. |
| December 5 | St. Ambrose | HOME | 7:30 p.m. |
| December 8 | Wisconsin-Stevens Point | Stevens Point, Wisconsin | 7:00 p.m. |
| December 11 | Knox | HOME | 7:30 p.m. |
| December 13 | Fontbonne | St. Louis, Missouri | 7:00 p.m. |
| December 16 | MacMurray | Jacksonville, Illinois | 4:00 p.m. |
| December 20 | Loras | HOME | 7:30 p.m. |
| January 2 | *North Park | HOME | 7:00 p.m. |
| January 5 | *Carthage | Kenosha, Wisconsin | 7:00 p.m. |
| January 9 | *Illinois Wesleyan | Bloomington, Illinois | 7:30 p.m. |
| January 12 | *North Central | Naperville, Illinois | 7:00 p.m. |
| January 16 | *Wheaton | HOME | 7:30 p.m. |
| January 19 | *Elmhurst | HOME | 7:00 p.m. |
| January 23 | *Millikin | Decatur, Illinois | 7:30 p.m. |
| January 26 | *North Park | Chicago, Illinois | 7:00 p.m. |
| January 30 | *Illinois Wesleyan | HOME | 7:30 p.m. |
| February 2 | *Carthage | HOME | 7:00 p.m. |
| February 6 | *Wheaton | Wheaton, Illinois | 7:30 p.m. |
| February 9 | *North Central | HOME | 7:00 p.m. |
| February 16 | *Elmhurst | Elmhurst, Illinois | 7:00 p.m. |
| February 19 | *Millikin | HOME | 7:30 p.m. |
| February 22 | CCIW Semifinal | TBA | 6:00/8:00 p.m. |
| February 23 | CCIW Championship | TBA | 7:30 p.m. |