July 11, 2012
2012 Season - Augustana finishes third in NCAA poll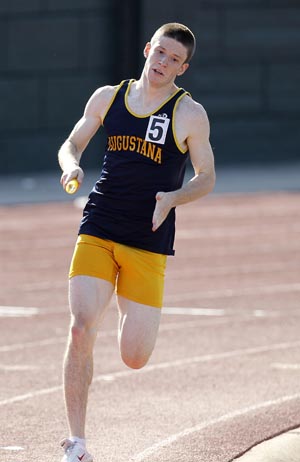 Alex Rindone led the way for the Vikings in 2012. He collected three All-American awards, won three events at the CCIW Outdoor Championships, and was a part of three new school records during the season.
ROCK ISLAND, Illinois – The 2012 version of Augustana men's track and field finished the season ranked third in the NCAA Division III dual meet power rankings. The Vikings were ranked in the top five for the entire of the season.
This poll, conducted by the U.S. Track & Field and Cross Country Coaches Association, quantifies the depth of each team. The team's total score is the sum of all points earned in each event. Two individual athletes are scored per event, as well as one relay team. The points are based on the best marks of an event in the current season, with the faster times and farther distances worth more.
Wisconsin-Whitewater finished the year as the number ranked team in the poll with 224.59 points. Augustana's College Conference of Illinois and Wisconsin rival North Central was one point back of the champion Warhawks with 223.59 points. Augustana finished the season in third with 219.13 points which was just enough to edge out Whitworth which tallied 219.05 points to take fourth. Wabash rounded out the top five with a total of 217.74 points.
The Vikings completed yet another successful season in the storied history of the Augustana men's track and field program. Head coach Paul Olsen's team finished seventh at the NCAA Division III Outdoor National Championships in Claremont, California on May 24-26. Augustana collected five All-American awards at the meet, three individual and two relays. Throughout the season, the Vikings were competitive at every meet, winning two and finishing second in three others. Augustana athletes also rewrote the school record books during the season establishing four new school records. The Vikings also collected eight CCIW outdoor conference champions.
Augustana not only excelled on the track during the season, but also in the classroom. The Vikings collected three more Capital One Academic All-Americans, bringing their total to 20 for men's track & field/cross country. Recent graduate Matt Bowman (Geneva HS, Geneva, Ill.) also received an NCAA Postgraduate Scholarship for combination of athletic and academic excellence.
2012 NCAA DIVISION III OUTDOOR DUAL MEET POWER RANKINGS
Sponsored by the USTFCCA
FINAL POLL
| | | | |
| --- | --- | --- | --- |
| RANK | SCHOOL | REGION | POINTS |
| 1. | Wisconsin-Whitewater | Midwest | 224.59 |
| 2. | North Central | Midwest | 223.59 |
| 3. | Augustana | Midwest | 219.13 |
| 4. | Whitworth | West | 219.05 |
| 5. | Wabash | Great Lakes | 217.74 |
| 6. | Wisconsin-La Crosse | Midwest | 217.02 |
| 7. | Wisconsin-Eau Claire | Midwest | 216.01 |
| 8. | Wisconsin-Stout | Midwest | 212.75 |
| 9. | Wartburg | Central | 211.50 |
| 10. | Bates | New England | 210.59 |
- Story by student assistant Paul Hurd