July 11, 2012
2012 Season - Vikings finish season ranked 21st in nation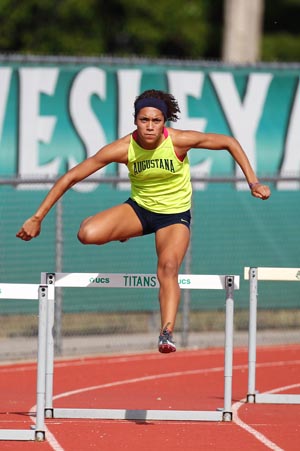 Kierra Smith was an instrumental part in the Vikings' success during the 2012 season. She set a new school record in the 400 hurdles and was a member of the the distance medley relay that also set a new school record.
ROCK ISLAND, Illinois – The Augustana women's track and field team finished the 2012 season ranked 21 st in the NCAA Division III outdoor track & field dual meet rankings released by the United States Track & Field and Cross Country Coaches Association. The Vikings of veteran head coach Fred Whiteside were ranked in the top 25 all season long.
Augustana tallied 170.76 points in the final poll. Wartburg claimed the title of top team in the nation with 224.80 easily outdistancing runner-up Wisconsin-La Crosse who collected 203.79 points. Wisconsin-Oshkosh closes the season in third after tallying 202.33. Ithaca takes home fourth with 200.92 points and North Central rounds out the top five with 198.49.
The Vikings had a very successful season. Six different Augustana school records were rewritten during the year. Augustana also had two individual champions at the College Conference of Illinois and Wisconsin Outdoor Championships. Senior-to-be Sarahbeth Jones (Warren Township HS, Wadsworth, Ill.) competed in the NCAA Division III Outdoor National Championships in the 5000 meter run, finishing ninth.
2012 NCAA DIVISION III OUTDOOR DUAL MEET POWER RANKINGS
Sponsored by the USTFCCA ** FINAL POLL
| | | | |
| --- | --- | --- | --- |
| RANK | SCHOOL | REGION | POINTS |
| 1. | Wartburg | Central | 224.80 |
| 2. | Wisconsin-La Crosse | Midwest | 203.79 |
| 3. | Wisconsin-Oshkosh | Midwest | 202.33 |
| 4. | Ithaca | Atlantic | 200.92 |
| 5. | North Central | Midwest | 198.49 |
| 6. | Wisconsin-Eau Claire | Midwest | 196.59 |
| 7. | M.I.T. | New England | 191.83 |
| 8. | Tufts | New England | 190.66 |
| 9. | Ohio Wesleyan | Great Lakes | 187.40 |
| 10. | Wisconsin-Whitewater | Midwest | 186.85 |
| 11. | Nebraska Wesleyan | Central | 183.65 |
| 12. | Willamette | West | 182.72 |
| 13. | Concordia-Moorhead | Central | 182.63 |
| 14. | Williams | New England | 178.91 |
| 15. | Illinois Wesleyan | Midwest | 178.59 |
| 16. | Washington | Midwest | 177.91 |
| 17. | Wisconsin-Stevens Point | Midwest | 177.39 |
| 18. | Claremont McKenna-Harvey Mudd-Scripps | West | 174.11 |
| 19. | College of New Jersey | Atlantic | 173.60 |
| 20. | California Lutheran | West | 173.01 |
| 21. | Augustana | Midwest | 170.76 |
| 22. | Emory | South | 168.73 |
| 23. | Salisbury | Mideast | 168.62 |
| 24. | Christopher Newport | South | 168.50 |
| 25. | Bates | New England | 167.62 |
-Story written by student assistant Paul Hurd