July 10, 2012
Tom Casey named defensive coordinator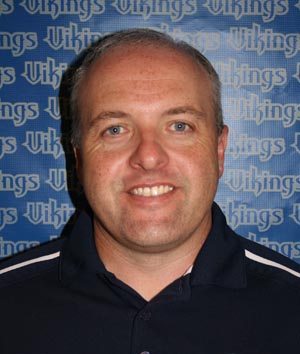 Tom Casey, who spent the last seven years as the defensive coordinator and assistant head coach at NCAA Division I Western Illinois, has been named the new defensive coordinator for the Vikings heading into the 2012 season.
After spending the last seven years as the defensive coordinator at the division one level, Tom Casey has rejoined his old boss and will take over the defensive coordinator's duties at Augustana in 2012. Casey had been the defensive coordinator and assistant head coach at Western Illinois in Macomb, Illinois since the summer of 2005.
He brings a wealth of football experience to the Vikings' sidelines and also reconnects with Rob Cushman, Augustana's head coach. Casey and Cushman worked together from 2002 through 2005 at Feather River College in Quincy, California where Casey served as Cushman's defensive coordinator. During that time period, Feather River participated in three post-season bowl games.
"We are extremely blessed to get a person with as much football knowledge and experience as Tom Casey," said Cushman, who became the head coach at Augustana November of 2010. "He has tremendous insight into the game and philosophically, his approach to defense is what we have been teaching at Augustana. He will be a great asset to our program."
Casey is a 1995 graduate of Oregon State University in Corvallis, Oregon with a Bachelor of Science degree in history. He earned his Master's of Education degree from Oregon State in college student services administration two years later.
He began his coaching career as a graduate assistant at Oregon State in 1993 and served on the Beavers' staff until 1997. He then took a position as an assistant coach at the United States Military Academy in June of 1998 and four years later he hooked up with Cushman at Feather River. After a brief stint at Tyler Junior College in Tyler, Texas, he joined the staff at Western Illinois.
During his stint with the Leathernecks he coached a pair of finalists (Kyle Williams and Kyle Glazier) for the Buck Buchanan Award for national "Player of the Year" at the NCAA IAA level. Williams was a two-time AFCA All-America selection and the highest NFL draft selection (Cowboys) in Western Illinois history. Glazier was the 2010 Missouri Valley Conference "Player of the Year" and was an Academic All-America selection.