March 2007
Credit accounting for students' success
An Augustana accounting major
has landed one of the nation's top accounting internships while a classmate has earned a fellowship to attend one of the country's leading graduate programs. These achievements by Barb Ruane and Curt Hurd, respectively, have contributed to a terrific year for the Augustana accounting department.
Ruane, a senior (and daughter of Mike Ruane, director of food service), will spend a year in Connecticut, working as an intern for the Governmental Accounting Standards Board (GASB), the non-partisan agency whose work influences lawmakers across the country in setting standards for governmental accounting and financial reporting. According to Pamela Druger, chair of the accounting department, the internship is a highly prized opportunity to gain a broad base of experience that will be valued by public and private sector employers alike.
Word of Ruane's successful application for the GASB internship was followed closely by the news that her classmate, Curt Hurd, would receive a fellowship to attend The Ohio State University's Fisher School of Business. The award to attend Ohio State's nationally ranked Master of Accounting program provides a full tuition waiver and a monthly stipend.
Druger says while they have distinguished themselves through the opportunities they have lined up after graduation, Ruane and Hurd are typical of Augustana's accounting majors. "Our program attracts students who do not want to be technicians, but strong thinkers and problem-solvers. By studying accounting at a liberal arts college, they tend to have a wider vision, know how to ask the right questions and can communicate more effectively what they've learned."
New tool for academic advisors
As we mentioned in the last edition
of
Acknowledge
, we are fast approaching the date of the first-ever online course registration through WebAdvisor, a component of our new Datatel information system. Predictably, students are eagerly anticipating the convenience of this new registration system, which will allow them to register for courses anywhere they have internet access. "This is great," sophomore Whitney Engstrom (Savage, Minn.) enthused. "When I'm in New Zealand next fall, I'll be able to register online just as easily as if I were on campus."
But what you might not know is that WebAdvisor is more than just an online registration system. WebAdvisor also provides a great set of new tools that will enhance the academic advising process. Features that will help advisors provide the most accurate and helpful information for their advisees include:
• Online access to transcripts and other academic profile information
• Information on course capacity and numbers enrolled
• Information on course pre-requisites and co-requisites
Workshops have been scheduled to familiarize students and faculty with the process of using WebAdvisor. Look for more online registration information on campus.augustana.edu in the coming weeks.
Field Notes
Field Notes
illustrates different kinds of experiential learning that take place on campus (and take us places off campus). In this issue, Pastor Julio Cruz-Natal sends notes from the spring break service trip to Ocean Springs, Mississippi, where 30 Augustana students and six other campus and community members helped renovate houses ruined by Hurricane Katrina. Pastor Julio notes that he now has a greater respect for our students, and this trip "says a lot about their commitment and character."
February 24
. We set out around 9:30 a.m. Icy roads and 30 mph winds make for a very interesting drive. Later, it all turns to heavy rain. We make it safely to Southaven, Mississippi, and stay the night.
February 25
. We arrive at Camp Victor around 5 p.m. There are barrack-type dormitories, a large dining hall, a TV and computer lounge, a food distribution center and a well-stocked warehouse. The accommodations are modest but efficient and well-organized. After dinner and orientation, it's lights-out at 10 p.m.
February 26
. The day begins at 6 a.m. Our group is divided into five teams, each with assigned jobs ranging from putting the finishing touches on a house to just starting to hang drywall on another. One group stays in camp to help with cleaning, cooking, distributing food, doing all the tasks needed to keep the place running.
February 28
. For the past three days everybody has been working hard. The kitchen staff gets up around 5 a.m. and works 15 hours a day. In spite of this, everybody is in good spirits. We work with excitement, realizing we are helping families get their lives back. By the end of the day, we have delivered two projects.
March 1
. Heavy thunderstorms hit us. Ocean Springs is under a tornado warning and our building is put on lock-down. We hear about the deaths in Alabama. Most of us are inside, but a group is still working outside. They make it back fine.
March 2
. Time to head home. Most load up the vans while some finish the last touches on a house. We visit Biloxi to see how they're recovering. There's still much destruction. After a group rendezvous, we start our way back north.
March 3
. Heavy winds and patchy snow showers accompany us most of the way back. We stop for lunch at a volunteer's house and talk about our work for the families affected by Katrina. Their stories have gone deep into our hearts and will remain there for a long time. Our aching bodies remind us of the hard work, but our gladdened spirits remind us of the joy it brings to serve one another in the name of Christ. Each of us makes it safely to our place of origin.
New Face on Campus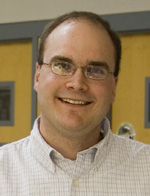 Patrick Crawford
Assistant professor, chemistry
B.A. chemistry, Hanover College (Indiana)
Ph.D. chemistry/biochemistry, Miami University (Ohio)
Born in Kentucky and having studied in Indiana and Ohio, Crawford is no stranger to the Midwest's changeable weather. But when warmer temps are here to stay, he's ready to take on any and all Frisbee golf challengers. He also enjoys hiking and traveling, but only to places where he knows someone with whom he can stay.
Joining Augustana's chemistry department last fall was a nice fit with Crawford's post-doctorate plans. He wanted to teach at a small, liberal arts institution similar to his
alma mater
, Hanover College, overlooking the Ohio River. "Once I visited the campus and met the people I'd be working with, the position became even more attractive," he says.
Highlights of Crawford's first year here include the students he's come to know, and mentoring from senior faculty from all the science departments. They never fail to offer many points of view, which he appreciates.
At the same time Crawford arrived, the biology department welcomed three faculty members. He has enjoyed the camaraderie among these peers and what he calls the "passing of information" between departments. He shares advice from chemistry's Pam Trotter, and hears ideas from biology's Bob Tallitsch and Darrin Good, among others. This insight and support, Crawford says, has made his transition that much easier.
From the Cabinet
W. Kent Barnds, Vice President of Admissions and Enrollment
The months of March and April are very important for those of us who work on college campuses. The campus buzzes with prospective students returning for scholarship receptions, overnight visits, yield events and all kinds of informal drive-bys and final looks. For most admissions officers, it's a time of nervousness. Will the prospect connect with his or her host? Will the prospect enjoy his or her class? Will we make the student feel welcome? Will it rain?
While the list of "what ifs" is endless, for me the typical nervousness simply does not apply. Some might believe such confidence borders on arrogance—but let me explain why I am not uneasy.
Simply put, I believe in Augustana and what it does to shape the lives of students. My confidence this time of year has nothing to do with me, and everything to do with the people who give their all each day:
• I am confident our faculty will impress returning prospective students through their actions in the classroom and their interactions outside the classroom.
• I am confident our students will be friendly and welcoming, and will inspire prospective students be a part of our community.
• I am confident our staff will go out of their way to answer questions and provide the highest level of service.
• I am confident each visiting student will leave with the impression that we value relationship-centered education and each student's individual development.
I am confident about all of these things because these are the things I witness each day from each of you.


P.S. I would neglectful not to mention that prospective students will return to campus for
Experience Augustana
on March 23 and 26 and April 13 and 16.
Campaign Update
Al DeSimone, Vice President for Development
At the end of February cash gifts and pledges to
Authentically Augustana: A Call to Action
amounted to $68.3 million. This figure includes:
• $32,000,000 from current members of the Board of Trustees
• $895,600 from current members of the Alumni Association Board of Directors
• $934,000 from 140 members of the campus community
We are especially grateful to the campus community for their enthusiastic and generous support.
Augustana Family News
Susan Granet
(registrar's office) has news she calls "hot off the press." She and her husband Tim are now grandparents to Naomi Colleen King, born this past Monday at 10:15 p.m. to daughter Jill and her husband Azariah.
Pastor Julio Cruz-Natal
regretfully informs us of the passing of
The Reverend Margarita Martinez
, Bishop of the Caribbean Synod of the ELCA, last Sunday. He attended the bishop's funeral, held March 13-14 in Carolina, Puerto Rico. Pastor Julio calls Bishop Martinez "a very special person in my life, and the one who encouraged me to accept my current call here at Augustana."
Seen and Heard
"Word over all, beautiful as the sky | Beautiful that war and all its deeds of carnage must in time be utterly lost…" — from Ralph Vaughn Williams'
Dona Nobis Pacem
, text by Walt Whitman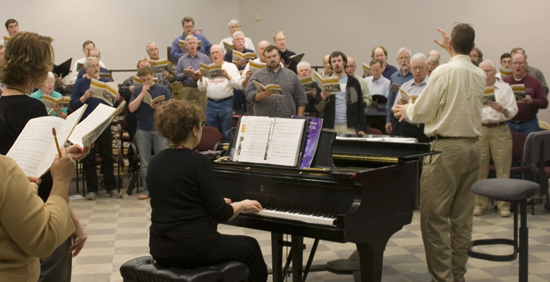 The Handel Oratorio Society practices for its upcoming performance of Williams' Five Mystical Songs and
Dona Nobis Pacem.
Acknowledge
is published by the Office of Communication and Marketing. Contact
Beth Roberts
, editor. Photos in this issue were contributed by Kelly Morgan '09, Kate Rogers '09 and Vytas Vaznelis '07 of the Augustana Photo Bureau, as well as Drew Luessenhop '10 and John Ramser '08. To see the calendar of upcoming Augustana events, go to
www.augustana.edu/calendar
.