May 2007
Augustana's Funniest Video
Sure his name is well known on our campus
and he's no stranger to public appearances, but we bet you didn't know he's also a television star. In March, Pastor Richard Priggie made his television debut (as far as we know) in an episode of "America's Funniest Videos" on ABC.
In the video, Priggie attempts to officiate a 2003 wedding ceremony featuring a ring bearer who takes his job a little too seriously. Groom Adam West says he met his bride, Kim Painter '01, during her senior year at Augustana. His son, Collin, served as the overbearing ring bearer, three years old at the time of the wedding.
Watch the video.
After years of officiating weddings, Priggie says the flower girl and ring bearer are always the biggest variables in a wedding. "You just can't predict what they're going to do," Priggie explains.
There have been many other unpredictable wedding moments in Priggie's career, including fainting attendants and a bride who was an hour late for her own ceremony. "Her limo broke down miles from the church, and it was before cell phone use was widespread, so nobody knew where she was," Priggie says. "That poor groom was sweating bullets."
Priggie says he's never watched "America's Funniest Videos," but he thinks keeping good humor about wedding mishaps is a healthy thing, and he's enjoyed all of the phone calls and e-mails he's received from alumni who saw him on the show.
"Notes from a Solipsist" nets cash from a Beatle
As a regional judge
for the BMI Foundation's John Lennon Scholarship songwriting competition, Dr. Rick Jaeschke annually reviews original compositions from throughout the state of Illinois. When he heard Kyle Ferguson's entry last fall, he knew it had potential. "John Lennon wrote about things that mattered to people," said Jaeschke, assistant professor of music education. "A lot of pop music today is about nothing. This was different." Jaeschke's role in the competition comes with his responsibilities as State Chair for the Illinois Music Educators Assocation Collegiate Division, a position he assumed in 2005.
Ferguson, a senior philosophy major, learned last month that his entry, titled "Don't Forget to Breathe," tied for second place in the national competition, good for a $5,000 scholarship he'll use when he enters a Ph.D. program at the City University of New York later this year. The contest for songwriters between the ages of 15 and 24 attracts scores of entries from the nation's elite music schools; two of this year's winners are enrolled at Boston's Berklee School of Music. Ferguson is the first award-winner from Illinois in the competition's 10-year history.
Ferguson's award-winning entry was influenced by his study of philosophy. Originally titled "Notes from a Solipsist," the piece considers, and responds to, the belief that only those things with which we have direct experience can be said to exist. Ferguson changed the song's title at the suggestion of contest organizers, who urged him to draw from the song's chorus to find a title that would be more accessible to a mass audience, presumably one not made up of philosophy majors.
"I tried to deal with the abstract in concrete terms," said Ferguson. "The verses present solipsism as a condition, and the chorus is kind of a response to that."
From a musical standpoint, the song's basic arrangement for guitar, cello and voice belies the depth of its subject matter, Jaeschke said. "That's one of John Lennon's legacies," he added. "That you and your guitar are just fine."
To hear the song "Don't Forget to Breathe," visit the
BMI Foundation's website
or
Kyle Ferguson's myspace
page.
Field Notes
Field Notes
ends the college's academic year with notes from the halls of another school: Longfellow Elementary, where many Augustana employees volunteer through the Adopt-a-School program sponsored by Modern Woodmen of America. Kai Swanson has followed the same class of students through Longfellow since they were in kindergarten.
Founders Hall and Longfellow School are only separated by a five-minute walk, but in some ways it might as well be light years. At lunch today I heard Dr. Culver talking about Richard Strauss'
Tod und Verklärung
, and now I'm sitting with three fourth-graders trying to get them to write about an imaginary roller-coaster ride.
It's warm in the hallway outside Mrs. Hendrickx' classroom and the creative juices have turned to molasses. James, whom I can normally count on to bend the guidelines of a writing assignment like a Gumby doll, can't get started. Teya's too tough (today, at least) to write, and Yasmine wouldn't think of starting before anyone else.
Finally, more in desperation than anything else, I very soberly intone that in a creative writing exercise such as this, one might find it acceptable to use the word "puke."
BOOM. Number Two pencils fly across wide-ruled paper as each student diligently works her or his way toward the sickening syllable, the vomitous verb,
le mot sicke
.
Still, I'm a little disappointed. Even with that poetic license, the writing is far from their best work this past year. The most descriptive metaphor James can muster is that his stomach felt "like a cinder block." Eh.
But it is May, after all. And the hallway is ripe with the smells of a dying school year: above the dusty/musty scent of chalkboard erasers employed by sweaty kids, the tantalizing notes of the schoolyard's viburnum creep in to remind the children that they are not long for such confines. Soon they'll run out of these doors into a summer that can't possibly end. I don't have the heart to tell them I'll see them in the fifth grade.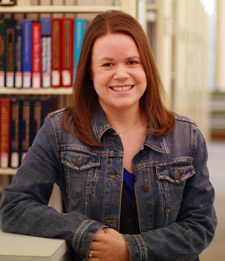 New face on campus
Anne Earel
B.A., English and biology, Augustana College
M.L.S., Library and Information Science, University of Iowa
Instead of "New face on campus," perhaps this section should be renamed "Returning face on campus" as we feature Anne Madura '01 Earel, who says she spends much more time in the library now than when she was a student.
After graduation, Earel worked for three years as an editor at Prentice Hall textbook publishing company. But with a father who is a professor, she feels at home in academia, and knew she'd be happiest in a campus community. Plus, her decision to study library and information science in graduate school meant she wouldn't have to choose between her two majors—English and biology—for her career.
Hired as a full-time reference librarian last August, Earel is the liaison for Augustana's social sciences division and regularly staffs the reference desk. "I love working at the reference desk because although it's a little slow at times, it's very rewarding to help that student who's having a crisis," Earel says. "I've been in their shoes."
A former member of the Augustana Choir, Earel is looking forward to joining the Nova Singers next year and reuniting with other Augustana Choir alumni. Besides singing, Earel enjoys cooking, being outdoors and, of course, reading.
From the Cabinet
Steve Bahls, President
Last month I received an e-mail from Ann Grove, who directs the Moline branch of World Relief, a program that works with refugees, helping families with their transition into the community. The subject line read: "Augie Students Providing Blessings to Refugees and World Relief." In it, Ann wrote, "Please accept my heartfelt thanks for bringing fine students to the Quad Cities, educating them to be global citizens, and sharing them with the community." The e-mail proceeded to detail the many ways in which Augustana students had popped the imaginary Augie bubble to help some of the newest members of our surrounding community. Over just the last few months Augustana students have been helping the agency and the refugee families it serves by taking turns with child care for working parents, helping families become more familiar with the area, and helping them with their English language skills. What a wonderful way for students to interact with our community and, indeed, the world.
I cannot imagine a college president hearing better news about students. I would like to thank Augustana's faculty, staff and administration for encouraging the growth of these servant-leaders. And yet the students who've helped out at World Relief represent a mere handful of the hundreds of stories of remarkable servant leadership in which our students engage.
How does Augustana encourage its students to become global citizens, actively serving in their surrounding communities and beyond? It does so, in part, by inviting students into vocational reflection. This is an important distinction which will always be a hallmark of an Augustana education, but one for which those soon to graduate may find their appreciation grows in the years to come. It is one factor in what sets an Augustana education apart. By adding the dimension of vocational reflection, students build a more comprehensive understanding of the world around us, and the role they will play within it. Through general education, service-learning and all manner of volunteer opportunities, Augustana's faculty have helped introduce students to a world far wider than the one they knew when they enrolled here.
Best wishes for a summer of refreshment… and reflection!
Augustana family news
Matthew Marohl
(religion) and his wife Sarah welcomed their first child, Noa Grace, when she was born on April 25. (It's a year of "firsts" for Matthew: first child, first year of teaching college, and his first monograph just accepted for publication by the Princeton Theological Monograph Series.)
Matthew explains the story behind his daughter's name: "In the biblical book of Numbers (chapter 27), Moses gives land to each of the twelve tribes of Israel. One tribe, however, does not have a patriarch. So Moses decides to divide the land by eleven. In response, Noa and her sisters confront Moses. They declare that just because they do not have a patriarch, they still deserve land. Moses asks God what he should do. God declares that Noa and her sisters are correct. So, the women were given their share of the land. In addition, Israel changed its inheritance laws. From that moment, if a father died and the family did not have a son, the property went to the daughters."
Will little Noa Grace live up to her strong name? Most certainly—she's already made a big impact on the history of her family.
Janet and
Norm Moline
(geography) celebrated the baptism of their grandson Lucas Garran Eccher on April 29. Lucas' middle name is the result of a creative move on the part of his mother Jill (class of 1997), who made an anagram of her father's father's name—Ragnar Moline—to form the middle name of her second son. But then, the family is a creative lot: if you haven't yet seen the library's exhibit "What's In Your Computerfi," try to work it in before the end of the school year. You'll learn about Norm's uncle, C. Marcus Olson '32, who refined the process of purifying silicon to the extreme that eventually led to the modern silicon chip.
Jamie Nelson
(library special collections) and Eric Anderson '99 have a baby boy, Wythe Nelson Anderson, born May 9. It was predicted he'd be a summer baby, but Wythe arrived in the spring, weighing only 4 lbs. 12 oz. We're happy to announce the little family is doing very well.
Cathie and
Fred Whiteside
(athletics) celebrated their granddaughter Riley's first birthday with a party in the Carver PE Center on April 7. Besides their son Jay and Missy, Riley's parents, the party also included nearly 40 other close family members who hailed from as far as the Florida Keys. Fred's mother Flora Whiteside '73 celebrated her 80th birthday the same weekend. While the party's crowd and location encouraged general boisterousness, Riley was quiet till everyone left. Only then did she chatter about it all. But now that she's an old hand at the party business, she'll rise to the occasion when the Whiteside hordes return for Fred's and Cathie's 30th wedding anniversary on May 22.
Seen and heard
"I play bars and I play churches and I never change my show. I just offend everybody." — Carrie Newcomer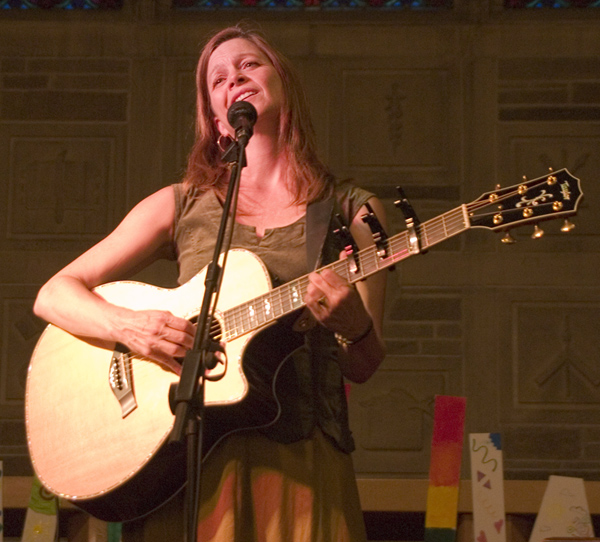 Acknowledge
is published by the Office of Communication and Marketing. Contact
Beth Roberts
, editor. Photos in this issue were contributed by Marla Alvarado Neuerburg, Ashley Biess '09, Amy Pearson '09 and Vytas Vaznelis '07 of the Augustana Photo Bureau. To see the calendar of upcoming Augustana events, go to
www.augustana.edu/calendar
.
Thank you Augustana Photo Bureau; thank you Debbie, Beth Nordby, Kirby, Barb and Marla; thanks to the Cabinet and to all other contributors.
Acknowledge
will return in September.—Beth Roberts