January 2007
Remembrance and Renewal
Students, faculty and other members of the Augustana community
joined area residents to form an enthusiastic crowd for a community-wide remembrance of the Rev. Dr. Martin Luther King, Jr. last weekend. Opening with a stirring prelude by the Metropolitan Youth Drum Corps, the event also featured dance, gospel music and a keynote address by Dr. Adrien Wing, Bessie Dutton Murray Professor at the University of Iowa College of Law.
Representatives of one dozen community organizations were featured in the Saturday evening program, which included Jerry Jones, executive director of Rock Island's Martin Luther King Center; Linda Dothard, vice president of the Rock Island-Milan School Board; Jaime Howard, Davenport Civil Rights Commission; and the choir from Davenport's Mt. Sinai Church of God in Christ.
In welcoming the audience to Centennial Hall, President Steve Bahls quoted Martin Luther King, Jr.'s sermon titled "Transformed Nonconformists."
"His words seem as if they could have been written yesterday," said Bahls, quoting, "'In these days of worldwide confusions, there is still a dire need for men and women who will courageously do battle for truth…. We must make a choice. Will we continue to march to the drumbeat of conformity and respectability, or will we, listening to the beat of a more distant drum, move to its echoing soundsfi'"
And the Band Plays On
It may take a village
to raise a child, but putting together a symphonic band tour requires manpower in more than one place. Innumerable hours are spent preparing for and executing the tours—a yearly tradition that began in 1883, according to Jim Lambrecht, conductor of the Augustana Symphonic Band.
During a year when the band tours internationally (this year they will visit England and Scotland), Lambrecht and Christiana Conner, manager of performance tours and outreach, begin working with a travel agency 18 months prior. For a domestic tour, planning begins a year in advance. "Actually, it's easier planning for an international tour," Lambrecht says. "When we tour domestically, all of the planning rests on our shoulders."
Whether they're traveling in the states or abroad, a large team of dedicated people both on campus and at the tour sites makes each tour successful. They arrange for scheduling, accommodations, local publicity, venue arrangements and the production of printed materials.
And to what end? "There are many reasons for what we do," explains Lambrecht. "The joy of making music is one of them, but it's only a small portion of it." He says the tours offer a way to expose Augustana to a wider community and serve as recruiting events and ways to connect with alumni, many of whom count their own time spent on tours among their most lasting Augustana memories. And then there's the benefit to the participating students who are exposed to a variety of cultures—even during a domestic tour, by staying with host families.
"If we do our jobs correctly, we make it look easy," Lambrecht says. "That's true of any occupation. People just don't realize how much work it takes to make it look so easy."
Field Notes
Field Notes
illustrates different kinds of experiential learning that take place on campus (and take us places off campus). In this issue, Allen Bertsche sends notes from the fall term in Latin America.
August 28
. Our first full day in Quito, Ecuador. We spent the morning in the highlands above the city, where you get a perspective on how the bowl valley is filling with people: the old city in the center, new barrios surrounding it and haphazard, spontaneous squatter neighborhoods rising up the mountain slopes. This afternoon we had our first classes at the Casa Sucre, the museum-home of the leader of Ecuador's independence movement.
August 30
. Drove from Quito to Otavalo, Ecuador. The Otavalenos are famous for their crafts, which has allowed this indigenous group to earn not only economic but also political power. Our students met with the mayor, the first indigenous mayor in the nation. He spoke of reconciliation between the races, ethnicities and classes in Ecuador—a message of hope in a nation that so often seems pessimistic about its future.
October 14
. Our groups are back in Cusco, Peru, having spent five days either in the Amazon basin rainforest or the Inca Trail to Machu Picchu. Immediately the stories start flying. The spiritual nature of both places is a hot topic. Whether it's the sense of a "web of life" in the rainforest or of awe created by the steep mountains surrounding Machu Picchu, everyone has a better idea of why the Inca felt so connected to nature and worshiped deities of the sun, the mountains and the rain.
November 1
. The eve of the Day of the Dead in Mexico. In small towns across the country, families decorate altars, prepare food and open their doors to visitors. I am amazed at how generous people are, and quite frankly couldn't eat another tamal. In each home the dead are remembered with marigolds, candles, and in the case of this particular town, with clothes of the deceased, filled with straw in a somewhat eerie effigy.
November 11
. In the last few days we have heard from a Canadian woman trying to help a remote village save itself from cycles of poverty; seen how the sprawl of Mexico City endangers the balance of the area's unique aquifers; met with villagers who shut down a local garbage dump polluting their water supply, and with a family who makes its living picking through garbage and recycling or selling what they can as scrap. I think we have been able to "peel the onion" and show students the real world beyond hotel rooms and restaurants.
New Faces on Campus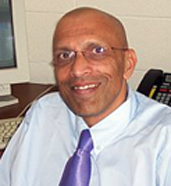 Mukesh Sud
Assistant professor, business administration
Bachelor of Technology, engineering, Indian Institute of Technology, Delhi
Ph.D., corporate entrepreneurship and internationalism, Indian Institute of Management, Bangalore
While at the Indian Institute of Management at Bangalore, Dr. Mukesh Sud was a teaching assistant in the areas of advanced corporate strategy, corporate venturing, multinational management and strategic management. Prior to studying and teaching entrepreneurship, Sud lived it. From 1985 to 2001, he set up four medium-sized firms dealing with surface preparation/metal spraying at various locations in India.
Today he teaches entrepreneurship and management concepts to Augustana students, drawing on his academic and real-world experience. "Entrepreneurship is all about engaging with the real world, so the two go hand in glove," Sud says.
His family's move to Rock Island has gone well, he says, though he's yet to find an opportunity to play squash. Sud has competed in the sport at the national and state levels in India for the past 25 years. He's also put his long-distance running on hold temporarily. "Not in this weather," he says.
From the Cabinet
Jeff Abernathy, Dean of the College
Even as we encourage students to be servants and leaders in their communities, many who have long served Augustana likewise take on leadership roles in serving the Quad Cities. Since this week we recall the rich life of service and contribution to community of Martin Luther King, Jr., I thought I would provide a few examples presenting the variety of contributions members of the Augustana community give to the Quad Cities.
Liesl Fowler volunteers for Girl Scouts of the Mississippi Valley, Bettendorf Parks Board, QC Chamber Leadership Federation and is a member of the Scott County YMCA Child Care Board. Through the YMCA, Liesl has helped lay the groundwork for the organization's upcoming "Kids to Camp" campaign, an effort to raise funds to provide scholarships for sports camps and other programs for children who couldn't otherwise afford to attend.
Esteban Loustaunau directs the efforts of so many at Augustana who volunteer to support the Floreciente neighborhood in Rock Island. While taking a leadership role in the local Latino community, Esteban has encouraged Augustana students to see the importance of building relations that strengthen the community.
Doug Tschopp has assumed the role of executive director of Genesius Guild, a 50-year-old community theatre organization which performs free classical drama in Rock Island's Lincoln Park, taking over for retired WVIK general manager (and Genesius Guild founder) Don Wooten.
Fred Whiteside, along with his wife, Cathie, was honored with the Quad City Marathon's Carol J. Mindrup Excellence in Volunteerism Award in 2006. Fred and Cathie also provide significant leadership to the Quad Cities Race for the Cure, one of the largest such events in the midwest.
Let us thank these colleagues, who, like so many at Augustana, give freely of their time to make our community a better place.
Nuts and Bolts
The Dean of Students Office
reminds campus to notify Security (extension 7711) if you are aware that an ambulance or fire truck has been called to campus to respond to an emergency during the evening or on weekends. During weekdays, building secretaries and other staff members notify Security, but the rest of the time we rely on anyone present to let Security know.
Augustana Family News
After studying and practicing for nearly three years, this past December
Mike Wolf
(geology) and his younger son Ben passed a physically demanding test to become first-degree black belts (Cho Dan) in Tae Kwon Do.
For many admissions visitors,
Lisa Slater
—new secretary in the Office of Admissions—will be their first contact on campus. Previously the secretary at Seton Catholic grade school, Lisa resides in Coal Valley with her husband Todd and sons Grant and Mason. In admissions, she will set up all meetings with professors and coaches for prospective students visiting Augustana with their families.
(From the obituary:)
Elizabeth Thackrey Stromquist Valentini
(Class of 2001) died November 29, 2006 in Iowa City. Liz majored in communication studies at Augustana. She was a setter on the volleyball team and an active member in the Phi Rho sorority. After graduation she moved to Chicago and worked as a communication specialist, taught at-risk children at Hinsdale South High School (where she also coached volleyball) and Elmhurst Academy for Early Childhood Education, and was a teacher's aide for an autistic child in the Barrington School District. She was nearing completion of a master's degree in elementary education at the time of her death. Liz is survived by her parents, Shel and Ann Stromquist, and two brothers, Chris and Matt. Memorials may be made to the National Alliance on Mental Illness, Johnson County, P.O. Box 3087, Iowa City, IA 52244.
Seen and Heard
"'More than ever before, we are today challenged by the words of yesterday: Be not conformed to this world: But be ye transformed by the renewing of your mind.'" — President Steve Bahls quoting the Rev. Dr. Martin Luther King, Jr.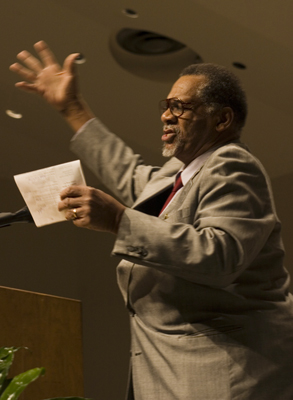 The Rev. David McAdams, pastor at First Paradise Baptist Church in Rock Island, gives the benediction at Saturday's celebration of Dr. Martin Luther King, Jr.


Acknowledge
is published by the Office of Communication and Marketing. Contact
Beth Roberts
, editor. Photos in this issue were contributed by Kate Rogers '09 and Vytas Vaznelis '07 of the Augustana Photo Bureau, as well as Dr. Allen Bertsche and Reita Mason Griffin. To see the calendar of upcoming Augustana events, go to
www.augustana.edu/calendar
.