December 2008
Christmas celebration strikes a chord
A "hum" of excitement
is resonating from the Augustana music department this Christmas season. The department kicked off an expanded celebration of Christmas nearly a month ago by offering a wide range of events—from opera to a concert featuring a variety of ensembles to Handel's
Messiah
—throughout the season to showcase student talent and attract more of the Quad-City community.
"Attendance at the opera was quite good. The Christmas concert was sold out and many people said they enjoyed the format of the new performance," says Jon Hurty, director of choral activities and co-chair of the department.
The expansion also allowed the department to perform Christmas music along with the Augustana Symphony Orchestra, which usually accompanies
Messiah
. "The collaborative nature of the event was really significant. To have five conductors working together for a common artistic goal is unique in the profession," says Daniel Culver, orchestra director and department co-chair.
Jon and Dan say the department will meet when the series is complete to discuss continuing the new performances. The celebration concludes today, with Lessons and Carols at 4 p.m. and 8 p.m. featuring the Augustana Chamber Singers in Ascension Chapel.
Augustana's 12 Days of Christmas
Here's a bit of fun
the communication and marketing office produced for the December appeal for The Augustana Fund.
It all started with five rocking chairs
…. Can you name the four singers in the quartet? (See answers at the bottom of the newsletter.) Some hints: while none of them sings in an Augustana ensemble, one has sung semi-professionally, one was a choir boy, one took a class in music appreciation from Janina Ehrlich, and the last one could make a career of it.
Augie football celebrates 25th
It was 25 years ago this month
that Augustana's football team topped Union 21-17 to claim the first of four consecutive NCAA Division III national championships. That game, the Amos Alonzo Stagg Bowl, was played in Ohio, but the win set off a wild celebration at home. Hundreds of Augustana fans who didn't make the trip stormed a vacant Ericson Field, tore down the goal posts and later took the pieces to the team when it arrived at the airport in Moline.
The victory was the beginning of a remarkable four-year run that remains unmatched. Under coach Bob Reade, the Vikings won 49 of 50 games from 1983 to 86, the only hiccup a scoreless tie with Elmhurst in the '86 season opener. During those years, Augie didn't just win—it dominated, outscoring opponents 1,544 to 416.
The Vikings' run attracted national attention, as reporters from large newspapers across the country came to Rock Island to see what Reade's program was all about. What they found were teams defined by hard work and attention to detail.
"Those were special teams, each and every one of them," Bob recently told the
Quad-City Times
. "With the passage of time, I appreciate the accomplishments of the players and members of the staff more and more. Winning a national championship once is special. Winning one four straight years speaks for itself."
This past fall, the 1983 Vikings became the first full team to be inducted into Augustana's athletic hall of fame.
Field Notes
Field Notes
illustrates different kinds of experiential learning that take us places off campus. In this issue, Lisa Huntsha '10 and Sara Carlson '10 report on the benefits of learning Swedish in Sweden this past summer.
This past summer, we participated in the Augustana Summer School in Sweden (ASSIS) along with 16 other students. Through six weeks of intensive daily language study and cultural immersion, we developed a greater understanding and appreciation of the Swedish language and culture.
The diversity of instruction was one of the greatest benefits of the learning experience. We were exposed to native speakers from different regions of Sweden, native speakers who have spent a great deal of time in the U.S., and English speakers who are fluent in Swedish. By interacting with these different speakers, we improved our ability to communicate with people in the community.
While our language instruction on campus has been outstanding, the cultural immersion that allowed us to experience the history, people and natural environment of Sweden was irreplaceable. We were able to apply what we learned in the classroom by ordering food, talking with locals and getting from place to place.
This trip has given us a new enthusiasm for the Swedish language and culture that we have taken home and shared with our families, friends and fellow students. Without this trip, our education would not have the same depth or awareness of what constitutes the Swedish culture and its role within the larger Scandinavian community. As Scandinavian studies majors, we feel a personal understanding and experience of Scandinavian cultures is essential.
Tack så mycket till alla som har hjälpt med ASSIS!


New Face on Campus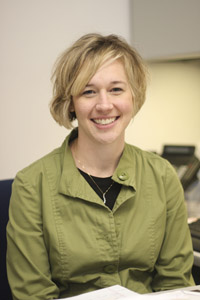 Kamy Beattie, director of public relations
B.A., mass communications, Buena Vista University
Coming from WQAD-TV as an executive producer, Kamy Beattie is used to juggling several assignments at once—and actually prefers it that way. As Augustana's public relations director, she never knows what to expect when she walks in her office each morning—and that's fine by her, too.
"It's always a surprise to me … what I'm going to get my hands on that day," Kamy says. One of the best parts of her job is being able to "dig into" an unfamiliar topic and work with people on campus who are specialists in their fields as she helps local and national reporters get their stories. What she doesn't miss are the frantic phone calls from WQAD in the middle of the night when news breaks. (Could that be one of the reasons her husband Shawn Beattie in ITS so strongly encouraged her to apply for the job at Augustanafi)
As for her plans for the holidays, Kamy loves to bake sweet treats from pies to cakes to cookies. A true multi-tasker at heart, it's easy to picture her in her kitchen mixing up some dough while talking on her cell phone and scanning a local newspaper for Augustana coverage.
Looking ahead to 2009, Kamy would like to further challenge herself in some way. "I don't want to be satisfied with how things are…I don't want to get 'stale,'" she explains. She envisions learning a new instrument or sport or beginning a new hobby…but it could depend on what Santa Shawn brings.
From the Cabinet
Pastor Richard Priggie
"Silent Night" is without question the most famous Christmas carol of all time. That it was written at all might be termed an accident. That we know of it is a miracle of grace.
The carol is the result of an impromptu collaboration of a German parish priest, Joseph Mohr, and his organist, Franz Gruber, who had to do something to overcome the breakdown of the church organ on Christmas Eve in the year 1818. Father Mohr dashed off the utterly
simple lyrics
which Gruber then paired with his simple tune. The two sang it together to guitar accompaniment at the midnight service. They themselves called their effort "a trifle" and promptly forgot about it.
Seven years later, a man named Carl Mauracher was commissioned to rebuild the organ at St. Nicholas' church in Oberndorf. Father Mohr had been transferred away from the church some years before and had lost touch with Franz Gruber. During his work on the organ, Mauracher found a hand-written copy of the words and music for "Silent Night" among piles of music. He liked the carol and took it home to the Tyrolean valley where he lived. Choral groups picked it up and sang it wherever they went during the Christmas season, making it known as "the Tyrolean folk carol." Eventually, it became a favorite of King Friedrich Wilhelm IV of Prussia, who in 1854 had its origins researched and its text and tune widely disseminated.
You and I can learn a great deal from the story of this carol. We might imagine other options that Mohr and Gruber had upon learning of the disastrous failure of the organ. They might simply have spoken the service, without music. They might have thrown up their hands and canceled worship, as tragic as that would have been. Instead, they somehow found the creativity to write what they did in so short a time. In the same way, if you and I can restrain ourselves from outrage or blame at the seemingly bad things that happen to us, God will show us a way to deal creatively with every circumstance.
Was the finding of the carol an accident? Perhaps. Just as the choice of Mary out of all the peasant girls in Palestine might be termed "lucky." Just as the shepherds "just happened" to be in the Bethlehem field that night. There are many occurrences in our lives, even the circumstances of our birth, that might seem to be good fortune or happy coincidence. Or… it may be that God is always at work in our lives to bring hope and joy.
"Silent Night" shows us that God is forever in the habit of stirring our creativity and increasing our joy.
Augustana Family News
Xiaowen Zhang
(political science) married Hua Shen on November 12, or October 15 in the Chinese lunar calendar—the full-moon day, which in Chinese culture represents family union. Hua Shen, now in his third year of working towards a PhD in human toxicology at the University of Iowa, was born in Suzhou, China, and studied first at Rutgers before transferring to Iowa. Xiaowen was born and raised in Beijing, China, and did her graduate work at University of Southern California. She points out that "it took me to cross the Pacific Ocean and him to cross the Atlantic Ocean to reach this joint point. Thanks, God."
It was love at first sight, as they met in early October. The small, lovely wedding was held at Xiaowen's house and included faculty members Marsha Smith and Jen-Mai Ma among the guests. At the party held at the Exotic Thai restaurant afterwards, Xiaowen quips that her traditional red Chinese wedding dress "caught quite a few eyeballs."
Jane Simonsen
(history, women's and gender studies) and
Mike Augspurger
(English) had a son, Tobias Linden Augspurger, born on December 7 and weighing 7 lbs., 7 oz. Tobias, who according to his mother also answers to "Sparky," is much loved by his older sister Soli and his brother Nat.
Debbie Wilson
(dean of students office) and her husband Keith will celebrate their 35th wedding anniversary on December 22. The day 35 years ago was in beautiful form for a winter wedding: sunny, cold and heaped with snow. The ice storm that occurred soon after gave them an extra day for their honeymoon at the Chestnut Mountain Ski Lodge in Galena, and they returned home just in time for Christmas day.
Seen and Heard
"One task of the new administration is to find a new way to relate to Europe that mends the fractures created over the past eight years."
— Peter Kivisto, Richard A. Swanson Professor of Social Thought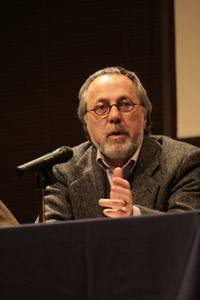 Peter Kivisto was one member of a panel including Todd Cleveland, Marsha Smith, Mariano Magalhães and Kim Tunnicliff—each representing a different region in the world as they spoke on issues facing President-elect Obama's administration—at the "What's Next" forum held in Wallenberg Hall on December 9.Acknowledge
is published by the Office of Communication and Marketing. Contact
Beth Roberts
, editor. Photos in this issue were contributed by the
Quad City Times
, Vytas Vaznelis '07, Dalsem Yang '09 and Matt Peters '11 of the Augustana Photo Bureau. To see the calendar of upcoming Augustana events, go to
www.augustana.edu/calendar
.
The singers in "Augustana's Twelve Days of Christmas" are Jenny Winn (CSD), Kent Barnds (admissions), Kai Swanson (president's office) and Jana Klauke (career center).