July 9, 2012
2012 Season - Bowman earns NCAA Postgraduate Scholarship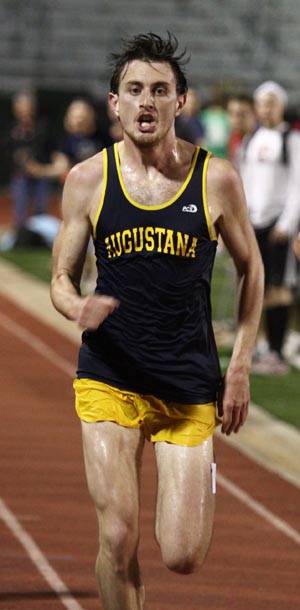 Matt Bowman was recently named one of just 29 winners across the nation of a $7,500.00 NCAA Postgraduate Scholarship. He is the 26th Augustana athlete to win the prestigious honor.
Matt Bowman (Geneva HS, Geneva, Ill.) recently graduated from Augustana but the distance running standout continues to pull in honors as a result of his combination athletic and academic excellence. He was recently named the winner of an NCAA Postgraduate Scholarship for spring sports.
Bowman was one of just 29 male athletes across all divisions to be awarded the postgraduate scholarship by the NCAA. Of those 29, only seven were from NCAA Division III institutions. The $7,500-dollar grant is awarded by the NCAA to "student-athletes who excel academically and athletically and who are in their final year of intercollegiate athletics competition."
Bowman put it together both on the track and cross country course and in the classroom during his career at Augustana, which began in the fall of 2007. He is the 26 th student-athlete in Augustana history to earn an NCAA Postgraduate Scholarship.
"When I saw my name amongst the stellar list of recipients, I was flabbergasted but realize that I have been so blessed to have been in the environment of Augustana cross country and track & field," said Bowman who was understandably elated when he heard the news. "The combination of mentorship from Ols (head coach Paul Olsen), my parents and all the art history professors provided the keys to success for me."
Less than three weeks ago he was named to the Capital One Academic All-America team as selected by the College Sports Information Directors of America. He was a second team selection on that prestigious team and was joined by teammates Justin Smith (Fenton HS, Bensenville, Ill.) and Mike Tisza (Hersey HS, Prospect Heights, Ill.) to up Augustana's number of Academic All-America selections to 139, which is sixth in the nation, regardless of division.
Bowman earned NCAA Division III All-American honors in cross country in 2010 and he was also All-Midwest Region that year. He was voted the Vikings' team MVP in 2008 and 2010 and was Most Inspirational in 2010 when he finished ninth in the College Conference of Illinois & Wisconsin championship. He also excelled in track as well, owning the fifth fastest 10,000 in school history and the 11 th best time over 5,000 meters. He was fourth in the CCIW 10,000 in 2012 and was Augustana's Most Valuable Freshman in 2008.
The son of Linda and Gary Bowman of Geneva, Illinois, he graduated with a degree in art history and had a 3.74 grade point average. He will be attending the University of Connecticut to work on his Master's degree in Art History with an emphasis on the 19 th century. He plans on continuing his education to eventually earn his Ph.D.
2011-12 NCAA POSTGRADUATE SCHOLARSHIP WINNERS
| | | |
| --- | --- | --- |
| NAME | SPORT | SCHOOL |
| Gerald Baer | Track & Field | Muhlenberg |
| Evan Barry | Volleyball | Stanford |
| Bryan Beegle | Track & Field | Shippensburg |
| Kale Booher | Track & Field | Ohio Wesleyan |
| MATT BOWMAN | Track & Field | AUGUSTANA |
| Ryan Dagerman | Golf | Emory |
| Cullen Doody | Track & Field | LSU |
| William Gilmer | Track & Field | Furman |
| Zachary Grunig | Golf | Northwest Nazarene |
| Tyler Hitchler | Track & Field | Nebraska |
| Braden Jackson | Golf | Wingate |
| Benjamin Johnson | Track & Field | Stanford |
| Maksim Levanovich | Tennis | Stetson |
| Cory Luckie | Baseball | Auburn |
| Greg Miller | Track & Field | Wyoming |
| John Nunns | Mount Olive | Volleyball |
| Jack O'Brien | Track & Field | TCU |
| Josh Ostrom | Baseball | Nebraska Wesleyan |
| Chad Pinkelman | Track & Field | South Dakota |
| Andreas Plackis | Baseball | Missouri |
| William Polio | Track & Field | Centre |
| Timothy Quattlebaum | Baseball | Gardner-Webb |
| Kenneth Ridge | Baseball | DeSales |
| Tyler Rose | Track & Field | North Dakota |
| Macey Ruble | Track & Field | North Carolina-Charlotte |
| Daniel Sloat | Track & Field | Rice |
| Scott Sundstrom | Tennis | Luther |
| Ryan Thatcher | Tennis | Stanford |
| Kevin Wright | Tennis | Texas-Tyler |
AUGUSTANA ATHLETES WHO HAVE EARNED NCAA POST GRADUATE SCHOLARSHIPS
| | | |
| --- | --- | --- |
| YEAR | ATHLETE | SPORT |
| 1968 | Jeff Maurus | Football |
| 1970 | Tim Dodge | Wrestling |
| 1971 | Ken Anderson | Football |
| 1975 | Bruce Hamming | Basketball |
| 1976 | John Stanek | Men's Track & Field |
| 1977 | Joe Thompson | Football |
| 1986 | Steve Sanders | Football |
| 1995 | Rachel Knapp | Women's Track & Field |
| 1995 | Tommy King | Football |
| 1996 | Ryan Carpenter | Football |
| 1998 | Alison Wolak | Women's Track & Field |
| 1998 | Chris Meskan | Football |
| 2000 | Mackenzie Hay | Football |
| 2001 | Kim Baier | Women's Track & Field |
| 2002 | Rudy Kovachevich | Men's Cross Country |
| 2003 | Todd Baldwin | Football |
| 2004 | Manda Geerts | Women's Track & Field |
| 2005 | Steve Broski | Baseball |
| 2006 | Nick Johnson | Men's Track & Field |
| 2007 | Meghan Voiland | Women's Track & Field |
| 2007 | Samantha Knox | Softball |
| 2009 | Keli Coleman | Women's Track & Field |
| 2009 | John Wagle | Baseball |
| 2009 | Blaine Westemeyer | Football |
| 2010 | Max Petersen | Men's Track & Field |
| 2012 | Matt Bowman | Men's Track & Field |