November 2006


A CYCLE COMPLETED


Having returned this year to her alma mater
as a new faculty member in geography, Dr. Jennifer Horwath '97 sees daily reminders of her student days. Few are as pleasing as the sight of Augustana's new recycling trucks making their rounds.
As a leader of the campus environmental group, Global Affect, Horwath helped establish the college's first recycling program a decade ago. "We convinced the administration to buy recycling bins for all of the residence halls," says Horwath. "And facilities services loaned us a truck for weekly collection." Members of Global Affect would spend one afternoon a week filling the truck and driving their payload to Rock Island's 16th Avenue recycling center. Jon Clauss, then the group's adviser, often pitched in to help.
In the past ten years, Augustana's recycling program has matured to the point where the college has created two staff positions dedicated to recycling. Recyclers Joe Ramos and Darlene Lee processed more than 45,000 pounds of recyclables in August and September, nearly double the amount handled during the same period a year ago.
Horwath expresses no disappointment that Global Affect has surrendered its volunteer role as Augustana's
de facto
recycling staff. "Recycling is one of the fundamentals," says Horwath, who teaches courses in global weather and climate and now serves on Augustana's environmental task force. "But there's no shortage of ways for us all to reduce our consumption of resources."
For more information on our recycling program, see
"Recycling keeps Augie environmentally friendly"
(
Quad City Times
, Sunday, October 22).
CROSS A TERKEL WITH A TWEET…
… and what do you get? A turkey
, some would say. Among them might be Davenport schoolchildren in November (when they write their two-line turkey poems to pass around like valentines) and Roald Tweet, who in one of his weekly radio spots for WVIK illustrates this regional form of doggerel with his own: "Turkey gobbles, Turkey whines, Turkey writes Rock Island Lines."
Well, this turkey has won a major award for his "Rock Island Lines with Roald Tweet," namely the 2006 Studs Terkel Humanities Service Award from the Illinois Humanities Council, as nominated by Rock Island mayor Mark Schwiebert. The award is named for the Chicago historian and radio personality Studs Terkel, who hit fame in the 1930s with his book and recorded interview collection,
Hard Times: An Oral History of the Great Depression.
Professor
emeritus
of English Roald Tweet began writing the Rock Island Lines — three-minute capsules of oral history on our particular bend in the Mississippi River valley — when former president Tom Tredway and WVIK founder Don Wooten approached him with the idea in 1994. But his interest in local history began in 1969 while teaching composition to uninspired freshmen. Tired of reading "yet another history of baseball," he encouraged his students to write local history — the history of their own towns and regions. Suddenly the young writers were interested. "This was brand new," says Tweet. "They felt they were actually contributing something to history."
"And," he admits, "they were fun to read."
That local history might be fun is not surprising to his listening audience. Humor, history and slice-of-humanity prevail in the 1,100 stories that form the Rock Island Lines. Join us in celebrating with Roald Tweet at an award ceremony on Tuesday, November 14 at 1:30 p.m. on the second fioor of the Tredway Library. For more information or to listen online, visit
www.wvik.org
.
FIELD NOTES
Field Notes
illustrates different kinds of experiential learning that take place on campus (and take us places off campus). In this issue, geology chair Mike Wolf writes about his trip west in late summer—along with Jeff Strasser and 15 students—for their field course
Physical Geology in the Rocky Mountains.
August 13
. Heading west on I-80, late morning; storm-blackened sky, torrential rains and high wind gusts buffet the vans. I hope we won't have to hike and camp in the downpour. The 6 a.m. rise-time this morning keeps the students asleep in the back of the vans…. Blew through the storm hours ago. Clear skies allow for perfect viewing of the Perseid meteor shower. Everyone works together to figure out how to set up the tents. A few study for their first quiz in the morning, a few wander with fiashlights up into the Badlands.
August 15.
We wake up in the Black Hills of SD to Jeff's homemade Krusteaz pancakes. After a few hours of lecture on partial melting and volcanic eruption processes, we visit Mt. Rushmore. Only the nerdy geologists, like me, notice the snot-like veins of black tourmaline running through all of the presidents' noses. Afterwards we climb into a mine adit on the backside of Rushmore, collecting bits of blue tourmaline and red garnet. Dinosaur, gemstone and meteorite samples at the Hill City geology museum cap off the day.
August 19
. Bighorn Mountains, Wyoming. About half of the group hikes a couple of hours up near tree line for a frigid dip in a glacial lake. I can handle it for about 10 seconds. Kumari spends about half an hour leisurely swimming about. Ash and Nelson end up nearly hypothermic by their lake-crossing endeavor. A huge pot of vegetable beef stew warms everybody up.
August 23
. We've named an unnamed mountain "Mt. Augustana," which we scale today. The air is thin above 9000 feet, so each step is laborious. Not everyone makes it to the summit. The last half hour is a hand-over-hand scramble up the scree slope. I work hard to try to beat most of the students up. The descent is loads of fun; we leap off the steep slope, hit the loose talus and slide a few more feet before leaping again.
NEW FACE ON CAMPUS
Pastor Julio J. Cruz-Natal
Associate chaplain, Campus Ministries
B.A., business administration, University of Puerto Rico
M.Div., Lutheran Theological Seminary at Philadelphia
If anyone has a motorcycle to sell, please stop by Campus Ministries. Not for Larry Peterson — he already rides a Harley Davidson Road King. It's Pastor Julio J. Cruz-Natal who's hoping to buy a bike, preferably a Honda VTX, Suzuki Boulevard or a Harley Fat Boy.
Cruz-Natal and his wife Claribel Ortiz come to Augustana from Puerto Rico. Leaving behind "BlackShadow," his aptly named Honda Shadow 750 ACE was difficult, but "most of all I miss my family, the people from the congregation where I served, and the food," he says.
Since 1998, Cruz-Natal was pastor of Principe de Paz Lutheran Church in Caguas, Puerto Rico. He worked part-time between 2002 and 2004 so he could also serve as the director of the Religious Life Office at Interamerican University of Puerto Rico. He found campus ministry to be such an exciting and motivating experience that he wanted to do more. When he learned of Augustana's need for an associate pastor, he was very interested because of the college's desire to serve the Hispanic population within and beyond the campus.
"I truly believe that any community can greatly benefit from the help of a spiritual leader," Cruz-Natal says. "But this is not only about worship and spiritual counseling. I hope this will also be a multidimensional ministry in which I can address different issues of our lives, such as advocacy, community involvement, ecumenism and others."
FROM THE CABINET: STEVE BAHLS, PRESIDENT
The Roman scholar Cicero
said that gratitude is not only the greatest of virtues, but is indeed the parent of all others. As we make our way toward Thanksgiving, many of us will take some time to refiect on the things for which we are grateful. For most of us, the most important gifts in our lives are the sustained gifts we experience every day, rather than surprise gifts we occasionally receive.
As colleges around us struggle, we have much to be grateful for. We, of course, are grateful for our students and their parents who entrust four of the most formative years of their lives to us. But this year, I am particularly grateful to those who serve our students. Members of the faculty, staff and administrative team are the heart and soul of our college. I am especially grateful to those who have devoted most of their working years in service to the college.
Every member of the Augustana community has gifts that enrich our campus. Let us be grateful for those gifts, and for the people who bring them.
Happy Thanksgiving!
CAMPAIGN UPDATE FROM AL DESIMONE
As of November 7
, 121 members of the campus community have committed more than $875,000 to
Authentically Augustana: A Call to Action
. We are grateful to the faculty, administration and staff for these commitments in support of our strategic plan.
AUGUSTANA FAMILY NEWS
Dr. Rachel Magdalene's son Staff Sergeant Ben Varlese
is serving his second tour of duty in Iraq; prayers for his safe return are appreciated. Dr. Magdalene and her son—each in his or her own way—share a connection to Iraqi history. She is noted for her work with Neo-Babylonian legal tablets, ancient documents from present-day Iraq that represent some of the world's earliest legal history.
I'm a man who's rich in daughters
—lyrics from folksinger Greg Brown that public relations director
Kirby Winn
'94 could now sing… if he could carry a tune, that is. Far better to hear it from CSD clinical supervisor
Jenny Winn
'95, who gave birth to the couple's second child, Emily Opal, in the early morning hours of Tuesday, October 17 (after experiencing contractions during weekend concerts with Nova Singers). Emily joins her proud big sister, Anna, age 4.
Need advice on raising boys?
Lou Belby
of the Spanish department and his wife Laura are experts: they have four sons and two grandsons. Last spring their oldest son Erik and his wife Monica (both '95) had their second son, Carter Robert, who joined Ethan Richard. Erik teaches math and coaches track and cross country at Pleasant Valley High School; in October his cross country team won the Iowa State Championship. I guess you could agree with Lou when he says, "boys run in my family."
There are plenty of Beths around. But if you're looking for web advice, don't go to Beth Weber: that's Beth Nordby. And while Kai Swanson and Beth Roberts have some things in common, it's Beth Swanson he married. Speaking of marriage and Beth Weber, that particular Beth is now
Beth Whitty
. On September 30, Beth married Kevin Whitty in a ceremony in Beth's hometown of Ottawa, Illinois. Kevin is an Iowa State University alum and an electrical engineer for MidAmerican Energy. Beth, of course, is a 2003 graduate of Augustana and a software analyst in IT. You can find her (and congratulate her) over in the Olin Center.
SEEN AND HEARD
"I began my journey through Latin America with so many stereotypes of the region, and all of my opinions were quickly changed. There is so much more to Latin America than burritos, burros and beaches." – Eric Janssen '08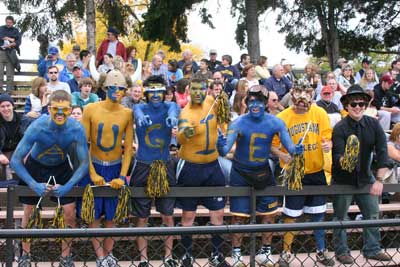 At Homecoming, these guys were both seen
and
heard.
A LOOK AHEAD
As the coming months
begin to fill with holiday events, don't forget to schedule time for this season's campus events, traditional and new. November sees the beginning of basketball season and the Ellwood F. Curtis Family Lecture in Public Affairs, "Whose God, Whose Trust? Religion, Secularism and American Patriotism," given by Susan Jacoby. In December, attend the 126th anniversary season of the Handel Oratorio Society's performance of
Messiah
and the Scandinavian department's traditional Sankta Lucia celebration. Also in December, guest speaker Dr. Joanne B. Eicher will discuss the contemporary Nigerian textiles in the Art Museum exhibition "Cloth is the Center of the World: Nigerian Textiles, Global Perspectives." For details on these and other public events, visit our new online event calendar at
www.augustana.edu/events
.
Acknowledge
is published by the Office of Communication and Marketing. Contact
Beth Roberts
, editor. Photos in this issue were contributed by Augustana Photo Bureau members Ashley Biess '09, Ian Fletcher '09 and Tim Merchut '09.