June 28, 2012
Fitzwater, Westerberg pre-season All-America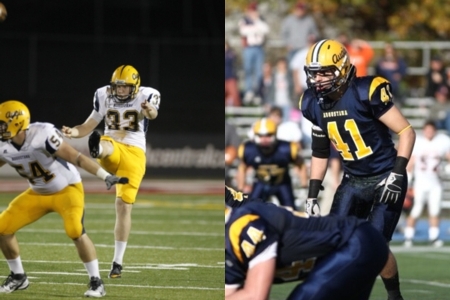 Senior punter Arnie Fitzwater (L) and junior linebacker Erik Westerberg (R) have been named to Beyond Sports Network's 2012 Division III pre-season All-America third team.
ROCK ISLAND, Ill. - Augustana football players Arnie Fitzwater (Union HS, Waterford, Wis.) and Erik Westerberg (York HS, Elmhurst, Ill.) have been named 2012 Division III pre-season All-Americans by Beyond Sports Network. Fitzwater, a senior punter and Westerberg, a junior linebacker, were both third team selections by BSN. Each was a first team All-CCIW and second team all-region performer in 2011.
Fitzwater led the CCIW and finished among the national leaders in punting last year. In league play, his averages of 41.0 yards gross and 36.9 net both led the conference. His overall averages of 40.5 gross yards and 36.0 net ranked 12th and sixth in the nation, respectively, at the Division III level. In addition, he tied a 44-year old school record with a 76-yard boot against Elmhurst and was named Augustana's Special Teams Most Valuable Player. Arnie is the son of Don and Julie Fitzwater.
Westerberg, a second team CoSIDA/Capital One Academic All-American in 2011, finished eighth in the nation with 72 solo tackles and tied for 34th with 106 total. He led the CCIW in both categories with 51 and 72, respectively, in league games. He was named the Vikings' Most Valuable Player as well as the team's Defensive MVP. He recorded 14 tackles in a game twice, including 13 solo stops against North Park. Erik was a first team Academic All-District selection by CoSIDA/Capital One. He is the son of Annette and Peter Westerberg.