June 25, 2012
2011-12 Season - Future Vikings shine at IBCA All-Star Games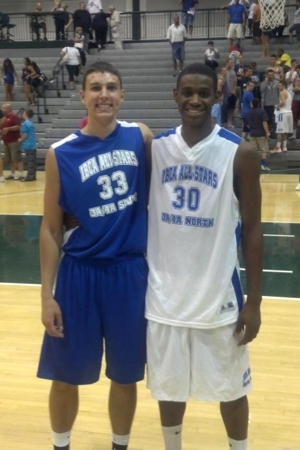 Incoming Augustana freshmen Ben Ryan (L) and Tayvian Johnson (R), along with Hunter Hill, played in Saturday's IBCA All-Star Games in Bloomington, Illinois. Johnson scored a game-high 28 points and had 12 rebounds to earn MVP honors for the North in the Class 3A/4A game.
ROCK ISLAND, Ill.-Incoming Augustana freshman Tayvian Johnson of United Township High School in East Moline, Illinois, scored a game-high 28 points and grabbed 12 rebounds to lead the North squad to a 116-96 win at the Illinois Basketball Coaches Association Class 3A/4A All-Star Game held Saturday, June 23 in Bloomington, Illinois. Johnson's performance earned him team MVP honors. Two other future Vikings also competed Saturday, with Washington's Ben Ryan suiting up for the South in the 3A/4A contest and Byron's Hunter Hill playing for the North in the Class 1A/2A game.
Johnson, a 6' 5", 190-pound forward, is believed to be the first incoming College Conference of Illinois & Wisconsin player to earn large-school MVP honors in the 37-year history of the IBCA games. The organization began sponsoring all-star games for classes A and AA in 1976. When the Illinois High School Association split boys' basketball into four classes in 2007, the IBCA maintained its small school/large school format by combining classes 1A and 2A in one game, and 3A and 4A in the other.
Johnson wasn't the only future Viking to collect hardware Saturday. Hill, a 5' 9", 165-pound point guard, scored 11 points in the North's 121-116 double-overtime loss, earning his team's Leadership Award.
Ryan, a 6' 5", 205-pound forward, scored two points, snared five rebounds and blocked a pair of shots for the South in the large school game.
All three players were named to the IBCA's All-State teams this year. Ryan, who averaged 17.3 points and 7.5 rebounds for a 26-6 Washington team, was a second team selection in Class 3A/4A. Hill was a second team honoree in Class 1A/2A after breaking Byron's career record for assists with 395 and leading the team to a 29-1 record. Johnson's 17.3 points and 7.8 rebounds a game for United Township earned him Class 3A/4A Special Mention.