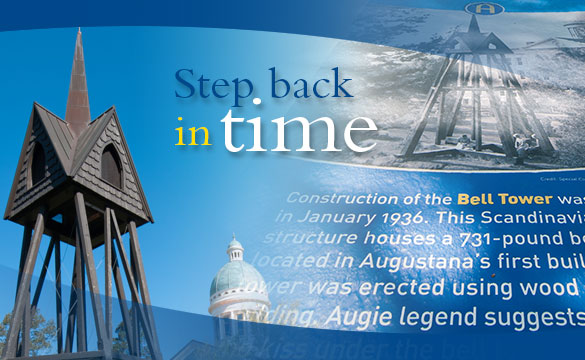 To help visitors get a sense of Augustana's history and traditions when a student tour guide (or tour leader extraordinaire Kai Swanson '86) isn't around, the college has installed 10 sidewalk graphics around campus. Each graphic is a snapshot of a time in the college's history related to where the person is standing. MORE...
90 years later, Garcia '12 follows Fryxell's path in the Tetons

The summer after he received his Augustana bachelor's in English, Sebastian Garcia '12 found himself crossing a deep Wyoming lake in a canoe with "Fryxell" written on the side. Ninety years earlier, Fritiof Fryxell also had graduated from Augustana with an English major. MORE...

Amazing mace

Professor Emeritus of English Dr. Roald Tweet and Dave Apple of Facilities Services turn a 140-year-old piece of wood into Augustana's first mace. Although it's been carried on only one official occasion thus far—last May's commencement—the mace already has a nickname. MORE...

Women's & gender studies grads: Where are they now?

Dr. Jane Simonsen coordinates the women's and gender studies (WGS) program at Augustana. Four WGS alumnae talk about what they are doing now, how their liberal arts experience impacts them today and why they'd encourage others to follow in their footsteps. MORE...

Interpreting Dean Betsey

Dean Emerita Betsey Brodahl's signature valediction, accompanied by a royal wave, was: "Carry on, friends!" Dr. Ann Boaden '67 interprets her dear friend's greeting in this essay written for Dean Betsey's campus memorial service in May. MORE...

Former CEO Brenda Barnes '75 pays it forward with gift, time as she recovers from stroke

After a stroke forced her to resign as chairman and CEO of Sara Lee Corp., Brenda Czajka '75 Barnes is doing what she does best—working the plan. Find out how Barnes is doing two years after her stroke. MORE...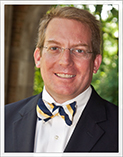 While handling presidential duties during Steve Bahls' sabbatical this summer, Kent Barnds reflects on Augustana's response to the need for change and efforts to preserve our heritage.
MORE
...

Vikings football coach Rob Cushman looks ahead to the 2012 season.


Your Gifts at Work:
Meet the 2012 winner of the Hasselmo Prize for Academic Pursuit

Dr. Richard Ballman (1972-2012)
Economics Department
Promoted to professor, 1995; named Stuart Lee and Virginia Talbott Harbour Chair in Economics in 2008.

Dr. Lou Belby (1979-2012)
Spanish Department
Promoted to professor, 1995.

Dr. Roger Crossley (1976-2012)
French Department
Promoted to professor, 1994.

Jean DePauw (1996-2011)
Facilities Services
Administrative assistant

Dr. Don Erickson (1971-2012)
English Department
Promoted to professor, 1989; named the Dorothy J. Parkander Chair in Literature, 2007.

Dr. David DeWit (1971-2012)
Chemistry Department
Promoted to professor, 1987.

Dr. Michael Finnemann (1990-2012)
Spanish Department
Promoted to professor, 1998.

Mooch Gay (1996-2012)
Foreign Languages
Building secretary, Denkmann

Dr. Charlie Mahaffey (1977-2011)
Geography Department
Promoted to professor, 1994.

Dr. Larry McCallum (1971-2012)
Psychology Department
Promoted to professor, 1993; named Harold T. & Violet M. Jaeke Chair in Family Life Studies, 1993.

Georgia Moreno (1986-2012)
Economics Department
Secretary

Dr. Richard Narske (1980-2012)
Chemistry Department
Promoted to professor, 1988.

Deb Nelson (1992-2012)
Business Office
Student accounts supervisor

Sister Marilyn Ring (1995-2012)
Campus Ministries
Associate campus chaplain

Tom Schmulbach (1982-2012)
Athletics
Assistant football coach/instructor
(head coach 1995-1999)

Dr. Van Symons (1978-2012)
History Department
Promoted to professor, 1988. Named executive director of ASIANetwork, 2003, and William F. Freistat Chair for Studies in World Peace, 2007.