June 14, 2012
2011-12 Season - 2012 MEN'S TENNIS REVIEW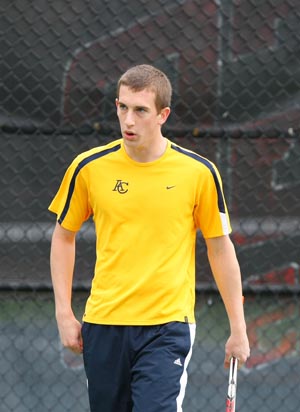 Senior Adam DeSimone wrapped up an outstanding career by leading the Vikings to a 16-11 overall record in 2012. DeSimone tied the school record for career doubles victories with 73 and was second in career singles with 63 and in combined (singles & doubles) wins with 136.
Adam DeSimone (Bettendorf HS, Bettendorf, Iowa) wrapped up an outstanding career in 2011-12, leading first-year coach Jon Miedema's men's tennis team to a 16-11 record and a fourth-place finish at the College Conference of Illinois & Wisconsin Tournament. Playing at number one singles and with sophomore Andy Wall (Notre Dame Academy, De Pere, Wis.) at number one doubles, DeSimone won 31 matches this season to bring his career total to 136-the second-highest in school history behind Kyle Doyle's 139. He tied Doyle's career record for doubles wins with 73 and his 63 career singles wins trail only Doyle's school-record 66.
DeSimone finished with a 15-16 singles record this season and a 16-13 doubles mark, all while teamed with Wall. He was a first team All-CCIW selection after earning second team honors each of his first three seasons as a Viking. He was also named the team's Co-MVP with sophomore Kevin Bayles (Homewood-Flossmoor HS, Flossmoor, Ill.) as well as Augustana's "Hardest Worker." He won conference Player of the Week honors on March 7, after compiling a 5-0 singles and 3-1 doubles record during the Vikings' swing through Florida.
Freshman Lawrence Palmer (Schiller International, El Prat de Llobregat, Spain) played in the number two singles slot for most of the season and posted a 9-11 record. A second team All-CCIW selection, he also went 12-11 in doubles, including a 12-10 mark with his brother, junior William Palmer (Schiller International, Leicester, England), at number two doubles.
In addition to teaming with DeSimone at number one doubles, Wall went 17-13 in singles. He played mostly in the number three slot, but did post a 5-4 mark at number two singles. The 16 doubles wins he compiled with DeSimone this year are tied for 10th best in school history.
Junior Jack Cullen (Edgewood HS, Madison, Wis.) and sophomore Colin Arnold (Sterling HS,. Sterling, Ill.) competed primarily at number four and five singles, respectively. The duo also comprised the Vikings' number three doubles team, going 18-6 and winning their second straight CCIW flight championship. They now rank fifth at Augustana in single-season doubles wins and eighth in career doubles wins with 32. Their .727 career winning percentage is also fifth all-time for the Vikings. Cullen went 11-14 in singles play this year and his next win in either singles or doubles will move him into the 100-win club at Augustana. He has 50 career singles wins and his next will move him into the school's top ten. Arnold went 20-9 in singles play to move into a tie for fourth place on the school's single-season wins list. He was CCIW flight champion at number five singles and his .712 career singles winning percentage is now ninth in school history. He's already accumulated 78 total wins in his first two seasons.
Bayles went 21-7 playing at number five and six singles. His win total is tied with DeSimone (2009) for the second-highest in school history, trailing only the 23 that Cullen posted in 2010.
Sophomore Grant Wick (Windsor HS, Fort Collins, Colo.) also made it into Miedema's lineup on occasion this year, posting a 10-4 singles mark at number six.
At the CCIW tournament, which Augustana hosted, the Vikings defeated Illinois Wesleyan 5-3 in the opening round with DeSimone clinching the victory. They dropped a heartbreaker in the semifinals, falling 5-4 to Wheaton, before losing the third-place match 6-3 to Carthage.
2012 COLLEGE CONFERENCE OF ILLINOIS & WISCONSIN TOURNAMENT
May 4-5, 2012 ** Augustana College ** Rock Island, Illinois
Friday, May 4
First Round
#3 Elmhurst 5, #6 North Central 0
#4 Augustana 5, #5 Illinois Wesleyan 3
Semifinals
Elmhurst 5, #2 Carthage 4
#1 Wheaton 5, Augustana 4
Fifth Place Match
Illinois Wesleyan 5, North Central 1
Saturday, May 5
Third Place Match
Carthage 6, Augustana 3
Championship
Wheaton 6, Elmhurst 3
2011-12 AUGUSTANA SUPERLATIVES
CCIW Finish: 4th place at conference tournament
CCIW All-Conference: Adam DeSimone (1st team); Lawrence Palmer (2nd team)
Single Season Singles Wins: 21, Kevin Bayles (2nd-T); 20, Colin Arnold (4th-T)
Career Singles Wins: 63, Adam DeSimone (2nd)
Career Singles Win Percentage: .712, Colin Arnold (9th); .711, Kevin Bayles (10th)
Single Season Doubles Wins (Team): 18, Colin Arnold/Jack Cullen (5th-T); 16, Adam DeSimone/Andy Wall (10th-T)
Career Doubles Wins (Team): 32, Colin Arnold/Jack Cullen (8th)
Career Doubles Wins (Individual): 73, Adam DeSimone (1st-T)
Career Doubles Winning Percentage (Team): .727, Colin Arnold/Jack Cullen (5th)
100 Win Club: 136, Adam DeSimone (2nd)
CCIW "Player of the Week": Adam DeSimone (03/07/12)
John R. Olson "Most Valuable Player": Adam DeSimone; Kevin Bayles
Hardest Worker: Adam DeSimone
CCIW Individual Flight Champions: Colin Arnold (No. 5 singles); Jack Cullen/Colin Arnold (No. 3 doubles)
CCIW Academic All-Conference: Colin Arnold, Jack Cullen, Adam DeSimone, Grant Wick