June 14, 2012
2011-12 Season - 2012 MEN'S GOLF REVIEW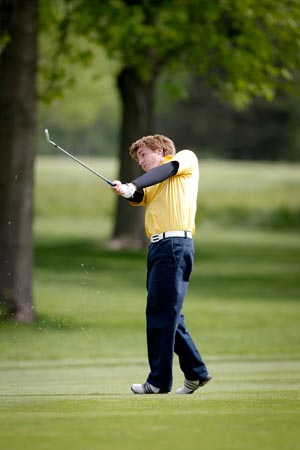 Freshman Jake Groselak was named the MVP of the 2012 Augustana men's golf team.
The 2011-12 men's golf season, head coach Paul Del Vecchio's first at Augustana, was highlighted by the performance of f reshman Jake Groselak (Lemont HS, Lemont, Ill.), who sported the Vikings' best per-round average at 81.5 strokes, as well as the team's top finish with a fifth-place 78 at the Vike-Fire-Scot Triangular. Another freshman, Grant Murphy (Dunlap HS, Peoria, Ill.), was named Newcomer of the Year and sophomore John Stone (Rockridge HS, Reynolds, Ill.) was named Most Improved.
The Vikings competed in 12 events in Del Vecchio's first season, posting a 37-88-2 head-to-head record. Their top performance was a sixth-place finish at the 13-team Prairie Fire Classic hosted by Knox College in Peoria, Illinois on March 30-31, 2012. The team's highest finish was second place at the Vike-Fire-Scot Triangular in Monmouth, Illinois on September 22, 2011.
Murphy finished just behind Groselak with an average of 82.2 strokes per round and had the best single round of the season with an opening-round 73 at the Blueboy Invitational in Jacksonville, Illinois on April 21-22, 2012. He and Groselak were the only individuals to compete in all 12 events and 23 rounds this season.
Other mainstays for De Vecchio included junior Jeffrey Paustian (Geneva HS, Geneva, Ill.), who was third on the team with an average of 83.1 strokes per round over 19 rounds in 10 events. His low round was a 74 at the Augustana Invitational and his highest finish was a tie for 18th at the Vike-Fire-Scot Triangular. He also had Augustana's top finish at the CCIW tournament with a four-round total of 321, tying for 25th.
Junior Curtis Lubic (Kaneland HS, Sugar Grove, Ill.) averaged 83.3 strokes over 20 rounds in 10 events. He had a low round of 77 at the Duane Chaney Invitational and a top finish of 14th at the Elmhurst Invitational.
Freshman Max Channon (Wheaton Warrenville South HS, Wheaton, Illinois) played 17 rounds in nine events with an average of 84.4 strokes. His low round of 75 at the Blueboy Invitational helped him to a 10th-place finish, the second-highest by a Viking this year.
Josh Kukla (Zion-Benton HS, Winthrop Harbor, Ill.), another freshman, averaged 88.4 strokes over 19 rounds in 10 events. His highest finish was 14th at the Duane Chaney Invitational, where he shot a season-low round of 74. That tied him for the second-best round by a Viking this year.
2012 COLLEGE CONFERENCE OF ILLINOIS & WISCONSIN TOURNAMENT
April 27-18, 2012 ** Oakwood Country Club ** Coal Valley, Illinois (Rounds 1 & 2)
May 4-5, 2012 ** Meadowbrook Country Club ** Kenosha, Wisconsin (Rounds 3 & 4)
| | | | | | | | |
| --- | --- | --- | --- | --- | --- | --- | --- |
| Rank | Team | Rd 1 | Rd 2 | Rd 3 | Rd 4 | Total | Par |
| 1 | Illinois Wesleyan | 308 | 292 | 301 | 289 | 1190 | 54 |
| 2 | Carthage | 305 | 300 | 304 | 295 | 1204 | 68 |
| 3 | Millikin | 306 | 302 | 311 | 296 | 1215 | 79 |
| 4 | Wheaton | 309 | 310 | 304 | 301 | 1224 | 88 |
| 5 | North Park | 322 | 317 | 311 | 308 | 1258 | 122 |
| 6 | North Central | 318 | 324 | 326 | 324 | 1292 | 156 |
| 7 | Elmhurst | 336 | 322 | 328 | 317 | 1303 | 167 |
| 8 | AUGUSTANA | 339 | 316 | 333 | 320 | 1308 | 172 |
| | | | | | | | | |
| --- | --- | --- | --- | --- | --- | --- | --- | --- |
| Rank | Player | Team | Rd 1 | Rd 2 | Rd 3 | Rd 4 | Total | Par |
| 1 | Hillen, Wes | Millikin | 69 | 71 | 69 | 72 | 281 | -3 |
| 2 | Hyland, Brad | Carthage | 76 | 75 | 72 | 68 | 291 | 7 |
| 3 | Johnson, Stefan | Illinois Wesleyan | 77 | 71 | 73 | 71 | 292 | 8 |
| 4 | Reese, Dex | Illinois Wesleyan | 77 | 72 | 76 | 72 | 297 | 13 |
| 5 | Smith, Shane | Illinois Wesleyan | 77 | 73 | 76 | 74 | 300 | 16 |
| 6 | Langland, Donnie | Carthage | 74 | 74 | 77 | 77 | 302 | 18 |
| 7 | Kopka, Josh | Carthage | 80 | 76 | 76 | 73 | 305 | 21 |
| 8 | Downey, Dan | Wheaton | 79 | 76 | 75 | 76 | 306 | 22 |
| 9 | Cardle, Tommy | Wheaton | 75 | 80 | 79 | 73 | 307 | 23 |
| 10 | Markiewicz, Mike | Millikin | 82 | 75 | 79 | 72 | 308 | 24 |
| 10 | Moore, Steven | Wheaton | 81 | 74 | 77 | 76 | 308 | 24 |
| 10 | Nordin, Tobias | North Park | 80 | 78 | 74 | 76 | 308 | 24 |
| 25 | Paustian, Jeffrey | AUGUSTANA | 87 | 79 | 79 | 76 | 321 | 37 |
| 30 | Groselak, Jake | AUGUSTANA | 79 | 81 | 84 | 84 | 328 | 44 |
| 30 | Murphy, Grant | AUGUSTANA | 87 | 81 | 84 | 76 | 328 | 44 |
| 38 | Lubic, Curtis | AUGUSTANA | 88 | 78 | 86 | 84 | 336 | 52 |
| 43 | Channon, Max | AUGUSTANA | 89 | 78 | 91 | 86 | 344 | 60 |
| 43 | Kukla, Josh | AUGUSTANA | 86 | 83 | 89 | 86 | 344 | 60 |
2011-12 AUGUSTANA SUPERLATIVES
MOST OUTSTANDING PLAYER – Jake Groselak
MOST IMPROVED PLAYER – John Stone
NEWCOMER OF THE YEAR – Grant Murphy

INDIVIDUAL TOP TEN FINISHERS IN INVITATIONALS
T-10th, Max Channon (80-75—155) – Blueboy Invitational, 04/21-22/12
T-5th, Jake Groselak (78) – Vike-Fire-Scot Triangular, 09/22/11