June 13, 2012
2011-12 Season - Eight players in 2012 men's basketball class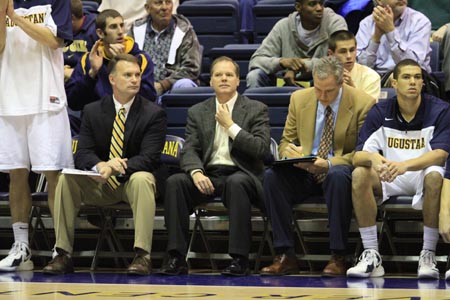 Augustana head men's basketball coach Grey Giovanine, flanked by assistants Dallas Duwa (left) and Tom Jessee (right) landed a talented recruiting class heading into the 2012-13 season.
After the departure of six seniors from his 2011-12 squad, Augustana men's basketball coach Grey Giovanine and his staff have brought in an eight-player recruiting class in preparation for the 2012-13 season. It's a group that, along with 11 returning players from this year's 19-7 team, have Giovanine and assistant coaches Tom Jessee, Rick Harrigan and Dallas Duwa excited about the future. There are seven incoming freshman and a junior college transfer in the incoming class.
Always eager to add local talent, Giovanine has done so this year with United Township High School product Tayvian Johnson of East Moline, Illinois. "We always want to recruit the best student athletes from the Quad Cities and Tayvian certainly fits that description. We expect him to have a terrific career with us," Giovanine said. An outstanding all-around athlete, Johnson earned 10 varsity letters for the Panthers, including four in coach Marc Polite's basketball program. The 6' 5", 190-pound forward averaged 17.3 point and 7.8 rebounds a game as a senior, shooting .569 from the field, .311 from three-point range and .661 from the free throw line. He was a Western Big 6 all-conference selection and earned All-State honorable mention from the Associated Press (Class 4A) and IBCA (Class 3A/4A) and special mention from the Champaign News Gazette (all four classes). He was a two-time all-metro selection by both the Dispatch/Argus and Quad-City Times. In addition to basketball, Johnson was the Western Big 6 triple jump champion as a junior with a leap of nearly 45 feet and won all-conference and all-area recognition as a wide receiver in football.
The Vikings also landed Jake Gylten, a 6' 6', 220-pound forward from Iowa Class 4A state champ Iowa City West. The Trojans went 26-0 and defeated Marion Linn-Mar and North Carolina-bound Marcus Paige by 20 points in the state semifinals. In a 67-52 title game win over Sioux City East, Gylten, whom coach Steve Bergman called "a good defender and a very good post defender," drew primary defensive duties against 7' 1" University of Iowa signee Adam Woodbury. Gylten averaged 8.2 points and 4.2 rebounds for a talented and balanced Trojan club, shooting .586 from the field and .533 from three-point range. "There're a lot of teams in the state he'd be the leading scorer on," Bergman said of Gylten, who was a second team Mississippi Valley Conference selection. He earned honorable mention from the Iowa City Press-Citizen for its 2012 Area Player of the Year award.
Brandon Motzel, a 6' 6", 200-pound forward from Carmel Catholic High School in Mundelein, Illinois, averaged 14.0 points, nine rebounds and three blocked shots a game as senior to earn Player of the Year honors for the Corsairs and coach Tim Bowen. Motzel shot 58 percent from the field and had 65 steals and 61 assists in 26 games. He was the McDonald's/Pioneer Press Senior Athlete of the Month for December 2011 and was an all-tournament selection at both Coaches vs. Cancer and the Wheeling Hardwood Classic. In addition, he earned Pioneer Press third team and Daily Herald honorable mention all-area. He was the Pioneer Press Lake Shore Newcomer of the Year as a junior.
Hunter Hill, a 5' 9", 165-pound point guard, comes to Augustana from another high school program familiar to Viking fans. He was a three-year starter and two-time unanimous All-Big Northern Conference selection at Bryon High School in Byron, Illinois, the alma mater of two-time Viking MVP Bryant Voiles. Hill is Byron's all-time assist leader with 395 and averaged 10.5 points, 4.9 assists and 2.9 steals per game this year for coach Tom Schmidt's 28-1 Tigers. He was an IBCA Class 1A/2A second team All-State selection as a senior after earning third team honors his junior year. The AP named him Class 2A All-State honorable mention. In addition, he was Co-MVP of the Rock River Valley Senior All-Star Classic in Milwaukee, Wisconsin and also participated in the Rising Stars All-Star Game. Like he was in basketball, Hill was a team captain and MVP in football and rushed for 280 yards and seven touchdowns in his final high school game.
For the second year in a row, Augustana has landed a standout from Washington Community High School in Washington, Illinois. Ben Ryan, a 6' 5", 205-pound swing man, will be a Viking in 2012-13. Ryan was the Pekin Times Class 3A/4A Area Player of the Year this year as well as MVP of the prestigious Pekin Holiday Tournament. The Peoria Journal Star selected him to its first team Large School All-Area team. Ryan was a two-time first team All-Mid-Illini Conference selection and earned Class 3A/4A All-State honors from the IBCA each of the last two years-third team as a junior and second team this year. He also earned all-state recognition from the AP and Champaign News Gazette. He averaged 17.3 points and 7.5 rebounds this season for the 26-6 Panthers and coach Kevin Brown. He shot .563 from the field and .687 from the free throw line. He had a pair of huge games in the Class 3A sectional, scoring 30 points in a four-overtime semifinal win over Peoria Manual and 17 points to go along with 12 rebounds in an overtime loss to Peoria Central in finals. About Ryan, Giovanine had to say, "Ben has had a great career for one of the best high school basketball programs in the state, and we couldn't be more pleased that he has decided to join us at Augustana." Ryan will join high school teammate Mark Roth, a member of Augustana's 2011 recruiting class, on next years' Viking team.
6'4", 195-pound guard Griffin Pils will also be joining the Vikings next season. He won six varsity letters in three sports at Libertyville High School in Libertyville, Illinois. As a senior, he averaged 17 points, 6.8 assists, 3.5 rebounds and two steals per game and shot .862 from the free throw line for coach Scott Bogumil's Wildcats. He was a team captain and MVP as well as a first team All-North Suburban Conference selection. The Daily Herald named him to its All-Area, All-Senior and All-Sharpshooter teams and he was that publication's Player of the Week after a 40-point, 12-rebound outburst against Carmel. He also earned first team All-Area honors from the Pioneer Press and special mention Class 3A/4A All-State from the IBCA. He lettered twice in soccer and scored a goal in the 2010 Class 3A state championship game. Pils also lettered as a sophomore in tennis, finishing in the top 48 at state.
Jake Norcia, a 6', 170-pound guard, was an All-Central Suburban League North selection as a senior at Highland Park High School in Highland Park, Illinois. A two-year letter winner for the Giants and coach Paul Harris, he was named second team Lake Shore All-Area by the Pioneer Press and Class 3A/4A All-State special mention by the IBCA. He set a school record with 80 steals this season and led the 17-11 Giants in scoring at 14.5 points per game and in three-point field goals with 58. Norcia had team-best shooting marks of 50 percent from two-point range and 75 percent from the free throw line as well. He finished second on the team with an average of 2.5 assists per contest.
Dipping into the junior college ranks is not something Giovanine does often but local product Nic Hoepfner from United Township High School in East Moline, Illinois has decided to continue his career back in the Quad Cities. Hoepfner, a 6' 6", 225 pound post player, was a three-year letter winner for Polite and the Panthers. He earned all conference honors in the Western Big Six two times and was a Dispatch/Argus All-Metro selection as a senior. He also garnered All State recognition from multiple sources, including the Champaign News Gazette, Associated Press and the Illinois Basketball Coaches Association. He averaged 16.6 points and 8.4 rebounds per game as a senior and also shot .563 from the field in league play.
Giovanine recently finished his 13th season as the head basketball coach at Augustana. He has fashioned a record of 245- 100 (.710) overall with the Vikings and 123-59 (.676) in the College Conference of Illinois & Wisconsin. He spent six years at NCAA Division I Lamar University, where he compiled an 80-85 record from 1993-99. He has guided the Vikings to CCIW titles in 2002-03, 2005-06, 2006-07, 2007-08 and 2010-11 as well as conference tournament championships in 2007, 2008 and 2011. Giovanine was named the CCIW's "Coach of the Year" in 2005-06, 2006-07, 2007-08 and again in 2010-11. He was the IBCA NCAA Division III "Coach of the Year" in 2003, for three straight seasons from 2006 through 2008, and again in 2010-11.