June 12, 2012
Vikings gear up for rugged football schedule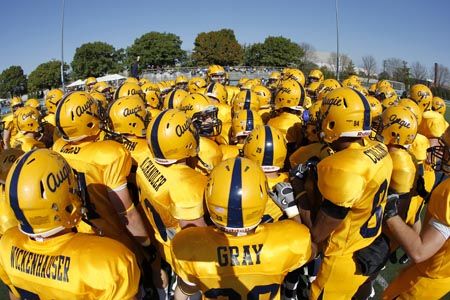 Augustana will open the 2012 season with two road games at Iowa Conference powerhouses Dubuque and Central of Iowa before coming home to Ericson Field.
An opening game on the road against the defending Iowa Collegiate Conference champion will kick off the 2012 Augustana football season. The Vikings of second year head coach Rob Cushman will play two away games before coming home to the friendly confines of Ericson Field.
Cushman and the Vikings will open the 2012 campaign on Saturday, September 1 with a 7:00 p.m. night game at the University of Dubuque. The Spartans won the Iowa Conference a year ago and defeated Augustana 18-13 in the season opener. Following the Dubuque contest, Augustana will head to Pella, Iowa on September 8 for a game with perennial power Central of Iowa before coming home on September 15 for a 6:00 p.m. Family Day battle with Loras, another Iowa Conference foe.
The College Conference of Illinois & Wisconsin season will open on Saturday, September 29 with a home game against Wheaton. The Vikings will also play Millikin (October 13 for Homecoming), Carthage (October 27) and North Central (November 10) at Ericson Field. Road games in the CCIW will be at Elmhurst (October 6), North Park (October 20) and Illinois Wesleyan (November 3).
"The schedule will be a tough one right from the start," said Cushman who watched his Vikings lose a series of close games last year in a 2-8 season. "Dubuque won the Iowa Conference last year and Central of Iowa has long been a power in that league. Our team will be challenged right from the beginning and we will be doing it with a new quarterback on offense. The CCIW continues to be one of the best NCAA Division III leagues around so we certainly have our work cut out for us."
Augustana will be playing on a new synthetic surface this fall as the original turf, which was installed in 2002, is being replaced. In addition, a new stadium will be built and that facility should be open in time for the 2013 season.
2012 AUGUSTANA VIKINGS FOOTBALL SCHEDULE
DATE

OPPONENT

SITE

TIME

September 1

Dubuque

Dubuque, Iowa

7:00 p.m.

September 8

Central of Iowa

Pella, Iowa

1:00 p.m.

September 15

Loras

Family Weekend

HOME

6:00 p.m.

September 29

*Wheaton

HOME

1:00 p.m.

October 6

*Elmhurst

Elmhurst, Illinois

1:00 p.m.

October 13

*Millikin'

Homecoming

HOME

1:00 p.m.

October 20

*North Park

Chicago, Illinois

1:00 p.m.

October 27

*Carthage

HOME

1:00 p.m.

November 3

*Illinois Wesleyan

Bloomington, Illinois

1:00 p.m.

November 10

*North Central

HOME

1:00 p.m.

November 17

First Round NCAA Playoffs
* - College Conference of Illinois & Wisconsin game