June 11, 2012
2011-12 Season - Beinborn announces 2012-13 recruiting class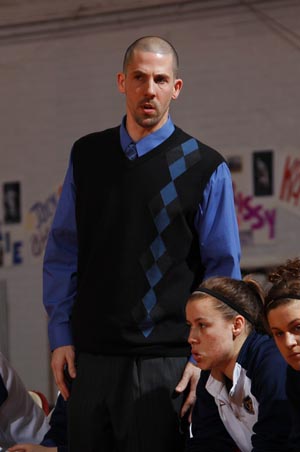 First year head coach Mark Beinborn announced the first recruiting class of his tenure at the Vikings' helm.
First-year Augustana women's head basketball coach Mark Beinborn has announced his 2012 recruiting class and it consists of eight athletes that have him upbeat about the future of the Viking program. This year's group provides Beinborn with good size, with five of the eight players standing 5' 10" or taller, including a pair of 6-footers. It also includes two pairs of high school teammates as well as an addition from Canada.
"I am very excited about the upcoming class," said Beinborn about his first group of recruits. "We are bringing in more size down low as well as some long athletic guards that we need to compete in the CCIW. We have a deep class with some kids who could come in and battle for time right away."
Two standouts from St. Edward Central Catholic High School in Elgin, Illinois, Maddie Kerr and Alex Lee, will be joining the Vikings in 2012-13. Each earned Illinois Basketball Coaches Association Class 1A/2A All-State special mention this year.
Kerr, a 5' 11" guard and two-time team captain, garnered all-area recognition four times from the Elgin Courier News and three times from the Daily Herald. The two-time All-Suburban Christian Conference selection ended up third on the Lady Wave's all-time scoring list with 1,170 points. As a senior, she averaged 10.8 points, 3.4 rebounds and 2.8 assists per game. She also shot .785 from the free throw line and hit a team-high 33 three-point field goals for a 21-8 St. Edward squad.
Lee, a 6' 1" center, also starred for coach Michelle Dawson's Lady Wave. In addition to this year's IBCA All-State recognition, she earned all-area honorable mention each of her four seasons at St. Edward. As a senior, she averaged 10 points and nine rebounds a game and shot 58 percent from the field and 58 percent from the free throw line. She battled through a hand injury to average seven points and eight rebounds a game as a junior.
Andrea McNally and Natalie Tomerlin, two mainstays for coach Jen Belmonte at Hinsdale South High School in Darien, Illinois, will also team up for Augustana next year. The Hornets went 21-7 and were West Suburban Gold conference champions this season.
A 5' 10" guard, McNally was a two-time West Suburban Gold all-conference selection. As a senior, she earned team MVP honors and shared Sportsmanship and Hustle awards with Tomerlin. McNally averaged 6.7 points and 3.8 rebounds per game and shot 66 percent from the free throw line. She was named honorable mention all-area by both the Daily Herald and Suburban Life and was an all-tournament pick at the Hinsdale South Thanksgiving Tournament. She was also a three-time sectional champion and state qualifier in badminton and posted a 54-6 singles record in her senior season.
Tomerlin, a 5' 10" forward, was a two-time captain and winner of Sportsmanship and Hustle awards for the Hornets. As a senior, she was an All-West Suburban Gold selection, averaging seven points and three rebounds a game. She shot .484 from the field and 66 percent from the free throw line. Tomerlin also lettered in softball and track & field at Hinsdale South.
Marissa Pezzopane, a 6' post player from Addison Trail High School in Addison, Illinois, was a team captain and MVP for coach Rob Schader's Blazers this year. She averaged 15 points and eight rebounds a game and shot 46 percent from the field and 67 percent from the free throw line to earn West Suburban Gold all-conference honors for the third straight season. She garnered Daily Herald all-area honorable mention as well. A 1,000-point career scorer, she was also a Daily Herald Player of the Week nominee after 29 and 27-point efforts in wins over Plainfield North and Downers Grove North.
Beinborn added more backcourt help with Dominique Hartsfield, a 5' 3" guard from Plainfield East High School in Plainfield, Illinois. As a senior, Hartsfield averaged nine points and three rebounds a game and converted 55 percent from the field and 85 percent from the free throw line. She was selected to play in the Voyager Media Prep Shootout all-star game. She was an All-Southwest Prairie Conference selection as a junior after leading the league in field goal shooting at 52 percent. In addition, she was the TribLocal/Valley Honda High School Player of the Month for January of 2011.
The Vikings landed a local product in 5' 9" forward Tiana McCormick of Moline High School in Moline, Illinois. She averaged 6.8 points and 5.8 rebounds per game this season for coach Steve Ford's Class 4A sectional finalist Maroons. She shot .518 from the field and .543 from the free throw line to go along with 56 assists, 38 steals and 11 blocked shots. She was an honorable mention Western Big 6 all-conference pick, a second team Dispatch/Argus all-metro selection, earned Quad-City Times all-metro honorable mention and was selected to play in the Iowa-Illinois Senior All-Star Basketball Showcase.
A not-so-local addition to next year's squad is Kristen Balay, a 5' 9" guard from Harry Ainlay High School Edmonton, Alberta, Canada.