June 4, 2012
2011-12 Season - 2012 WOMEN'S LACROSSE REVIEW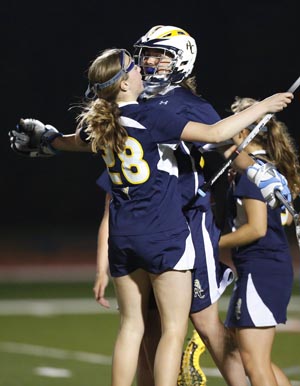 Augustana finished its first varsity women's lacrosse season with a sparkling 15-3 overall record. The Vikings led NCAA Division III in scoring offense, scoring margin and turnovers caused.
Augustana wrapped up its first season of varsity lacrosse competition this spring and it would be difficult to imagine a more impressive debut than coach Sara Tisdale's Vikings made. Playing in a brand new facility, Thorson-Lucken Field, the team went a perfect 7-0 at home on its way to a 15-3 inaugural season. In addition, the Vikings led the nation in scoring offense (19.22 goals per game), scoring margin (+11.17) and caused turnovers per game (13.61).
In its very first game on February 21, Augustana showed that it wouldn't be overmatched this year. Playing on the road against defending Southern Collegiate Athletic Conference champion Sewanee, the Vikings dropped a 17-16 decision on a late Tiger goal. Just three days later, the team defeated Birmingham Southern 20-9 for its first-ever victory.
After a 19-5 win at Agnes Scott, the Vikings traveled to Rome, Georgia to face Berry. A third-overtime, sudden-death goal by freshman Allie Roehrenbeck (Columbus Academy, Gahanna, Ohio) gave Augustana a 25-24 win in a wild contest that featured an NCAA all-division record 14 goals by freshman Hilary Kargl (Sacred Heart Academy, Louisville, Ky.). The team closed its season-opening southern swing with a 15-7 loss at Centre.
On March 10, the Vikings opened play at Thorson-Lucken Field with a 23-3 win over Fontbonne. Freshman Kelly Stelzer (Wheaton Warrenville South HS, Wheaton, Ill.) scored the first goal in facility history. Augustana defeated Alma and Otterbein handily as well at home, improving to 6-2 on the year, before visiting Carthage. The Vikings fell 13-10 to an established Lady Red program, tasting defeat for the final time this year.
Four more decisive home wins wrapped up a perfect Thorson-Lucken season before the team defeated Puget Sound 22-11 in a neutral-site contest played in Naperville, Illinois. The Vikings completed their inaugural season with four road games and won them all by at least 12 goals, including a season-ending 19-7 victory at North Central which extended their winning streak to nine games.
In addition to the three categories in which the Vikings led the nation, they finished 12th in winning percentage (.833), 16th in scoring defense (8.06 goal allowed per game), 18th in draw controls per game (15.89) and third in points (507 on 346 goals and 161 assists).
Several Vikings ranked among the nation's individual leaders as well. Kargl, who was a second team All-West Region selection by the IWLCA, finished the season second in the nation with 97 goals. Her average of 5.39 goals per game was third nationally. She was second on the team with 23 assists, giving her 120 points (seventh in the nation) and an average of 6.67 points per game (fourth).
Freshmen Christina Letmanksi (Glenbard West HS, Wheaton, Ill.) and Hannah Dickman (Stillwater Area HS, Stillwater, Minn.) had big offensive years as well. Letmanski finished second on the team with 59 goals while Dickman was third with 51. Dickman added a team-high 37 assists, which ranked 22nd in the nation. Letmanksi's 42 ground balls led the squad and her 52 draw controls were second.
Stelzer and Roehrenbeck were next on the goal-scoring list with 34 and 31, respectively and Roehrenbeck's 53 draw controls led the team, while her 22 assists tied her with Letmanski for third. Four other Vikings reached double figures in goals this year as well.
Freshman Emily Pavlik (Lyons Township HS, LaGrange, Ill.) was the team leader with 22 caused turnovers and ranked second with 39 ground balls.
Goalkeeper Sarah Osier (Naperville Central HS, Naperville, Ill.) was 20th in the nation in goals against average and 27th in save percentage, finishing her freshman season with marks of 8.28 and .491, respectively.
This year's roster included 19 freshmen, three sophomores and senior Maribeth Shea (Willows Academy, Chicago, Ill.). Shea, who had been a mainstay in Augustana's club program, finished her lone season of varsity play second on the Vikings with 22 caused turnovers. She also scored 11 goals (tying her with Pavlik for seventh), had four assists, controlled 23 draws (fifth) and collected 21 ground balls (seventh).
2012 AUGUSTANA SUPERLATIVES
IWLCA DIVISION III ALL-WEST REGION: Hilary Kargl, 2nd team.
NCAA ALL-DIVISION RECORD: Goals, single-game - 14, Hilary Kargl vs. Berry 02/25/12 (ties Ann Clark, Worcester State vs. Lasell, 04/24/04).
NCAA DIVISION III INDIVIDUAL TOP 25 STATISTICAL RANKINGS: Goals - 97, Hilary Kargl, 2nd; Goals per game - 5.39, Hilary Kargl, 3rd; Assists - 37, Hannah Dickman, 22nd; Points - 120, Hilary Kargl, 7th; Points per game - 6.67, Hilary Kargl, 4th; Goals against average - 8.28, Sarah Osier, 20th.
NCAA DIVISION III TEAM TOP 25 STATISTICAL RANKINGS: Winning percentage - .833, 12th; Scoring offense - 19.22, 1st; Scoring defense - 8.06, 16th; Scoring margin - 11.17, 1st; Points - 507, 3rd; Draw controls per game - 15.89, 18th; Caused turnovers per game - 13.61, 1st.