June 1, 2012
2011-12 Season - Swetalla hauls in honors in Portugal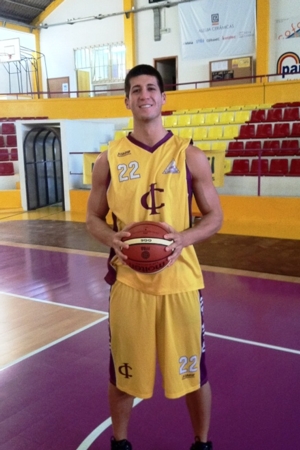 Dain Swetalla, a member of three CCIW championship teams at Augustana from 2005-2008, has been named "Center of the Year" in Portugal's Proliga professional basketball league. He was a first team all-league selection and was also named to the All-Import and All-Newcomer teams. He was the league's third-leading scorer, seventh-leading rebounder and ninth-best shot blocker.
ILHAVO, Portugal-The Proliga professional basketball league of Portugal has announced its award winners for the 2011-12 season and Augustana graduate Dain Swetalla was one of the loop's most highly-decorated players. Swetalla was named Proliga's "Center of the Year" and was a first team all-league selection. In addition, he was named to both the All-Import and All-Newcomer teams.
Playing for Illiabum Clube, the 6' 9", 240-pound Swetalla finished third in the league in scoring at 17.2 points per game, seventh in rebounding at 9.1 per contest and ninth in blocked shots with an average of 0.6 per game. He shot .503 from two-point range, .410 on three-pointers and converted .761 from the free throw line. In addition, he averaged 2.3 assists and 1.0 steals in 35.1 minutes a night. His previous professional stops include the Buffalo Stampede of the Atlantic Coast Professional Basketball League as well as Turismo de Merida and Majadahonda in Spain.
After playing his freshman season at Kirkwood Community College in Cedar Rapids, Iowa, Swetalla was a three-year starter at center for coach Grey Giovanine and the Vikings from 2005-2008. During those three seasons, Augustana compiled a record of 68-16 and became the first CCIW program in 28 years to win three straight outright league championships. Swetalla scored 854 points, snared 457 rebounds and shot .525 from the field and .752 from the free throw line in his Viking career. He was a two-time second team All-CCIW selection.
Dain's father, Ray Swetalla, was an assistant coach at Augustana for five seasons from 2003-2008 and his brother Nate was a starting forward on the Vikings' 2005-06 and 2006-07 conference champions. He attended Pleasant Valley High School in Bettendorf, Iowa, where his head coach was current Augustana assistant Dallas Duwa.