June 1, 2012
2012 Season - Smith, Bowman and Tisza win CoSIDA honors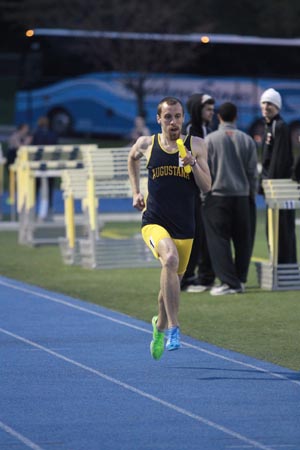 Junior Justin Smith was one of three Vikings named to the CoSIDA Academic All-District team in District Seven. He joins seniors Mike Tisza and Matt Bowman on the elite squad.
Three Augustana athletes were named to the Academic All-District team in men's track & field by the College Sports Information Directors of America, it was announced today. Seniors Matt Bowman (Geneva HS, Geneva, Ill.) and Mike Tisza (Hersey HS, Prospect Heights, Ill.) and junior Justin Smith (Fenton HS, Bensenville, Ill.) were all first-team selections.
Bowman, Tisza and Smith occupied three of the 10 spots on the District Seven team that includes NCAA Division III athletes from Illinois, Indiana and Ohio. All members of the first team will now be advanced to the national ballot where there will be a first, second and third team selected for Academic All-American honors.
Bowman earned NCAA Division III All-American honors in cross country in 2010 and he was also All-Midwest Region that year. He was voted the Vikings' team MVP in 2008 and 2010 and was Most Inspirational in 2010 when he finished ninth in the College Conference of Illinois & Wisconsin championship. He also excelled in track as well, owning the fifth fastest 10,000 in school history and the 11th best time over 5,000 meters. He was fourth in the CCIW 10,000 in 2012 and was Augustana's Most Valuable Freshman in 2008. The son of Linda and Gary Bowman of Geneva, Illinois, he graduated with a degree in art history and had a 3.74 grade point average.
Tisza was a two-time winner of the Jack Swartz Award in the CCIW for combination of athletic prowess and academic excellence. He qualified for the NCAA Division III national meet in cross country in the fall of 2011 and was named the team's MVP. He served as team captain in cross country in both 2010 and 2011 and was captain in track & field in 2012. He won the 5000 at the CCIW meet in 2011 and this past spring he took third in the 10,000 and fifth in the 5000 at the conference meet. The son of John and Jan Tisza of Prospect Heights, Illinois, Mike graduated with a 3.76 grade point average and majored in biology (pre-medicine) and English.
Smith won the CCIW title in the indoor mile run in 2012 when he captured a total of six other races during the indoor season. He ran the second fastest 1500 time in school history during the outdoor season and qualified for the NCAA Division III national meet. He was named the CCIW's "Runner of the Week" and won four races during the outdoor campaign. He was an all-conference performer in cross country in 2011 and was voted the Vikings' Most Improved Athlete in track & field in 2011. He is the son of Carolyn and Robert Smith of Bensenville, Illinois and carries a 3.78 grade point average in biochemistry (pre-medicine) and philosophy.
Augustana has long been a leader in producing Academic All-Americans under the program that is run by CoSIDA. The Vikings rank sixth all-time with 136 Academic All-Americans since the program began in 1952. Augustana is second in NCAA Division III, trailing only the Massachusetts Institute of Technology.