May 31, 2012
2011-12 Season - Arnold and Cullen pick up CCIW flight championships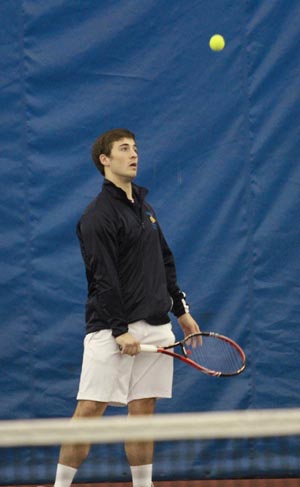 Sophomore Colin Arnold was named the number five flight champion in the CCIW for the 2012 season. He also teamed with junior Jack Cullen to pick up number three doubles honors for the second consecutive season.
The Augustana men's tennis team picked up a pair of individual flight champions in the College Conference of Illinois & Wisconsin, it was announced recently. Sophomore Colin Arnold (Sterling HS, Sterling, Ill.) was named the winner at number five singles and Arnold and junior Jack Cullen (Edgewood HS, Madison, Wis.) repeated their title at number three doubles.
Arnold finished the year with a 20-9 overall record, including a 10-3 mark at number five singles. In CCIW action he was a perfect 3-0 at fifth singles and was 1-1 at number four. He defeated Kevin Piotrowski of Illinois Wesleyan 6-4; 5-7; 10-8 on April 12, Rustam Saini of North Central 4-6; 6-3; 13-11 on April 14 and Nick Boomgarden of Carthage 6-2; 6-0 on April 21 for his wins in league play at number five. He picked up a win over Luke Tanaka of Elmhurst at number four (6-3; 1-6; 6-2) on April 27 and lost to Joel Parrish of Wheaton 7-6; 3-6; 6-10) on April 28 at number four.
Arnold and Cullen were 18-6 overall as a doubles team in 2012 and were 16-3 at number three. In CCIW action they went 3-0 at number three, beating teams from Illinois Wesleyan, North Central and Carthage. Cullen and Arnold moved up to number two doubles late in the year and lost to Elmhurst before beating Wheaton.
For Cullen and Arnold, this is the second straight season that they have been named the top number three doubles team in the CCIW.
The men's tennis team, under first year head coach Jon Miedema, finished the year with a record of 16-11 overall and a 2-3 mark in the CCIW. The team placed fourth at the CCIW Championship.
2011-12 College Conference of Illinois & Wisconsin Individual Champions
| | | |
| --- | --- | --- |
| FLIGHT | PLAYER | SCHOOL |
| No. 1 Singles | Jeff Lotz | Carthage |
| No. 2 Singles | Daneric Hazelman | Carthage |
| No. 3 Singles | Matt Whiteside | Carthage |
| No. 4 Singles | Joel Parrish | Wheaton |
| No. 5 Singles | Colin Arnold | Augustana |
| No. 6 Singles | Miles Greenwald | Wheaton |
| No. 1 Doubles | Jeff Lotz/Daneric Hazelman | Carthage |
| No. 2 Doubles | Nick Boomgarden/Matt Whiteside | Carthage |
| No. 3 Doubles | Jack Cullen/Colin Arnold | Augustana |