Fred Whiteside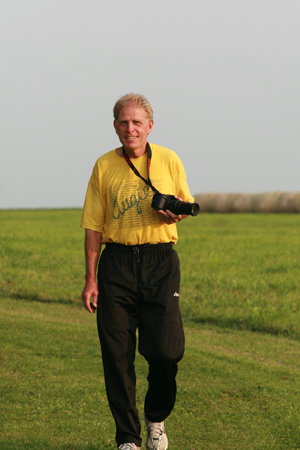 One of the most successful head coaches in Augustana College history, Fred Whiteside is the head coach for both the women's cross country and track & field teams. Heading into 2012-13, this will be his 30 th season as the head coach for cross country and 25 th for track & field. He took over the cross country program prior to the 1982-83 school year and assumed control of the track & field program prior to 1987-88. Whiteside got his start in coaching as an assistant for Paul Olsen and the men's track & field team, a position he held for 12 years from 1975 through 1987.
Whiteside, a 1974 graduate of Augustana, earned All-America honors in the very first NCAA Division III cross country championship in 1973. He also set the Augustana school record in the mile when he placed eighth in the NCAA national meet in track & field as a senior. He still holds a school record as a member of the indoor 3200 relay team.
His enthusiastic leadership has helped both the cross country and track & field teams attain enviable records. His cross-country teams have won six College Conference of Illinois & Wisconsin titles, including four in a span of five years from 1994 through 1998. The Vikings won 15 of the last 17 Illinois Small College state championships before the meet was discontinued following the 1998 season.
In 1997, under Whiteside's direction, Augustana qualified for the NCAA Division III national meet for the first time in school history. In 1998 the Vikings made it two straight trips to the cross-country nationals and wound up with an 11th place finish.
The Vikings success in track & field under Whiteside has been just as impressive. Augustana has captured 12 CCIW team titles in 24 years and won nine straight league titles from 1993 through 2001. Augustana also won the last four Illinois small college state championships before the event was discontinued following the 1991 season. The 2008 team won the CCIW title with an impressive second day comeback and the Augustana coaching staff was named "Coaching Staff of the Year" in the conference.
At Augustana, Whiteside majored in business administration, Spanish, secondary education and physical education. He received an M.S.S. degree in sport coaching from the United States Sports Academy in 1989. Besides coaching, he is an instructor in the physical education department where he teaches lifetime wellness, archery, physical conditioning, badminton and the coaching and officiating of track & field. He has held a variety of administrative posts on campus, including director of off-campus housing, director of janitorial services and building director of the Carver PE Center.
Still competitive on the local road racing circuit, Whiteside is one of the area's best in the over 50 age group. He has won the 50-59 division of the Bix 7 road race and his age group in the Quad Cities Marathon. He has been very active in the community as a volunteer, serving as the co-race director, with his wife Cathie, of the Komen Quad Cities Race for the Cure, which draws over 10,000 participants. As a couple they coordinate the finish line of the Quad City Marathon. He is also instrumental in the Quad City Senior Olympics, hosted by Augustana in the summer and he is the race director of a pair of USATF all-age track meets. An honorary lifetime member of the Cornbelt Running Club, he also helps with several local running events each year. Introduced to Junior Achievement by his wife, he teaches in the Ericsson Elementary School in Moline, Illinois. In the fall of 2006 Fred and Cathie were the first recipients of the Quad City Marathon's "Volunteer of the Year" award.
A native of Reynolds, Illinois where he grew up on a farm, Whiteside attended Rockridge High School. He participated in football, basketball, track & field and baseball. He taught and coached at Westmer High School in Joy, Illinois for one year before coming back to Augustana. Through the years, he has worked in various capacities on Augustana campus, including director of off-campus housing, director of custodial services, director of intramurals and associate athletic director. His wife Cathie, also an Augustana graduate is executive vice-president/corporate strategy and branding of QCR Holdings, Inc. Fred and Cathie have a pair of sons – Michael and Jay and a granddaughter Riley. Michael is an Augustana graduate with a degree in Spanish and music and Jay is a graduate of Drake University with a degree in information technology and insurance. Both reside in the Quad Cities.
Whiteside credits much of the past success at Augustana to a pair of coaches who were with him for some time. Ron Standley, who began coaching at Augustana in 1988, served as the co-head coach in track & field from 1993 until 2002. All but two of the Augustana school records in track & field have been set with athletes either recruited or coached by Standley. A former civil engineer for the Rock Island County Highway Department, he is currently the head coach of the Vikings' women's golf team. For over 20 years, Doug Sand was an integral part of the cross country program, even serving as the co-head coach from 1993 until 2001.
THE WHITE SIDE RECORD AT AUGUSTANA
| | | | | | |
| --- | --- | --- | --- | --- | --- |
| | Cross Country | | Track & Field | | |
| YEAR | CCIW | STATE | CCIW (outdoor) | CCIW (indoor) | STATE |
| 1982-83 | | FIRST | | | |
| 1983-84 | | FIRST | | | |
| 1984-85 | | FIRST | | | |
| 1985-86 | | FIRST | | | |
| 1986-87 | Third | FIRST | | | |
| 1987-88 | Second | FIRST | FIRST | | FIRST |
| 1988-89 | Fourth | Second | Second | | FIRST |
| 1989-90 | Second | FIRST | Second | | FIRST |
| 1990-91 | FIRST | FIRST | FIRST | | FIRST |
| 1991-92 | FIRST | FIRST | Second | | Not Held |
| | | | Ron Standley (co-head coach) | | |
| 1992-93 | Second | Second | FIRST | | Not Held |
| | Doug Sand (co-head coach) | | | | |
| 1993-94 | Second | FIRST | FIRST | | Not Held |
| 1994-95 | FIRST | FIRST | FIRST | | Not Held |
| 1995-96 | Second | FIRST | FIRST | | Not Held |
| 1996-97 | FIRST | FIRST | FIRST | | Not Held |
| 1997-98 | FIRST | FIRST | FIRST | | Not Held |
| 1998-99 | FIRST | FIRST | FIRST | | Not Held |
| 1999-00 | Third | Not Held | FIRST | | Not Held |
| 2000-01 | Second | Not Held | FIRST | Second | Not Held |
| 2001-02 | Third | Not Held | Third | Second | Not Held |
| | Solo head coach | | Solo head coach | | |
| 2002-03 | Third | Not Held | Second | Third | Not Held |
| 2003-04 | Third | Not Held | Second | Third | Not Held |
| 2004-05 | Fifth | Not Held | Fourth | Third | Not Held |
| 2005-06 | Fifth | Not Held | Second | Fourth | Not Held |
| 2006-07 | Fourth | Not Held | Second | Third | Not Held |
| 2007-08 | Third | Not Held | FIRST | Third | Not Held |
| 2008-09 | Fifth | Not Held | Fourth | Fourth | Not Held |
| 2009-10 | Sixth | Not Held | Fifth | Fifth | Not Held |
| 2010-11 | Fifth | Not Held | Fifth | Fourth | Not Held |
| 2011-12 | Third | Not Held | Sixth | Sixth | Not Held |
fredericwhiteside@augustana.edu