May 29, 2012
2011-12 Season - MEN'S LACROSSE 2012 SEASON REVIEW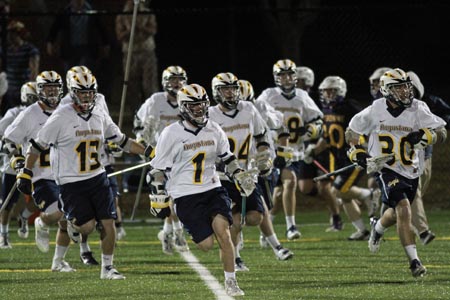 The Vikings finished 8-6 in their first ever season of varsity lacrosse.
The first season of varsity men's lacrosse at Augustana turned out to be a rousing success. Coach Kyle Hart, fielding a roster consisting of 26 freshmen, four sophomores and just one junior and senior, guided the 2012 Vikings to an 8-6 record. The team won the first game in the program's history, 17-3 over Millsaps in Jackson, Mississippi, as well as its first-ever home contest, a 6-3 victory over Fontbonne at Thorson-Lucken Field. Augustana finished the season ranked third in all of Division III with an average of just 5.14 goals allowed per game.
On February 22, freshman Jesse Nagelberg (St. Charles East HS, St. Charles, Ill.) scored six goals and classmate Vincent Giglierano (Archbishop Mitty HS, San Jose, Cal.) added three goals-including the first in program history-and three assists in Augustana's inaugural contest at Millsaps. The Vikings also recorded decisive wins over Huntingdon and Rhodes before dropping the finale of their season-opening southern swing 5-4 at Hendrix.
Augustana brought a 3-1 record into its March 9 home opener against Fontbonne. Freshman Brad Anderson (Arrowhead HS, Hartland, Wis.) scored the first lacrosse goal ever at Thorson-Lucken Field and the Vikings went on to a 6-3 win over the Griffins. Two days later, the team moved to 5-1 with a 15-0 win over Alma as freshman goalkeepers Cody Burgdorff (Peak to Peak HS, Lafayette, Colo.) and Jon Pape (Hoffman Estates HS, Hoffman Estates, Ill.) split the shutout.
The Vikings fell 7-6 in overtime at Albion and 14-6 at Trine despite a season-high 14 saves from Burgdorff before bouncing back with a 15-0 home whitewash of Milwaukee School of Engineering. Pape went the distance in goal to get the shutout.
In the season's final five games, Augustana recorded wins over Hanover in Indianapolis, Indiana and at Alma and dropped home contests to established programs Aurora and Carthage as well as a road date at Concordia in Mequon, Wisconsin.
Nagelberg and senior Marcus Maier (Loyola Academy, Wilmette, Ill.) were named Augustana's offensive and defensive Most Valuable Players. Nagelberg led the Vikings with 39 goals and tied for the team lead with five assists. His average of 2.79 goals per game ranked 23rd in the nation at the Division III level. Maier, a co-captain and the team's lone senior, was credited with 15 caused turnovers and eight ground balls on the year.
Junior Zach McGinnis (New Trier HS, Kenilworth, Ill.), the Vikings' other co-captain, was another key defensively. He started every game and led the team with 21 caused turnovers and Augustana defenders with 31 ground balls. Freshmen Brian Donohoue (Centennial HS, Littleton, Colo.), with 19 caused turnovers and 20 ground balls, and Ty Benson (Libertyville HS, Libertyville, Ill.), with 16 of each, also helped anchor the defense.
Burgdorff finished his freshman year with a 7-6 record. His goals against average of 6.27 was eighth in the nation and his .611 save percentage ranked 17th. Pape picked up the Vikings' other win and allowed just two goals while making 11 saves in 168 minutes this season-good for a save percentage of .846 and a GAA of 0.71.
Giglierano scored eight goals and tied Nagelberg for the team lead with five assists. Freshman Tim Fennelly (Centennial HS, Littleton, Colo.) led the team with 60 ground balls and ranked second in goals (18) and faceoffs won (31) and third in assists (tied with four). Freshman J.G. Saunders (The Calverton School, Aquasco, Md.) had 10 goals and four assists. He led Augustana in faceoffs, winning 47 of 92 (.511) and was second with 45 ground balls. Freshmen Doug Barrie (Lake Forest HS, Lake Forest, Ill.) and Colin Haley (St. Charles East HS, St. Charles, Ill.) tied for third on the team in total points with 17. Barrie's came on 14 goals and three assists, while Haley had 13 goals and four assists.
2012 AUGUSTANA SUPERLATIVES
NCAA INDIVIDUAL TOP 25 STATISTICAL RANKINGS: Goals against average - 6.27, Cody Burgdorff, 8th; Save percentage - .611, Cody Burgdorff, 17th; Goals per game - 2.79, Jesse Nagelberg, 23rd.
NCAA TEAM TOP 25 STATISTICAL RANKINGS: Scoring defense - 5.14 goals allowed per game, 3rd.
AUGUSTANA TEAM AWARDS
MOST VALUABLE OFFENSIVE PLAYER: Jesse Nagelberg
MOST VALUABLE DEFENSIVE PLAYER: Marcus Maier
MOST IMPROVED: Jeremy Gottardo