May 26, 2012
2012 Season - Men's track & field finishes 7th at NCAA meet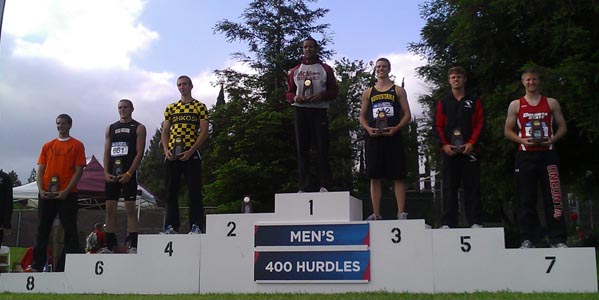 Freshman David Voland is shown on the award stand after finishing third in the 400 hurdles at the NCAA Division III national meet on Saturday, May 26. He also ran the third leg on the Vikings' second place 1600 relay team.
CLAREMONT, Calif. - Capped by a school record performance by the 1600 meter relay team, Augustana finished seventh in the NCAA Division III national track & field meet on Saturday, May 26 in Claremont, California. The Vikings totaled 24 points in the three day event and finished with All-Americans in five events.
In the final event of the meet, Paul Olsen's 1600 relay team unleashed a school record time of 3:10.70 to finish second and move from 15th place to seventh. The quartet of junior Greg Patton (Bloomington HS, Bloomington, Ill.), junior Daniel Doubet (Galesburg HS, Galesburg, Ill.), freshman David Voland (Batavia HS, Batavia, Ill.) and junior Alex Rindone (Marmion Academy, Geneva, Ill.) put it all together and finished just :00.14 behind national champion Rowan, which clocked 3:10.56.
Patton led off with a split of :47.9 and had the Vikings in the thick of things from lane five with the three turn stagger. He turned things over to Doubet who exploded with an identical time of :47.9 and had the Vikings in second when he handed to Voland. Voland ripped off a :47.3 and got the lead. Rindone, who was running his third race of the day, was passed by two anchor runners on the backstretch but he held his poise and chased down one of those in the home stretch. His split was :47.2 and he was gaining on Rowan anchor Demtrius Rooks in the final 20 meters.
The time of 3:10.56 takes down the school record of 3:11.64 set by the same unit on Thursday in the preliminary rounds.
Rindone was a busy, and productive person on Saturday. He anchored the 400 relay to a fourth place finish with a time of :41.06. Joining Rindone on that team were freshman David Devore (Midland HS, Midland, Mich.), Patton and freshman Keith Cline (Byron HS, Byron, Ill.). The :41.06 was not as fast as Augustana's school record time of :40.88 set in Thursday's preliminary rounds. McMurry won the race in :40.62 while Wisconsin-Whitewater took second in :40.66 and Wisconsin-Platteville was third in :41.02.
Rindone finished fifth in the 200 with a time of :21.31, just off his school record of :21.17 set on Thursday. Sean Bernstein of SUNY-Oneonta won the race in :20.80 while Thurgood Dennis of Wisconsin-Eau Claire was second in :20.90. Trevon Odom of McMurry placed third in :21.24 and Ali Ejaz of Rowan finished in fourth with the same time as Rindone.
Voland placed third in the 400 hurdles with a time of :51.60, just off his season best of :51.56 and the Augustana school record of :51.21 set by Ted McMillan in 2008.
Earlier in the meet, on Friday, May 25, senior Adam Myers (Dixon HS, Dixon, Ill.) earned All-American honors with an eighth place finish in the hammer throw with a school record toss of 194' 1".
McMurry won the team championship with 66 points while Wisconsin-LaCrosse was second with 41 and Wisconsin-Stout took third with 38. Wisconsin-Oshkosh placed fourth with 35, North Central was fifth with 32.33 and Wisconsin-Eau Claire was sixth with 30.