May 24, 2012
2012 Season - Three school records fall at NCAA meet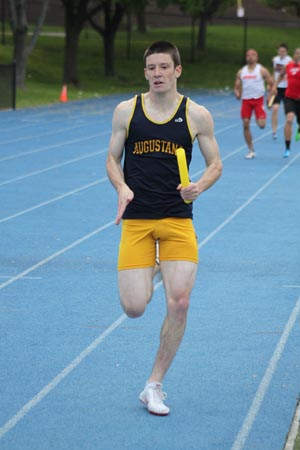 Junior Alex Rindone set one individual and two relay school records in a five-hour time frame at the first day of competition at the NCAA Division III national meet on Thursday, May 24 in Claremont, California.
Livestreaming of NCAA Division III track and field
CLAREMONT, California - Junior Alex Rindone (Marmion Academy, Geneva, Ill.) put on quite a show for the Augustana men's track & field team at the NCAA Division III national track & field championships on Thursday, May 24 in Claremont, California. He set one individual school record and anchored two relay teams to school marks on the first day of competition.
In a five-hour time span, Rindone not only helped rewrite three school records but he also qualified for Saturday's finals in all three events.
His day started at 4:15 p.m. when he anchored the 400 relay to time of :40.88, which will be the third fastest time heading into the finals. Freshman David Devore (Midland HS, Midland, Mich.) led off and passed to junior Greg Patton (Bloomington HS, Bloomington, Ill.) who turned things over to freshman Keith Cline (Byron HS, Byron, Ill.) for the third leg. Rindone brought the team home with a second place finish in heat one, trailing only the Burns Stadium record of :40.36 turned in by McMurry. The :40.88 erased the previous Augustana school record of :41.00 set by the team of Terry McMillan, Kofi Osei, Tom Sparkman and Mike Meyer in 1980.
At 6:00 p.m. Rindone climbed into the starting blocks for the 200 and he ripped off a time of :21.17 and finished second in the first heat, losing only to Bruce Gray of Greenville who recorded a time of :21.11. Rindone's dash erased his own school record of :21.21 set a year ago. He will enter the finals on Saturday with the fourth fastest time.
His day ended at 9:15 p.m. when he brought the 1600 relay home with a second place finish in the first heat. The quartet of Patton, junior Dan Doubet (Galesburg HS, Galesburg, Ill.), freshman David Voland (Batavia HS, Batavia, Ill.) and Rindone clocked 3:11.64. Patton led off with a :48.0 and Doubet followed with a :48.6. Voland blitzed a :47.8 and Rindone finished with a scintillating :47.0. That unit will take the third fastest time into Saturday's final.
The previous school record was 3:12.71 set by the team of senior Greg Davis (Carlinville HS, Carlinville, Ill.), Voland, Patton and Rindone back on April 21 of this year at the Meet of Champions. Prior to this season the school record was 3:13.13 set by Nate Hurt, Scott Tumilty, Mark Zemke and Rob Lee in 1996.
Lost in the shuffle of Rindone's tremendous day was the performance of Voland. He qualified for the finals in the 400 intermediate hurdles with a time of :52.16, the second fastest time in school history. He trails just the school record of :51.21 set by Ted McMillan in 2008. Voland was second in his heat, trailing only the :52.06 of Corey Wilch of Wisconsin-Oshkosh. Voland has the fourth fastest time going into Saturday's final.
Junior Justin Smith (Fenton HS, Bensenville, Ill.) ran 4:10.56 in the preliminary round of the 1500 and failed to make the finals. Senior Phil Christensen (Kaneland HS, Maple Park, Ill.) finished 14th in the discus with a throw of 156' 9". Davis ran :54.21 in the heats of the 400 hurdles and finished 13th.