May 25, 2012
2011-12 Season - Nagelberg and Maier named Viking MVP's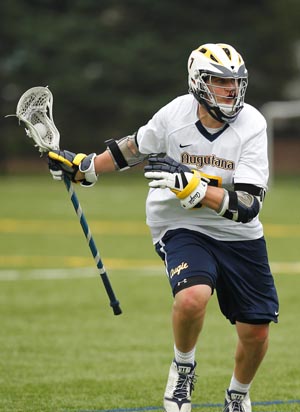 Freshman attacker and midlfielder Jesse Nagelberg is this year's Offensive MVP for men's lacrosse.
ROCK ISLAND, Ill. - Senior Marcus Maier (Loyola Academy, Wilmette, Ill.) and freshman Jesse Nagelberg (St. Charles East HS, St. Charles, Ill.) have been named Augustana's defensive and offensive Most Valuable Players for the 2012 men's lacrosse season. Freshman Jeremy Gottardo (Jacobs HS, Algonquin, Ill.) garnered Most Improved honors. Coach Kyle Hart's Vikings finished 8-6 in their inaugural season.
Maier, a co-captain and the team's lone senior in its first season of intercollegiate competition, led a Viking defense that finished third in the nation at the Division III level, allowing an average of just 5.14 goals per game. He was credited with 15 caused turnovers and eight ground balls on the year.
Nagelberg led the Vikings with 39 goals and tied for the team lead with five assists. His average of 2.79 goals per game ranked 23rd in all of NCAA Division III. He had a season-high six goals at Millsaps in the Vikings' first-ever game, a mark he equaled later at Alma.
Gottardo, a defender, scored one goal this season and was credited with 24 ground balls and 11 caused turnovers.
2012 AUGUSTANA MEN'S LACROSSE LETTERWINNERS
| | | | | | |
| --- | --- | --- | --- | --- | --- |
| Name | Pos. | Ht. | Wt. | Yr. | Hometown (High School) |
| Brad Anderson* | M | 6-0 | 170 | Fr. | Hartland, Wis. (Arrowhead) |
| Doug Barrie* | M | 5-7 | 160 | Fr. | Lake Forest, Ill. (HS) |
| Ty Benson* | D | 6-3 | 170 | Fr. | Libertyville, Ill. (HS) |
| Cody Burgdorff* | G | 5-8 | 160 | Fr. | Lafayette, Colo. (Peak to Peak) |
| Brian Donohoue* | D | 6-0 | 160 | Fr. | Centennial, Colo. (Littleton) |
| Tim Fennelly* | M | 5-7 | 140 | Fr. | Centennial, Colo. (Littleton) |
| Vincent Giglierano* | M | 5-10 | 150 | Fr. | San Jose, Calif. (Archbishop Mitty) |
| Jeremy Gottardo* | D | 5-11 | 165 | Fr. | Algonquin, Ill. (Jacobs) |
| Colin Haley* | A/M | 5-5 | 140 | Fr. | St. Charles, Ill. (East) |
| Keegan Horack* | M | 5-7 | 165 | Soph. | Chillicothe, Ill. (Illinois Valley Central) |
| Andrew Jurewicz* | D | 5-10 | 160 | Fr. | St. Charles, Ill. (East) |
| Eric Klank* | D | 5-10 | 170 | Fr. | Channahon, Ill. (Minooka) |
| Marcus Maier (C) * | D | 6-1 | 215 | Sr. | Wilmette, Ill. (Loyola Academy) |
| Mike McAleer* | A/M | 5-9 | 160 | Fr. | Bolingbrook, Ill. (Downers Grove South) |
| Zach McGinnis (C) * | D | 5-10 | 200 | Jr. | Kenilworth, Ill. (New Trier) |
| Jesse Nagelberg* | A/M | 6-2 | 175 | Fr. | St. Charles, Ill. (East) |
| Ryan Nakamoto* | M | 5-10 | 170 | Fr. | Naperville, Ill. (Central) |
| John Pagliarello* | A | 5-9 | 165 | Fr. | Littleton, Colo. (Heritage) |
| Jon Pape* | G | 5-9 | 190 | Fr. | Hoffman Estates, Ill. (HS) |
| JG Saunders* | M | 5-8 | 160 | Fr. | Aquasco, Md. (The Calverton School) |
| Jake Self* | D | 6-5 | 190 | Fr. | Huntington Beach, Calif. (Marina) |