May 24, 2012
2012 Season - 2012 SOFTBALL SEASON REVIEW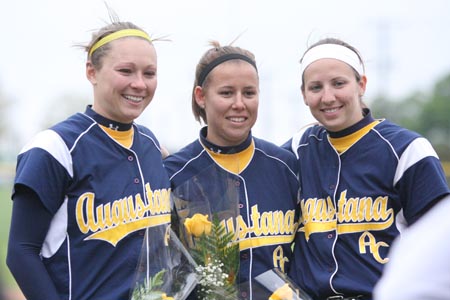 The three seniors on the Augustana softball team (Dawn Kernich, Abbi Staples and Jillian Gibbs) helped lead the Vikings to a 25-13 overall record in 2012.
Coach Kris Kistler's Augustana softball team finished the 2012 season with a 25-13 record. The Vikings finished 6-8 and in fifth place in College Conference of Illinois & Wisconsin play. It was the 11th time in the last 13 seasons that they've reached the 25-win mark. Sophomore right-hander Sarah Hintz (LeRoy HS, LeRoy, Ill.) was selected as the team's Most Valuable Player and classmates Krista Watson (Coal City HS, Coal City, Ill.) andCourtney Ledezma (United Township HS, East Moline, Ill.) were picked as Best Offensive Players. Senior center fielder Jillian Gibbs (Rock Island HS, Rock Island, Ill.) was named Best Defensive Player.
Opening the season in Florida, Augustana dropped its opener to Messiah by a 3-1 score. That proved to be a minor setback though, as the team went on to win the next eight and 10 of the next 11. The Vikings split a doubleheader with St. Ambrose to open the home season and then went on another tear, winning six in a row, including all four at the Augustana Invitational and a doubleheader sweep at Wheaton to open CCIW play.
Augustana looked to be in solid shape in the conference after splitting a home doubleheader with Illinois Wesleyan. The 13th-ranked Titans won the opener to move to 21-3 overall and 5-0 in the league, but the Vikings bounced back to pound IWU 10-6 in the nightcap, marking the only time all year the Titans allowed more than six runs.
Unfortunately, the Vikings couldn't build on that momentum, splitting each of their next two CCIW twinbills against Elmhurst and North Park, although they did manage to sandwich a doubleheader sweep of Knox in between. They were swept at 24th-ranked Carthage to fall to 5-5 in the conference before sweeping Monmouth in another nonconference double dip.
After splitting with North Central to move to 25-11 overall and 6-6 in the league, the team had a chance to play its way into the CCIW tournament, but dropped a season-ending doubleheader against Millikin.
Hintz paced Augustana in the circle this season. She finished the year with a 15-4 record and a 1.58 ERA. Her 15 wins are tied for the sixth-highest single season total in school history. 16 of her 20 appearances were starting assignments and she completed 12 of those starts, including three shutouts. All of those marks led the staff, as did her 110 2/3 innings pitched and 77 strikeouts. In just two seasons, she already ranks in the school's career top ten in wins (tied for ninth with 23), strikeouts (ninth with 155) and ERA (fifth at 1.88).
Watson, the Vikings' shortstop, led the team with a .380 batting average as well as a .570 slugging percentage and .429 on-base percentage. She set a school record with 18 doubles and also led the club with 25 runs scored, 46 hits and 69 total bases and tied for second with 22 RBI. She was a second team All-CCIW and third team NFCA All-Region selection and is currently seventh in career batting average at Augustana with a .379 mark.
Ledezma (.344-2-26) led the team in RBI and triples (four). A second team All-CCIW pick as a utility player, she also posted an 8-6 record with a 2.98 ERA in the circle. Gibbs (.313-6-17), a first team All-CCIW selection, led the Vikings in home runs and freshman Christie Wiersema (Morrison HS, Morrison, Ill.) (.327-3-22), who split time with Ledezma at first base, was the team leader with 14 walks.
Other regulars for Augustana included sophomore third baseman Chaney Tambling (Dwight HS, Dwight, Ill.) (.299-2-22), who committed just one error in 88 chances for a fielding percentage of .988, and freshman second baseman Jenna Teson (Jacobs HS, Algonquin, Ill.) (.345-0-5).
Sophomore Randi Applehans (Mountain Vista HS, Highlands Ranch, Colo.) (.200-0-7), who led the CCIW in cutting down potential base stealers, shared catching duties with freshman Jaclyn Wrona (Glenbard South HS, Wheaton, Ill.) (.310-0-8).
Kistler, the winningest coach in Augustana softball history, completed her 13th season with the Vikings this year and now has a career record of 367-188-2 (.661). Her overall collegiate record is 376-198-2 (.655), which includes one year at SUNY-Plattsburgh where she was 9-10 in 1999.
2012 COLLEGE CONFERENCE OF ILLINOIS & WISCONSIN STANDINGS
| | | |
| --- | --- | --- |
| School | Conf | Overall |
| Illinois Wesleyan | 11-3 | 39-8 |
| Carthage | 11-3 | 37-10 |
| Millikin | 9-5 | 23-18 |
| Elmhurst | 7-7 | 25-16 |
| AUGUSTANA | 6-8 | 25-13 |
| North Central | 5-9 | 21-18 |
| Wheaton | 4-10 | 22-18 |
| North Park | 3-11 | 22-18 |
2012 CCIW TOURNAMENT
(at Illinois Wesleyan University)
Friday, May 4
Game 1 - #3 Millikin 5, #2 Carthage 3
Game 2 - #1 Illinois Wesleyan, 4, #4 Elmhurst 2
Game 3 - Carthage 5, Elmhurst 3 (10 innings)
Game 4 - Illinois Wesleyan 7, Millikin 0
Saturday, May 5
Game 5 - Carthage 3, Millikin 0
Game 6 - Illinois Wesleyan 7, Carthage 5
(Illinois Wesleyan wins CCIW Softball Tournament)
2011 AUGUSTANA SUPERLATIVES
NFCA ALL-GREAT LAKES REGION: Krista Watson, 3rd team.
CCIW ALL-CONFERENCE: 1st team - Jillian Gibbs, OF; 2nd team - Krista Watson SS, Courtney Ledezma, 1B-P.
CCIW INDIVIDUAL STATISTICAL LEADERS: Relief appearances – 7, Jamie Rehmert; Games finished – 7, Jamie Rehmert; Caught stealing by – 4, Randi Applehans
CCIW TEAM STATISTICAL LEADERS: Fewest triples allowed - 0; Caught stealing by - 6
AUGUSTANA TEAM AWARDS
MOST VALUABLE PLAYER: Sarah Hintz
BEST OFFENSIVE PLAYER: Krista Watson, Courtney Ledezma
BEST DEFENSIVE PLAYER: Jillian Gibbs
MOST IMPROVED PLAYER: Randi Applehans
VIKING AWARD: Jamie Rehmert
TOP 10 CAREER ADDITIONS:
Batting average - .379, Krista Watson, 7th
Wins – 23, Sarah Hintz, 9th-T
ERA – 1.88, Sarah Hintz, 5th
Strikeouts – 155, Sarah Hintz, 9th
TOP 10 SINGLE SEASON ADDITIONS:
Doubles – 18, Krista Watson, 1st
Triples – 4, Courtney Ledezma, 7th-T
Wins – 15, Sarah Hintz, 6th-T