May 23, 2012
2012 Season - Vikings will have competitors in seven events at NCAA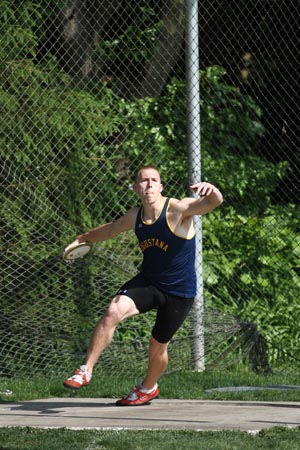 Phil Christensen will be shooting for his fourth straight All-American certificate in the discus at the NCAA Division III national meet on May 24-26 in Claremont, California.
Augustana's men's track & field team will be well represented at the NCAA Division III national track & field championship on May 24-26 at Burns Stadium in Claremont, California. The Vikings will have competitors in seven events in the meet, which will begin at 2:00 p.m. Pacific Time on Thursday, May 24.
Headlining the group will be the 400 and 1600 relay teams, which both have recorded times in the top five in the nation during the regular season. The 400 relay of freshman David Devore (Midland HS, Midland, Mich.), junior Greg Patton (Bloomington HS, Bloomington, Ill.), freshman Keith Cline (Byron HS, Byron, Ill.) and junior Alex Rindone (Marmion Academy, Geneva, Ill.) are entered with a time of :41.08. That clocking was turned in at the Augie Twilight Qualifier on May 18 at home and is just off the school record of :41.00.
The 1600 relay of senior Greg Davis (Carlinville HS, Carlinville, Ill.), freshman David Voland (Batavia HS, Batavia, Ill.), Patton and Rindone ran a school record 3:12.71 at the Meet of Champions on April 21 at Paul V. Olsen Track. Rindone will be entered in the 200 with a time of :21.52 recorded on March 31 at the Viking Olympics.
Junior Justin Smith (Fenton HS, Bensenville, Ill.) ran 3:51.76 at the Augie Twilight in the 1500 on May 18 and he will compete in that event. Voland and Davis will represent the Vikings in the 400 hurdles. Voland ran :51.56 in the Augie Twilight on May 18 and Davis has a best time of :53.09, also at the Augie Twilight.
Senior Adam Myers (Dixon HS, Dixon, Ill.) will compete in the hammer throw where he is the Augustana school record holder with a toss of 194' 0" from the Meet of Champions on April 21. Senior Phil Christensen (Kaneland HS, Maple Park, Ill.) is a three-time All-American in the discus and he has a best throw this year of 165' 3" from the Viking Olympics on March 31.