May 23, 2012
2012 Season - Rindone, Christensen, Myers and Benning MVP's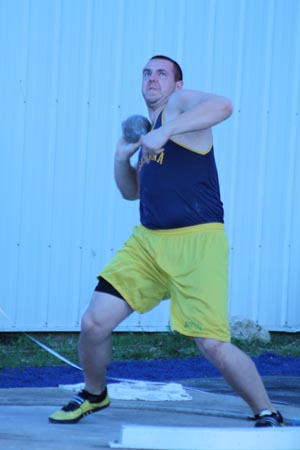 Brian Benning was one of three senior throwers, along with Adam Myers and Phil Christensen, to share Augustana's Most Valuable Performer award for field events this year.
ROCK ISLAND, Ill. - Head coach Paul Olsen has announced award winners for the 2012 outdoor track & field season, with junior sprinter Alex Rindone (Marmion Academy, Geneva, Ill.) taking Most Valuable track honors. Senior throwers Phil Christensen (Kaneland HS, Maple Park, Ill.), Adam Myers (Dixon HS, Dixon, Ill.) and Brian Benning (Winnebago HS, Winnebago, Ill.) shared Most Valuable honors for the field events.
Rindone, already the school record holder in the 200, was the CCIW champion in that event for the third year in a row with a time of :21.75. He also claimed CCIW titles anchoring both the 4x100 (:41.55) and 4x400 (CCIW-record 3:13.44) relay teams. He anchored the school-record 4x400 performance (3:12.71) at the Meet of Champions as well.
Myers set a school record of 194' 0" in the hammer at the Meet of Champions. At the CCIW meet, he finished second (185' 6") and Benning was fourth with a mark of 176' 4". Christensen, the school record holder in the discus, was second in CCIW this year with a heave of 156' 0".
Junior middle distance man Justin Smith (Fenton HS, Bensenville, Ill.), whose best time of 3:51.76 in the 1500 moved him into ninth place on Augustana's All-Time Performance list, won the Most Improved Award.
Senior distance runners Mike Tisza (Hersey HS, Prospect Heights, Ill.) and Matt Bowman (Geneva HS, Elburn, Ill.), along with classmate and decathlete Matt Deets (Polo HS, Polo, Ill.), were chosen as Most Inspirational. Tisza (31:14.9) and Bowman (31:15.6) finished third and fourth, respectively, in the CCIW 10,000 and Bowman finished eighth in the 5,000 (15:27.93).
Middle distance runner Joe Puetz (Dunlap HS, Dunlap, Ill.) was named Most Improved Freshman.
Rindone and Smith, along with 2012 CCIW decathlon champion (5,912 points) Ethan Gale (Oregon HS Oregon, Ill.), conference 5,000-meter champion (15:15.16) Brian Pollastrini (York HS, Elmhurst, Ill.) and thrower Kevin Macek (Sandburg HS, Orland Park, Ill.), were selected as captains-elect for next season. All five will be seniors in 2012-13.
2012 AUGUSTANA VIKINGS TRACK & FIELD LETTERWINNERS
NAME

EVENT

YR

HOMETOWN (HIGH SCHOOL)

Andrew Allabastro**

Middle Distance

So

LaGrange, Ill./Lyons Township

Luke Anderson**

Javelin

Jr

Lemont, Ill./HS

Mike Anderson**

Javelin

Jr

Spring Grove, Ill./Richmond-Burton

Grant Bell*

Distance

Fr

Belgrade, Minn./Belgrade-Brooten-Elrosa

Jacob Benner*

Sprints

Fr

Batavia, Ill./HS

Kyle Bennett*

Hurdles

Fr

Davenport, Iowa/West

Brian Benning****(C)

Throws

Sr

Winnebago, Ill./HS

Brett Bernatowicz**

Pole Vault

Sr

Downers Grove, Ill./North

Ryan Bertram**

Distance

Sr

Bolingbrook, Ill./Neuqua Valley

Matt Bowman****

Distance

Sr

Elburn, Ill./Geneva

Andrew Brimeyer*

Distance

Fr

Dubuque, Iowa/Senior

Ryan Brummet***

Sprints

Jr

Port Byron, Ill./Riverdale

Tyler Busch**

Middle Distance

So

Winnebago, Ill./HS

Keegan Buttimer*

Middle Distance

Fr

Riverside, Ill./Riverside-Brookfield

Phil Christensen****(C)

Throws

Sr

Maple Park, Ill./Kaneland

Thomas Christian****

Distance

Sr

Port Angeles, Wash./HS

Keith Cline*

Sprints

Fr

Byron, Ill./HS

Vincenzo Dal Pozzo*

Middle Distance

Fr

Naperville, Ill./Neuqua Valley

Justin Davidson**

Jumps

So

Galesburg, Ill./HS

Greg Davis****(C)

Hurdles

Sr

Carlinville, Ill./HS

Matt Deets****(C)

Decathlon

Sr

Polo, Ill./HS

David Devore*

Pole Vault

Fr

Midland, Mich./HS

Matthew Dickey**

Sprints

So

Downers Grove, Ill./Benet Academy

Daniel Doubet***

Sprints

Jr

Galesburg, Ill./HS

Joshua Eisenberg**

Decathlon

So

Spring Grove, Ill./Richmond-Burton

Ethan Gale***

Decathlon

Jr

Oregon, Ill./HS

Brandon Gittelman****

Distance

Sr

Naperville, Ill./Central

Kevin Gordy*

Jumps

Fr

Mokena, Ill./Lincoln Way West

Nick Gornick*

Distance

Fr

Elmhurst, Ill./York

Jay Graffagna**

Sprints

So

LaFox, Ill./Geneva

Torre Harrell*

Jumps

Fr

Bloomington, Ill./HS

Thomas Harris***

Distance

Jr

Davenport, Iowa./Assumption

Colin Johnson*

Middle Distance

Sr

Deerfield, Ill./HS

Brad Keating****

Distance

Sr

Cary, Ill./Cary Grove

Marty King****

Hurdles

Sr

Oswego, Ill./HS

Mike Krusza

Jumps

Fr

Plainfield, Ill./South

Andrew Lulis*

Decathlon

Fr

Lake Zurich, Ill./HS

Kevin Macek***

Throws

Jr

Orland Park, Ill./Carl Sandburg

Patrick Manser*

Middle Distance

Sr

Elburn, Ill./St. Charles North

Floyd Mays***

Sprints

Jr

Justice, Ill./Mooseheart

Rob McNeil*

Sprints

Fr

Normal, Ill./Bloomington Central Catholic

Adam Myers****

Throws

Sr

Dixon, Ill./HS

Andrew Nice****

Pole Vault

Sr

Caledonia, Ill./Christian Life

Alex Odenkirk*

Distance

Fr

Tucson, Ariz./Ironwood Ridge

Dennis O'Flaherty***

Middle Distance

Jr

Orland Park, Ill./Carl Sandburg

Jacob O'Rourke***

Sprints

Jr

Bettendorf, Iowa/Davenport Assumption

Jeff Padesky*

Pole Vault

Fr

Moline, Ill./HS

Greg Patton***

Sprints

Jr

Bloomington, Ill./HS

Brian Pollastrini***

Distance

Jr

Elmhurst, Ill./York

Scott Pospisil**

Sprints

So

Geneva, Ill./HS

Josh Prosser*

Jumps

Fr

Goodfield, Ill./Eureka

Alex Rindone***

Sprints

Jr

Geneva, Ill./Marmion Academy

Chris Sally*

Middle Distance

Sr

Deerfield, Ill./HS

Nowlan Savage*

Sprints

Fr

Highlands Ranch, Colo./Arapahoe

Matt Simo*

Middle Distance

Fr

Elmhurst, Ill./York

Jonathan Smith***

Distance

Jr

Moline, Ill./Moline

Justin Smith***

Middle Distance

Jr

Bensenville, Ill./Fenton

Nathan Smith**

Distance

Jr

Bensenville, Ill./Fenton

Jared Spivey**

Sprints

So

Annawan, Ill./HS

Alexander Stockwell**

Middle Distance

So

Glen Ellyn, Ill./Glenbard West

Billy TenBusch****(C)

Distance

Sr

Cary, Ill./Prairie Ridge

Mike Tisza****(C)

Distance

Sr

Prospect Heights, Ill./Hersey

Michael Tovar**

Jumps

Sr

Chicago, Ill./Mooseheart

Edgar Valle**

Middle Distance

So

Elburn, Ill./Kaneland

David Voland*

Hurdles

Fr

Batavia, Ill./HS

Kyle Williams***

Sprints

Jr

Lake Zurich, Ill./HS

Joseph Zahn***

Middle Distance

Jr

Moline, Ill./HS

Steve Zahrobsky**

Sprints

So

Woodridge, Ill./Downers Grove South