May 22, 2012
2012 Season - Sarahbeth Jones and Kierra Smith share MVP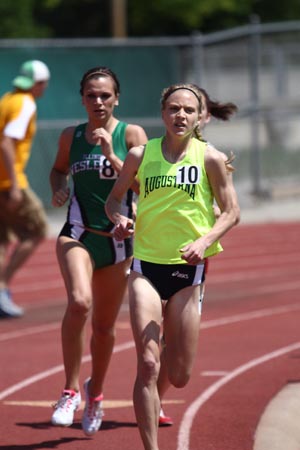 Junior Sarahbeth Jones has been elected 2012 Co-Most Valuable Performer for the Augustana track & field team. Jones shared the award with sophomore hurdler Kierra Smith.
ROCK ISLAND, Ill. - Junior Sarahbeth Jones (Warren Township HS, Wadsworth, Ill.) and sophomore Kierra Smith (Creston HS, Creston, Iowa) have been chosen Co-Most Valuable Performers for coach Fred Whiteside's 2012 Vikings. In addition, Jessica Bacon (Rock Island HS, Rock Island, Ill.) and Astin Moravek (Riverside-Brookfield HS, Riverside, Ill.) shared Most Valuable Freshman honors.
Jones, the Vikings' indoor MVP this year, won the CCIW championship and twice set school records in the 5,000 meters (16:53.57) this spring. She also broke the school record in the 3,000 (9:58.95) and was a member of the distance medley team that set a school mark (12:15.79) at the Drake Relays. In addition, she ran on the school record-setting 4x1600 relay (21:07.93) and finished fourth in the CCIW 1,500 with a Viking season-best time of 4:35.26.
Smith was also a member of the record-setting distance medley unit and ran Augustana season bests in the 100 hurdles (:15.22) and 400 hurdles (1:02.69). She competed in the 4x400 relay as well.
Bacon was a member of both the record-setting distance medley (lead-off) and 4x1600 (anchor) relay teams and ran the Vikings' best time at 800 meters (2:16.45) this spring. Moravek had Augustana season bests of 17' 1¼" in the long jump and 35' 8" in the triple jump and also ran on the 4x100 and 4x200 relays.
Other award winners for this year's squad included sophomore heptathlete Julia Popp (Boylan Catholic HS, Belvidere, Ill.) and junior middle distance runner Jennifer Prazak (Naperville North HS, Naperville, Ill.), who were co-winners of the Susan Wall Most Improved Award. Prazak also shared the Erica Vortman Viking Spirit Award with meddle-distance runner Melissa Lehpamer (Plainfield South HS, Plainfield, Ill.).
Captains-elect for the 2013 season are Jones, Prazak, junior jumper Samantha Bazely (Alleman HS, Coal Valley, Ill.), junior middle-distance and steeplechaser Annie Heifner (Oregon HS, Oregon, Wis.) and junior Taylor Tjardes (Gibson City-Melvin-Sibley HS, Gibson City, Ill.), who competes in the pole vault and javelin.
2012 AUGUSTANA WOMEN'S TRACK & FIELD ROSTER
NAME

YR

EVENT

HOMETOWN/HIGH SCHOOL

Jessica Bacon*

Fr

Mid Distance

Rock Island, Ill./HS

Kristyn Barton **

So

Mid Distance

Elmhurst, Ill./York

Melanie Battistoni ****

Sr

Discus/Hammer

Elmhurst, Ill./York

Samantha Bazely **

Jr

Long Jump/Triple Jump

Coal Valley, Ill./Alleman

Liana Beauchamp **

So

Hammer/Shot

Kingston, Ill./Genoa-Kingston

Kate Benge*

So

Sprints/Mid Distance

Bettendorf, Iowa/Pleasant Valley

Veronica Bertellotti*

Fr

Triple Jump/Sprints

Mount Prospect, Ill./Prospect

Tara Bistry ***

Jr

Distance

Joliet, Ill./Joliet Catholic

Kris Bowen*

Fr

Mid Distance

Elburn, Ill./Kaneland

Stephanie Burbidge*

Fr

Mid Distance

Palatine, Ill./HS

Britton Dallas*

So

Mid Distance

Indianapolis, Ind./International School of IN

Elise Davis*

Fr

Littleton, Colo./Columbine

Katie Dinkel ***

Jr

Sprints/Pole Vault

Fairfield, Iowa/Maharishi

Catherine Foreman ****

Sr

Javelin/Sprints

Saint Joseph, Ill./HS

Morgan Gale **** (C)

Sr

Pole Vault/Sprints

Oregon, Ill./HS

Emma Grandgeorge **

So

Distance

Sycamore, Ill./HS

Amber Gruber **** (C)

Sr

Discus/Hammer/Shot

Arlington Heights, Ill./Rolling Meadows

Annie Heifner ***

Jr

Mid Distance/Steeple

Oregon, Wis./HS

Taelar Hillyer*

So

Pole Vault

Bettendorf, Iowa/Alleman

Alicia Hughes*

Fr

Distance

Oswego, Ill./HS

Hailey Jacobs*

Fr

Mid Distance

Woodstock, Ill./HS

Sarah Johnson ****

Sr

Steeplechase

Lake Villa, Ill./Grayslake North

Sarahbeth Jones ***

Jr

Mid Distance

Wadsworth, Ill./Warren Township

Rachel Kelly*

Fr

Distance

Downers Grove, Ill./South

Rachael Latham ***

Sr

Sprints

Elgin, Ill./Burlington Central

Melissa Lehpamer **** (C)

Sr

Mid Distance

Plainfield, Ill./South

Shannon Leyva*

Fr

Triple Jump/High Jump

Orland Park, Ill./Carl Sandburg

Lizzie Lundine*

Fr

Distance

Villa Park, Ill./Willowbrook

Jordan Mauerman ***

Jr

Javelin

Albany, Wis./HS

Krista McCurrie*

Fr

Sprints/Mid Distance

Palos Park, Ill./Amos Alonso Stagg

Kerri McGrail*

Fr

Distance

Plainfield, Ill./North

Taylor Mills*

Fr

Sprints/Long Jump

Glen Ellyn, Ill./Glenbard South

Kelsey Moon **

So

Mid Distance

Wauconda, Ill./Mundelein

Astin Moravek*

Fr

Triple Jump

Riverside, Ill./Riverside-Brookfield

Allison Nagy*

So

Sprints

Naperville, Ill./Neuqua Valley

Amanda Pease **

So

Steeplechase

East Moline, Ill./United Township

Angela Pisani ****

Sr

Mid Distance

Elmhurst, Ill./York

Kirstillyn Pohlman ***

Jr

Mid Distance

Winthrop Harbor, Ill./Zion Benton

Laura Polizzi*

Fr

Triple Jump

Crystal Lake, Ill./South

Julia Popp **

So

Heptathlon

Belvidere, Ill./Boylan Catholic

Jennifer Prazak ***

Jr

Mid Distance

Naperville, Ill./North

Amanda Rodriguez **

Jr

Distance

Mahomet, Ill./Mahomet-Seymour

Johanna Schnitzler **

So

Heptathlon

Woodridge, Ill./Downers Grove South

Bethany Siwek ***

Jr

Hammer/Discus/Shot

Woodstock, Ill./HS

Kierra Smith **

So

Hurdles

Creston, Iowa/HS

Lorraine Stamberger*

Fr

Mid Distance

La Moille, Ill./HS

Kelsey Stockert **

So

Mid Distance/Steeple

Mapleton, Ill./Peoria Notre Dame

Becca Sund*

Fr

Mid Distance

Palatine, Ill./HS

Taylor Tjardes ***

Jr

Pole Vault/Javelin

Gibson City, Ill./Gibson City-Melvin-Sibley

Kristen Whiteside **

So

Mid Distance

Winthrop Harbor, Ill./Zion Benton