May 22, 2012
2012 Season - 2012 BASEBALL SEASON REVIEW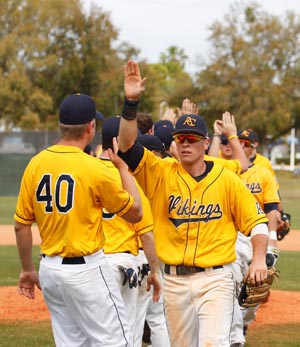 The Augustana Vikings celebrate after one of their 25 victories during the 2012 season.
For the 13th time in the last 14 seasons, the Augustana baseball team reached the 25-win plateau in 2012. The Vikings finished with an overall record of 25-17 and tied for third in the CCIW at 11-10. They also qualified for the CCIW tournament for the first time since 2009. Along the way, head coach Greg Wallace won his 500th collegiate game and senior right-hander Mike Trotta (Notre Dame HS, Chicago, Ill.) earned CCIW Co-Pitcher of the Year honors.
The Vikings started the year by winning 11 of 13 games in Florida, including a 10-8 win over Heartland Conference regular season champion Rose-Hulman. They opened play at Swanson Stadium/Brunner Field by splitting a pair of non-conference games, falling 2-1 to Northern Athletics Conference champion Aurora, before rebounding with a win over Monmouth.
Augustana stumbled out of the gate in conference play with a 1-4 record, but the win--4-2 at Elmhurst in a March 31 doubleheader nightcap--marked to 500th career head coaching victory for Wallace.
It didn't take long for the veteran skipper to get the Viking ship righted and Augustana won 12 of its next 18 contests, including 10 of 14 in CCIW play. During the run, the team won two of three each against North Park and Illinois Wesleyan, which finished first and second, respectively, in both the CCIW regular season and conference tournament. Both of those teams reached NCAA tournament play as well. The Vikings also took two of three from each Carthage and Wheaton.
A pair of losses to close the regular season gave Augustana a tie for third in the league and a spot in the conference tournament for the first time since 2009. The fourth seed, the Vikings lost a pair of heartbreakers, falling 4-3 to host North Park and 7-6 to Elmhurst. Each of those contests ended with the bases full of Vikings. Left fielder Mike Barker (Centennial, Colo. Grandview HS, Marina del Rey, Cal.) had a pair of home runs in the Elmhurst game, his last as a collegian.
Barker was one of five Augustana players named to the all-conference first team this year. Trotta shared Co-Pitcher of the Year in the league with North Park's Nick Soldano. He and senior Josiah Martin (Canton HS, Canton, Ill.), who led the CCIW in ERA (1.69), saves (four) and appearances (13), earned first team honors as well. Junior Kurt Schmidt (Grayslake Central HS, Grayslake, Ill.) and Grant Stewart (Sterling HS, Sterling, Ill.) rounded out the Vikings' first team picks. In addition, freshman left-hander Seth Davis (JK Mullen HS, Aurora, Colo.), who was second in the league in strikeouts, and sophomore right fielder Jacob VanDuyne (Wilmington HS, Wilmington, Ill.), who led the conference in hits, were second team selections.
Barker ended up winning the team's triple crown this year with a .380 batting average, three home runs and 33 RBI. He also led in total bases (86) and slugging percentage (.544) and tied for the lead with three triples. He was voted the team's best offensive player. VanDuyne was second with a .376 average, followed by junior shortstop Jeremy Juhl (Glenbard East HS, Lombard, Ill.) at .368. Juhl scored a team-high 42 runs.
Stewart, who started 41 of 42 games at first base, hit .336 and led the team with 19 walks, 11 hit-by-pitches and a .451 on-base percentage. He tied junior Joe Cecchi (Romeoville HS, Romeoville, Ill.) for the team lead with 12 doubles. Schmidt, the Vikings' second baseman, hit .327 and led the club with 18 stolen bases in 21 attempts. He tied senior center fielder Kevin Serna (Rolling Meadows HS, Arlington Heights, Ill.) and Barker for the team lead with three triples. Serna, who was also selected as the team's top defensive player, hit .306 and was the Vikings' second-best base stealer with 11 in 12 attempts.
Trotta and Martin led the Augustana pitching staff this season. Trotta finished the 2012 season with a 7-2 record and a 2.05 ERA, leading the team in wins, starts (10), complete games (five), shutouts (two) and innings pitched (74 2/3). Martin was just as impressive coming out of the Viking bullpen, finishing 4-2 with five saves and a 1.84 ERA. He walked just four batters in 44 innings while fanning 37. Davis led the team with 50 strikeouts and finished the year 3-2 with a 3.51 ERA.
2012 COLLEGE CONFERENCE OF ILLINOIS & WISCONSIN STANDINGS
| | | |
| --- | --- | --- |
| School | Conf | Overall |
| North Park | 14-7 | 32-14 |
| Illinois Wesleyan | 12-9 | 31-17 |
| Elmhurst | 11-10 | 23-20 |
| AUGUSTANA | 11-10 | 25-17 |
| Wheaton | 11-10 | 22-18 |
| North Central | 9-12 | 20-19 |
| Carthage | 9-12 | 21-17 |
| Millikin | 7-14 | 12-28 |
2012 CCIW BASEBALL TOURNAMENT
(at North Park University)
Thursday, May 10
Game 1 - #2 Illinois Wesleyan 9, #3 Elmhurst 5
Game 2 - #1 North Park 4, #4 Augustana 3
Friday, May 11
Game 3 - Elmhurst 7, Augustana 6
Game 4 - North Park 11, Illinois Wesleyan 4
Game 5 - Illinois Wesleyan 4, Elmhurst 1
Saturday, May 12
Game 6 - Illinois Wesleyan 11, North Park 5
Game 7 - North Park 8, Illinois Wesleyan 4
(North Park wins CCIW Baseball Tournament)
2012 AUGUSTANA BASEBALL SUPERLATIVES
ALL-CCIW: First Team - Mike Trotta, P; Josiah Martin, P; Mike Barker, OF; Kurt Schmidt, 2B; Grant Stewart, 1B; Second Team - Jacob VanDuyne, OF; Seth Davis, P.
CCIW CO-PITCHER OF THE YEAR: Mike Trotta.
AUGUSTANA MOST OUTSTANDING OFFENSIVE PLAYER: Mike Barker.
AUGUSTANA MOST OUTSTANDING DEFENSIVE PLAYER: Kevin Serna.
AUGUSTANA MOST OUTSTANDING PITCHER: Josiah Martin & Mike Trotta.
AUGUSTANA NEWCOMERS OF THE YEAR: Grant Stewart, Seth Davis, Kyle Lenihan
AUGUSTANA LEADERSHIP AWARD: Anthony Concialdi.
AUGUSTANA COMMITMENT TO EXCELLENCE AWARD: Josiah Martin.
CCIW HITTER OF THE WEEK: Jeremy Juhl, 3/20/12 & 5/1/12.
CCIW PITCHER OF THE WEEK: Mike Trotta, 3/6/12 & 4/24/12.
AUGUSTANA'S CCIW INDIVIDUAL STATISTICAL LEADERS: ERA - 1.69, Josiah Martin; Saves - 4, Josiah Martin; Appearances - 13, Josiah Martin; Games finished - 9, Josiah Martin; Relief appearances - 13, Josiah Martin; Opponents' batting average - .189, Seth Davis; Pick-offs: 9, Seth Davis; Hits - 33, Jacob VanDuyne; At-bats - 92, Jacob VanDuyne; Triples - 2, Kurt Schmidt, Kevin Serna; Sacrifice Flies - 4, Kurt Schmidt; Fielding double plays - 21, Grant Stewart.
AUGUSTANA'S CCIW TEAM STATISTICAL LEADERS: Sacrifice Flies - 13; Strikeouts 133; Called third strikes - 48; Saves - 5; Pick-offs - 14; Triples allowed - 0.
ADDITIONS TO TOP TEN LISTS
Career
Triples - 9, Kurt Schmidt, 6th; 6, Kevin Serna 10th-T
Innings Pitched - 214 2/3, Mike Trotta, 7th
ERA - 3.30, Josiah Martin, 9th
Single Season
Innings Pitched - 74 2/3, Mike Trotta, 8th
Wins - 7, Mike Trotta, 10th-T