May 21, 2012
2011 Season - Football staff announces "One Day Camps"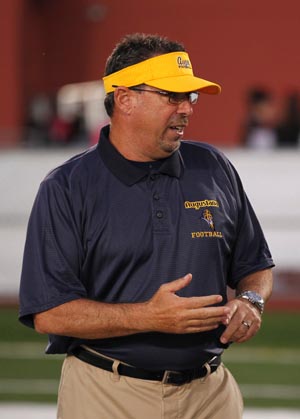 Augustana head football coach Rob Cushman and the Vikings' staff will hold two "One Day Camps" this summer for rising juniors and seniors.
Augustana is planning two "One Day Football Camps" this summer and registration for these camps is open now. The first camp will be June 8 at Ericson Field on the Augustana campus and the second camp will be held at Naperville North High School in Naperville, Illinois on June 22.
The camps will be from 9:30 a.m. until 12:00 noon and are open for rising juniors and seniors in high school. The cost for each camp is just $20.00 and checks can be made payable to "Augustana Football Camp". Both camps will involve fundamental training, skill instruction, evaluation and competition activities. For the June 8 camp at Augustana, lunch will be available and campers can take a tour of the Augustana campus after the camp is over.
Any questions should be directed at Mark Reade, football recruiting coordinator (309) 794-7597 markreade@augustana.edu or Rob Cushman, head coach (309) 794-7526 robcushman@augustana.edu.