May 18, 2012
2011-12 Season - Kargl named IWLCA 2nd team All-Region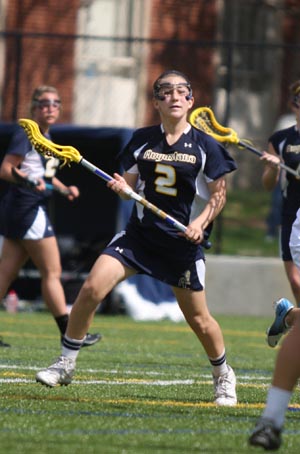 Freshman attacker Hilary Kargl, the nation's second-leading goal scorer, has been named to the IWLCA All-West Region second team.
ROCK ISLAND, Ill.-Augustana freshman attacker Hilary Kargl (Sacred Heart Academy, Louisville, Ky.) has been named to the Intercollegiate Women's Lacrosse Coaches Association's Division III All-West Region second team. Kargl was the leading scorer this year for a Viking program which finished its first varsity season with a 15-3 record and led the nation with an average of 19.22 goals per game.
Kargl was one of just two freshmen among the 32 players named All-West Region, joining Wooster's Molly Sennett on the 16-player second team. The region includes Western Pennsylvania and encompasses everything to the west.
Kargl's 97 goals this season ranked second in the nation, while her average of 5.39 per game was third nationally. She added 23 assists, giving her 120 points. That was good for sixth in the nation and her average of 6.67 points per contest ranked fourth. Kentucky's "Miss Lacrosse" as a senior in high school, she made her presence felt immediately. She scored eight goals at Sewanee in the Vikings' first game ever and in the season's fourth game, she found the net 14 times at Berry, tying an NCAA all-division record. She also had a 10-goal outburst in a win over Puget Sound.
In addition to her scoring, Kargl was credited with 23 grounds balls, seven draw controls and six caused turnovers.