May 17, 2012
2011-12 Season - Bayles and DeSimone share MVP honors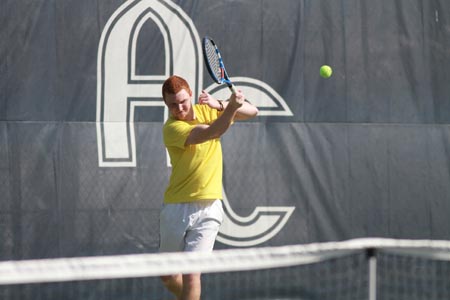 Kevin Bayles shared the MVP award with senior Adam DeSimone for the 2011-12 men's tennis season.
Senior Adam DeSimone (Bettendorf HS, Bettendorf, Iowa) and sophomore Kevin Bayles (Homewood-Flossmoor HS, Flossmoor, Ill.) shared the John R. Olson Most Valuable Player Award for the 2012 Augustana men's tennis team. DeSimone and Bayles were major factors as Jon Miedema completed his first year as the Vikings' head coach with a 16-11 overall record.
For DeSimone, it was the third time in his career that he was named the John R. Olson MVP. He was the sole winner of the award after his freshman year in 2009 and shared the honor with Chris Mullin in 2010. He was a four time all-conference selection in the College Conference of Illinois & Wisconsin, earning second team honors his first three years before moving up to the first team this year.
He finished the year with a 15-16 record at number one singles and was 16-13 at number one doubles with his partner, sophomore Andy Wall (Notre Dame Academy, DePere, Wis.). He ended his career with 136 combined (singles and doubles) victories, the second highest number in Augustana history. He won a school-record tying 73 doubles matches, tying Kyle Doyle's mark set from 2007-11. His 63 singles victories rank second only to Doyle's career record of 66.
Bayles split his time between fifth and sixth singles and finished the season with a 21-7 record. Bayles finished the season just two singles victories shy of the single-season school record of 23 set by rising senior Jack Cullen (Edgewood HS, Madison, Wis.) in 2010. Bayles is actually tied for second with DeSimone (21-8 in 2009) for second on that list. Bayles was 6-4 as a freshman and his career record heading into his junior season is now 27-11.
DeSimone was also the winner of the Hardest Worker award as well.
2011-12 Augustana Men's Tennis Letterwinners
| | | |
| --- | --- | --- |
| NAME | YEAR | HOMETOWN (HIGH SCHOOL) |
| Colin Arnold** | So | Sterling, Ill./HS |
| Kevin Bayles** | So | Flossmoor, Ill./Homewood-Flossmoor |
| Jack Cullen*** | Jr | Madison, Wis./Edgewood |
| Adam DeSimone**** (C) | Sr | Bettendorf, Iowa/HS |
| Will Palmer*** | Jr | Great Britain/Schiller International School – Spain |
| Lawrence Palmer* | Fr | El Prat de Llobregat/Schiller International School |
| Andy Wall** | So | De Pere, Wis./Notre Dame Academy |
| Grant Wick** | So | Ft. Collins, Colo./Windsor |
HEAD COACH: Jon Miedema
ASSISTANT COACH: Scott Stegemann