May 16, 2012
2012 Season - Viking seniors collect team awards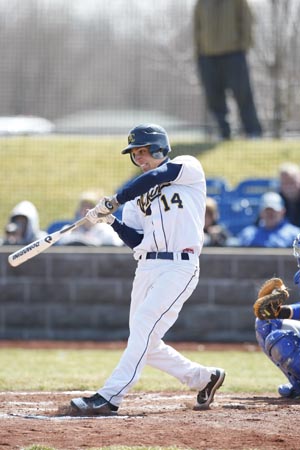 Senior outfielder Anthony Concialdi is this year's winner of the team's Leadership Award.
ROCK ISLAND, Ill. - Augustana baseball coach Greg Wallace has announced his team award winners for the 2012 season and the list is dominated by this year's senior class. Mike Barker (Centennial, Colo. Grandview HS, Marina del Rey, Cal.) was named Outstanding Offensive Player. Kevin Serna (Rolling Meadows HS, Arlington Heights, Ill.) was selected as Outstanding Defensive Player and Mike Trotta (Notre Dame HS, Chicago, Ill.) and Josiah Martin (Canton HS, Canton, Ill.) shared Outstanding Pitcher honors. Anthony Concialdi (Fremd HS, Barrington, Ill.) won the team's Leadership Award while Martin also garnered the "Commitment to Excellence" Award.
Trotta and Martin were both first team All-CCIW selections this season and Trotta was a co-winner of the conference's Pitcher of the Year award. Trotta finished the season with a 7-2 record and a 2.05 ERA, leading the team in wins, starts (10), complete games (five), shutouts (two) and innings pitched (74 2/3). Martin was just as impressive coming out of the Viking bullpen, finishing 4-2 with five saves and a 1.84 ERA. He walked just four batters in 44 innings while fanning 37. In conference play, he led the CCIW with 13 appearances and a 1.69 ERA and his four saves tied for the league lead.
Barker, a first team all-conference left fielder, ended up winning the team's triple crown this year with a .380 batting average, three home runs and 33 RBI. He also led in total bases (86) and slugging percentage (.544) and tied for the lead with three triples.
Serna started the year as the Vikings' right fielder before moving back to center, where he had been a starter for the previous two seasons. He put together his second straight errorless campaign, handling 77 chances, and finished his career with a string of 170 consecutive chances without an error. He also hit .306, stole 11 bases in 12 attempts and tied for the team lead with three triples.
Concialdi started nine games in the outfield, hit .281, stole three bases in four attempts and fielded 11 chances flawlessly.
A junior and two freshmen shared Newcomer of the Year honors. Junior first baseman Grant Stewart (Sterling HS, Sterling, Ill.) earned first team All-CCIW honors this year after transferring from Ellsworth Community College. He hit .336 with one homer and 30 RBI. He led the team with 19 walks, 11 hit-by-pitches and a .451 on-base percentage and tied for the team lead with 12 doubles. Freshman pitcher Seth Davis (JK Mullen HS, Aurora, Colo.) was a second team all-conference selection. He led the Vikings with 50 strikeouts and finished the year 3-2 with a 3.51 ERA. In league play, Davis went 3-1 with a 2.72 ERA and ranked second in the CCIW with 38 strikeouts, seventh in ERA and tied for third with nine appearances. Freshman third baseman Kyle Lenihan (Romeoville HS, Romeoville, Ill.), who worked his way into the lineup at mid-season, hit .305 with one home run and stole four bases in five attempts.
2012 AUGUSTANA VIKINGS BASEBALL LETTERWINNERS
| | | | | | | |
| --- | --- | --- | --- | --- | --- | --- |
| Name | Pos | B-T | HT | WT | Yr | Hometown/High School |
| Dave Balzer** | INF | R-R | 6'0 | 205 | Jr. | Shorewood, Ill./Morris |
| Mike Barker**** | OF | R-R | 5'8 | 160 | Sr. | Marina Del Rey, Calif./Grandview (Centennial, Colo.) |
| Jacques Camalick* | OF | R-R | 6'0 | 185 | Fr | Burr Ridge, Ill./Hinsdale Central |
| Joe Cecchi*** | INF | R-R | 5'10 | 175 | Jr. | Romeoville, Ill./HS |
| Anthony Concialdi*** | OF | R-R | 5'11 | 175 | Sr. | Barrington, Ill./Fremd |
| Seth Davis* | LHP | L-L | 5'9 | 160 | Fr. | Aurora, Co./Mullen |
| Eric Egan* | RHP | R-R | 6'1 | 185 | Fr. | Aurora, Ill./Oswego East |
| Rick Erickson*** | LHP | R-L | 6-2 | 235 | Jr. | Hawthorn Woods, Ill./Lake Zurich |
| Ben Heaton*** | RHP | R-R | 5'11 | 175 | Jr. | Heyworth, Ill./Bloomington Central Catholic |
| Kevin Hodgman* | RHP | R-R | 6'0 | 185 | Fr. | Naperville, Ill./Neuqua Valley |
| | INF | R-R | 5'10 | 170 | Jr. | Lombard, Ill./Glenbard East |
| Brandon Jasper* | OF | R-R | 6'0 | 170 | Fr. | DeWitt, Iowa/Central DeWitt |
| Brian Konecke** | RHP | R-R | 6'2 | 200 | Soph. | Itasca, Ill./Lakes Community |
| Kyle Lenihan* | INF | R-R | 6'0 | 185 | Fr. | Romeoville, Ill./Romeoville |
| Josiah Martin**** (C) | RHP | R-R | 6'4 | 215 | Sr. | Canton, Ill./HS |
| Jared McIntosh*** | RHP/OF | L-R | 6'1 | 190 | Jr. | Davenport, Iowa/Assumption |
| Jim Sandberg*** | C | R-R | 5'10 | 180 | Jr. | Littleton, Colo./JK Mullen |
| Kurt Schmidt*** | INF | R-R | 5'10 | 160 | Jr. | Grayslake, Ill./Central |
| Kevin Serna**** (C) | OF | R-L | 6'0 | 185 | Sr. | Arlington Hts, Ill./Rolling Meadows |
| Grant Stewart* | INF | L-L | 6'1 | 215 | So. | Sterling, Ill./Sterling HS/Ellsworth CC |
| Nicholas Tenerelli* | C | R-L | 5'11 | 170 | Fr. | Downers Grove, Ill./ Downers Grove South |
| Mike Trotta**** | RHP | R-R | 5'11 | 180 | Sr. | Chicago, Ill./Notre Dame |
| Jacob VanDuyne** | OF | R-R | 6'1 | 185 | Soph. | Wilmington, Ill./HS |
| Mark VanNatta* | OF | R-R | 6'0 | 175 | Jr. | Moline, Ill./Alleman Catholic/ Black Hawk CC |