May 16, 2012
2011-12 Season - Women's tennis award winners announced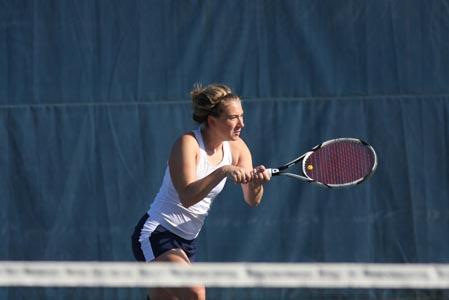 Freshman Miranda Pence shared the "Hardest Worker" award with senior Brittany Reece for the 2011-12 Augustana women's tennis season.
ROCK ISLAND, Ill. – Sophomore Kim Sawyer (Batavia HS, Batavia, Ill.) won the Most Valuable Player award for the Augustana women's tennis team for the 2011-12 season. Sawyer put together a tremendous sophomore season, compiling a 27-7 record while competing at the number one singles position.
She helped lead the Vikings to a 15-11 overall record and a fourth place finish in the College Conference of Illinois & Wisconsin tournament, which was held last fall. She finished the season with the second highest single-season victory total in school history, trailing only her own school record of 29-7 set during her freshman season of 2010-11. In just two seasons she has compiled a 56-14 mark in singles. She is just 20 wins shy of the career record for singles victories set by Kristen Pence from 2001-04.
Sawyer was 14-16 in doubles this past season and was 22-9 as a freshman. Her career doubles record is 36-25 and overall she has compiled a record of 92-39. Twice she has been named to the first team of the CCIW all-conference team. She also has been the CCIW's "Player of the Week" each of her first two years.
The "Hardest Worker" honor was shared by senior captain Brittany Reece (Neuqua Valley HS, Naperville, Ill.) and freshman Miranda Pence (Oswego HS, Oswego, Ill.). Reece was 11-18 in singles as a senior and had a 20-12 record in doubles. She finished her Augustana career with 108 combined (singles & doubles) victories and that places her 15 th on the school's all-time list. Pence posted a 3-2 record in singles and was 5-3 in doubles action during her first year of collegiate action.
2011-12 AUGUSTANA WOMEN'S TENNIS LETTERWINNERS
| | | |
| --- | --- | --- |
| NAME | YEAR | HOMETOWN/HIGH SCHOOL |
| Mariah Bardo* | So | Sterling, Ill./HS |
| Emily Kaczmarek** | So | Lombard, Ill./Glenbard South |
| Chelsea Lavin* | Fr | Downers Grove, Ill./South |
| Caitee Margenthaler* | So | Moline, Ill./HS |
| Krista Panko*** | Jr | Geneva, Ill./HS |
| Miranda Pence* | Fr | Oswego, Ill./HS |
| Brittany Reece**** (C) | Sr | Naperville, Ill./Neuqua Valley |
| Kim Sawyer** | So | Batavia, Ill./HS |
| Katie Scharnagle* | So | Lisle, Ill./St. Francis College Prep |
| Meghan Wethington*** | Jr | Geneseo, Ill./HS |
HEAD COACH: Jon Miedma
ASSISTANT COACH: Scott Stegemann