May 15, 2012
2012 Season - Sarah Hintz named Viking softball MVP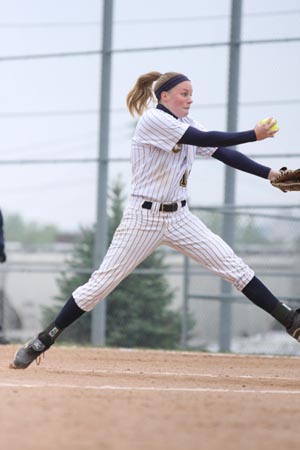 Sophomore pitcher Sarah Hintz in this year's Augustana softball Most Valuable Player.
ROCK ISLAND, Ill. - Sophomore right-hander Sarah Hintz (LeRoy HS, LeRoy, Ill.) has been named Most Valuable Player for the 2012 Augustana softball team. A pair of sophomores, shortstop Krista Watson (Coal City HS, Coal City, Ill.) and first baseman Courtney Ledezma (United Township HS, East Moline, Ill.), shared Best Offensive Player honors and senior center fielder Jillian Gibbs (Rock Island HS, Rock Island, Ill.) claimed the Best Defensive Player Award.
Hintz paced the Augustana pitching staff this season. She finished the year with a 15-4 record and a 1.58 ERA. 16 of her 20 appearances were starting assignments and she completed 12 of those starts, including three shutouts. All of those marks led the staff, as did her 110 2/3 innings pitched and 77 strikeouts. She also hit .240 in 25 at-bats with a pair of doubles.
Gibbs, Augustana's lone first team All-CCIW honoree, handled 42 defensive chances flawlessly this season. She was also a force on offense, hitting .313 with a team-best six home runs to go with 17 RBI. She tied for the team lead with four stolen bases and was not caught.
Ledezma and Watson were both second team All-CCIW selections this year. Ledezma hit .344 with two homers and a team-high 26 RBI. She also led the team with four triples. In addition to her offensive contributions, she was the Vikings' number two pitcher for most of the year, going 8-6 with a 2.98 ERA. Watson led the Vikings in batting average (.380), slugging percentage (.570), on-base percentage (.429), runs scored (25), hits (46), doubles (18) and total bases (69). She tied for second with 22 RBI.
Another pair of sophomores was honored as well. Catcher Randi Applehans (Mountain Vista HS, Highlands Ranch, Colo.) received Most Improved Player. She made 24 starts behind the plate, fielded .977 and threw out 28 percent of would-be base stealers. She hit .200 with six hits, including a double, in 30 at-bats. Pitcher-first baseman Jamie Rehmert (Sterling HS, Sterling, Ill.) won the Viking Award. She went 0-1 with one save and a 3.08 ERA in 13 appearances out of the Augustana bullpen. She also tied for second on the team with three home runs this year despite logging just 33 at-bats. She hit .242 with a .515 slugging percentage.
2012 AUGUSTANA VIKINGS SOFTBALL LETTER WINNERS
NAME

POS

B/T

HT

YR

HOMETOWN/HIGH SCHOOL

Randi Applehans** (C)

C

R/R

5-7

So.

Highlands Ranch, Colo./Mountain Vista

Laura Behnke*

OF

L/L

5-5

Fr.

Roselle, Ill./Wheaton St. Francis

Jillian Gibbs** (C)

OF

R/R

5-6

Sr.

Rock Island, Ill./HS

Sarah Hintz**

P

R/R

5-8

So.

LeRoy, Ill./HS

Amanda Johnson**

OF

R/R

5-4

Jr.

Elmhurst, Ill./York Community

Dawn Kernich**** (C)

OF

B/R

5-7

Sr.

Mount Olive, Ill./HS

Courtney Ledezma**

P

R/R

5-10

So.

East Moline, Ill./United Township

Chelsea Lavin*

OF

R/R

5-3

Fr.

Downers Grove, Ill./South

Jenna Nelson** (C)

3B

R/R

5-7

Jr.

Orion, Ill./HS

Jaime Rehmert*

1B

R/R

5-10

So.

Sterling, Ill./HS

Rachel Russell**

OF

R/R

5-4

Jr.

Willowbrook, Ill./Hinsdale South

Bria Snyder*

OF

R/R

5-7

So.

Frankfort, Ill./Lincoln Way East

Abbi Staples***

OF

R/R

5-5

Sr.

Sterling, Ill./HS

Chaney Tambling**

1B

R/R

5-8

So.

Dwight, Ill./HS

Jenna Teson*

UT

L/R

5-4

Fr.

Algonquin, Ill./Jacobs

Krista Watson**

UT

R/R

5-5

So.

Coal City, Ill./HS

Christie Wiersema*

P

R/R

5-10

Fr.

Morrison, Ill./HS

Jaclyn Wrona*

C

R/R

5-5

Fr.

Wheaton, Ill./Glenbard South