May 14, 2012
2012 Season - Trotta CCIW Co-Pitcher of the Year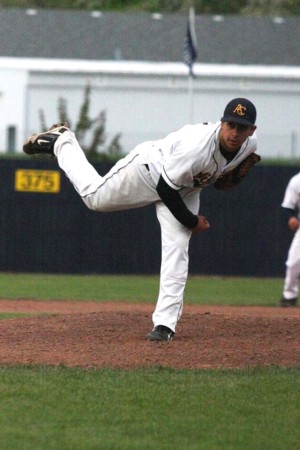 Senior right-hander Mike Trotta has been named Co-Pitcher of the Year in the CCIW. He was one of five Vikings named to the All-CCIW first team in addition to a pair of second team selections.
ROCK ISLAND, Ill.-Five Augustana baseball players, including CCIW Co-Pitcher of the Year Mike Trotta (Notre Dame HS, Chicago, Ill.), have been named to the all-conference first team. In addition, two Vikings earned second team honors.
Trotta, a senior right-hander, shared the league's Pitcher of the Year with Nick Soldano of North Park. He was 4-1 with a 2.28 ERA in conference play this year and completed two of his six starts with one shutout. Overall on the 2012 season, he was 7-2 with a 2.05 ERA, leading the team in wins, starts (10), complete games (five), shutouts (two) and innings pitched (74 2/3).
Joining Trotta as a first team pitcher was senior right-hander Josiah Martin (Canton HS, Canton, Ill.). Martin led the CCIW with 13 appearances and a 1.69 ERA. His four saves in conference play tied for the league lead and he won all three of his decisions.
Also earning first team honors were senior left fielder Mike Barker (Centennial, Colo. Grandview HS, Marina del Rey, Cal.), junior second baseman Kurt Schmidt (Grayslake Central HS, Grayslake, Ill.) and junior first baseman Grant Stewart (Sterling HS, Sterling, Ill.). Barker led the Vikings in batting (.380), homers (three) and RBI (33) in all games this year. In CCIW play, he finished fifth in the league with a .378 batting average and tied for fourth with 31 hits. Schmidt hit .349, tied for the conference lead with two triples and was perfect in eight stolen base attempts to rank third. Stewart hit .345 and tied for sixth in the CCIW with 17 RBI.
Freshman southpaw Seth Davis (JK Mullen HS, Aurora, Colo.) and sophomore right fielder Jacob VanDuyne (Wilmington HS, Wilmington, Ill.)
were second team All-CCIW selections. Davis went 3-1 with a 2.72 ERA in the league. He was second in the CCIW with 38 strikeouts, seventh in ERA and tied for third with nine appearances. VanDuyne tied for the conference lead with 33 hits and ranked ninth with a .359 batting average.
2012 CCIW ALL-CONFERENCE BASEBALL TEAM
| | | | | |
| --- | --- | --- | --- | --- |
| First Team | School | Pos. | Yr. | Hometown/H.S. |
| MIKE BARKER | AUGUSTANA | OF | Sr. | Marina Del Rey, Calif./Grandview (Colo.) |
| Drew Golz | Wheaton | OF | Sr. | River Forest, Ill./Oak Park-River Forest |
| Matt Rice | North Park | OF | Sr. | Park Ridge, Ill./Maine South |
| Dave Wolak | Elmhurst | OF | So. | Carol Stream, Ill./Glenbard North |
| Kevin Callahan | Illinois Wesleyan | INF | Jr. | Chicago, Ill./Brother Rice |
| Mike Coduto | North Park | INF | So. | Carol Stream, Ill./Wheaton North |
| Ryan Miller | Wheaton | INF | Sr. | Poway, Calif./H.S. |
| KURT SCHMIDT | AUGUSTANA | INF | Jr. | Grayslake, Ill./Central |
| GRANT STEWART | AUGUSTANA | INF | Jr. | Sterling, Ill./H.S. |
| Joe Turek | North Central | INF | Sr. | Frankfort, Ill./Lincoln-Way East |
| A.J. Nathan | Illinois Wesleyan | C | Jr. | Highland Park, Ill./H.S. |
| Trey Martin | Wheaton | UT | Jr. | Wheaton, Ill./North |
| Bobby Czarnowski | Illinois Wesleyan | DH | So. | Naperville, Ill./Central |
| Steve Kuligowski | North Park | P | Sr. | Grayslake, Ill./Parkland C.C. |
| JOSIAH MARTIN | AUGUSTANA | P | Sr. | Canton, Ill./H.S. |
| Eric Rohe | Carthage | P | Sr. | Mundelein, Ill./H.S. |
| Nick Soldano | North Park | P | Jr. | Lake Zurich, Ill./Zion-Benton |
| MIKE TROTTA | AUGUSTANA | P | Sr. | Chicago, Ill./Notre Dame |
| Second Team | School | Pos. | Yr. | Hometown/H.S. |
| Steve Hlavac | North Central | OF | Sr. | Naperville, Ill./North |
| Mark McDermott | Illinois Wesleyan | OF | Sr. | Tinley Park, Ill./Andrew |
| JACOB VANDUYNE | AUGUSTANA | OF | So. | Wilmington, Ill./H.S. |
| Justin Zeller | Wheaton | OF | Sr. | Indianapolis, Ind./North Central |
| Joel Bonnett | North Park | INF | Sr. | Springfield, Ill./Sacred Heart Griffin |
| Theo Facer | Millikin | INF | Jr. | Urbana, Ill./H.S. |
| Kyle Pusateri | Carthage | INF | Sr. | Schaumburg, Ill./H.S. |
| Justin Swider | Wheaton | INF | So. | Wheaton, Ill./North |
| Tony Sanchez | North Park | C | Sr. | Plainfield, Ill./South |
| Ben Krusen | North Central | UT | Fr. | Glen Ellyn, Ill./Glenbard West |
| Brad Medina | North Park | DH | Sr. | Mundelein, Ill./H.S. |
| SETH DAVIS | AUGUSTANA | P | Fr. | Aurora, Colo./Mullen |
| Joe Luft | Elmhurst | P | Sr. | Downers Grove, Ill./South |
| Kris Singh | North Central | P | So. | Naperville, Ill./Waubonsie Valley |
CCIW Co-Pitchers of the Year
Nick Soldano - North Park
Mike Trotta - Augustana

CCIW Player of the Year
Kevin Callahan - Illinois Wesleyan

CCIW Co-Coach of the Year
Luke Johnson - North Park
Joel Southern - Elmhurst