May 11, 2012
2012 Season - 400 relay runs :41.13 as Vikings win three events at Dr. Keeler Invitational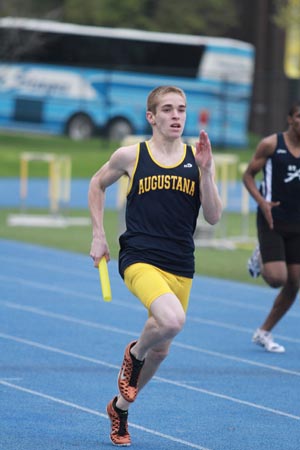 Freshman Keith Cline ran a leg on the Vikings' 400 relay that won the Dr. Keeler Invitational with a time of :41.13. He also placed second in the 200 in :21.88 and third in the 100 in :11.03.
NAPERVILLE, Ill. - As the 2012 men's track & field season winds down, Augustana continues to turn in top-notch performances in preparation for the NCAA Division III national meet. The Vikings, currently ranked fourth in the nation, won three events at the Dr. Keeler Invitational on May 10 & 11 in Naperville, Illinois.
The 400 relay team of freshman David Devore (Midland HS, Midland, Mich.), junior Greg Patton (Bloomington HS, Bloomington, Ill.), freshman Keith Cline (Byron HS, Byron, Ill.) and junior Alex Rindone (Marmion Academy, Geneva, Ill.) won with a sterling time of :41.13.
Rindone won the 200 in :21.62 with Cline grabbing second in :21.88. Patton placed second in the 400 in :48.33. Cline took third in the 100 in :11.03 and Devore was sixth in :11.06.
Senior Phil Christensen (Kaneland HS, Maple Park, Ill.) was the winner in the discus with a toss of 157' 11".
The 1600 relay team of Patton, freshman David Voland (Batavia HS, Batavia, Ill.), senior Greg Davis (Carlinville HS, Carlinville, Ill.) and Rindone took second in 3:14.44. Voland was second in the 400 hurdles in :52.11 while Davis was fourth in :53.27 and freshman Kyle Bennett (Davenport West HS, Davenport, Iowa) placed eighth in :54.51. Davis also placed eighth in the 110 high hurdles in :14.98.
Senior Adam Myers (Dixon HS, Dixon, Ill.) tossed the hammer 184' 2" to take second while senior Brian Benning (Winnebago HS, Winnebago, Ill.) took fifth with a mark of 170' 2". Freshman Josh Prosser (Eureka HS, Goodfield, Ill.) took fourth in the high jump with a clearance of 6' 5". Senior Matt Bowman (Geneva HS, Geneva, Ill.) ran 30:31.86 to finish fourth in the 10,000 while junior Jonathan Smith (Moline HS, Moline, Ill.) was seventh in 30:52.32.