Student's efforts lead to big opportunity
China native Huang attends Berkshire Hathaway annual meeting
May  11, 2012
In the fall of 2010, Xuwei Huang came to Augustana College from Chengdu, China, with great ambition but with little practical grasp of the English language.
Now two years into his American education, Huang, who goes by the first name Kevin stateside, has immersed himself in the culture. His efforts in and out of the classroom led to the opportunity of a lifetime earlier this month.
An economics and accounting major, Huang parlayed a job shadow experience at Augustana's Business Day into a trip to Omaha, Neb. Chris Zimmerman, a financial adviser with Edward Jones in Moline, found his time with Huang so enriching that he invited the 19-year-old sophomore to the Berkshire Hathaway Inc. annual shareholders meeting.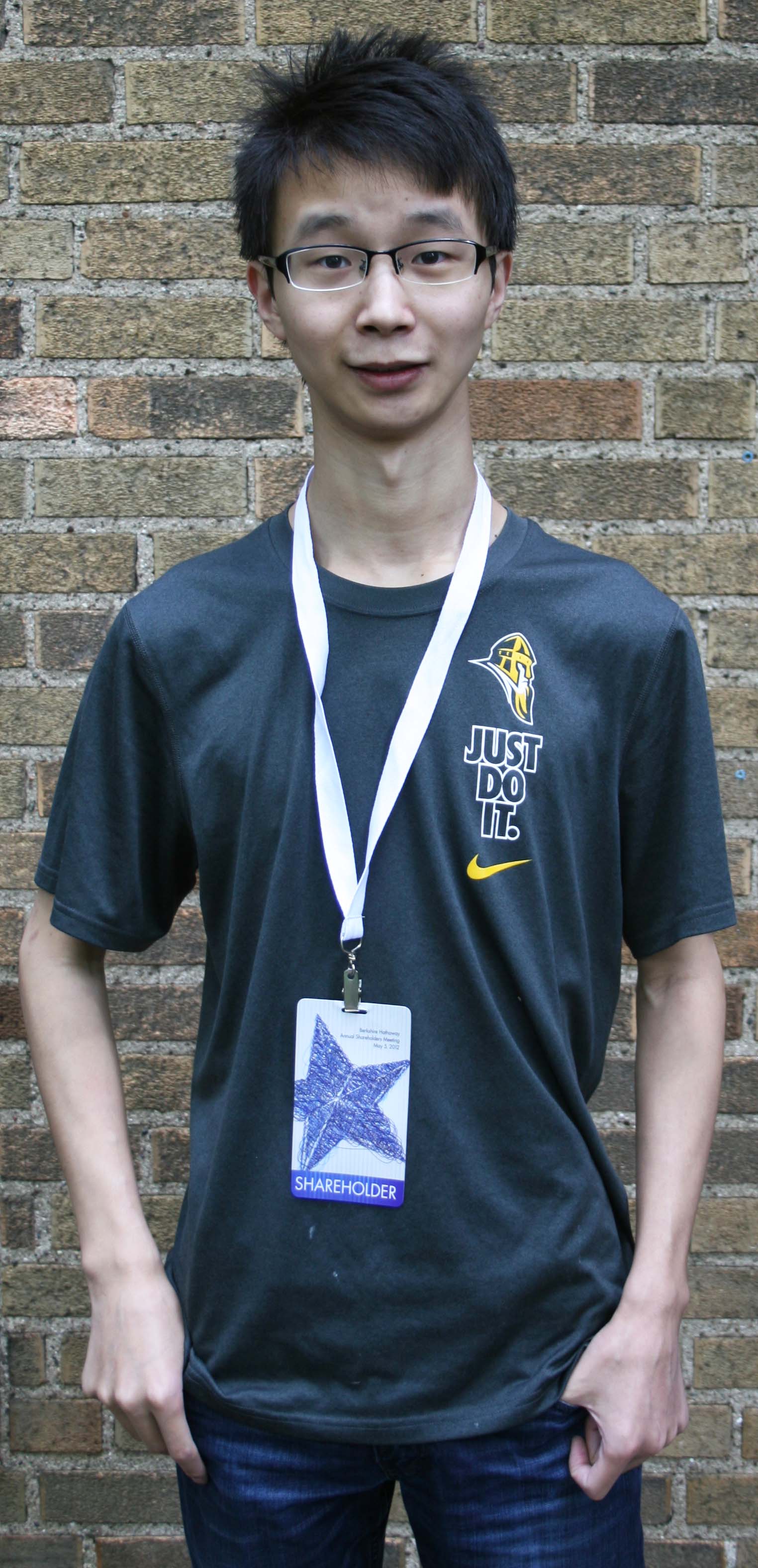 Kevin Huang sports his shareholder credential from the May 5 Berkshire Hathaway annual meeting.
"It was great for me, especially as a finance student," Huang said. "I want to go into investments. I had the chance to listen to Warren Buffett and his partner, Charlie Munger, and their ideas on different aspects of investing, healthcare in America, Social Security and taxes.
"I'm only a student so if can I get any of that, that would be a great experience, especially for my future."
Berkshire Hathaway holds the distinction as the highest-priced shares available on the New York Stock Exchange. Huang joined more than 30,000 shareholders on May 5 and built a strong relationship with Zimmerman.
"He's a delight," Zimmerman said of Huang. "I'll take a 100 more just like him on job-shadow day. It takes courage to come around the world to a place that is very different. That's the courage you need in business to re-craft something and do something special.
"It's hard not to be inspired by that."
Yet Huang came to Augustana with little more expertise in the English language than what he learned in his Chinese high school courses. But he was intent on expanding his knowledge and as a first-year student dutifully went to Augustana's Reading/Writing Center for tutoring three times a week.
Huang concentrated on developing his vocabulary and writing American academic papers. His progress was immediate and impressive.
"He is one of the most focused and determined international students I've ever worked with," Reading/Writing Center director Virginia Johnson said. "He was such a delight to work with because he was so willing and he wanted so badly to learn so much."
Huang's parents are involved with the business world in China, and their son has long shared the same interest. Huang has soaked in his business courses, particularly the three he has had with Dr. Janis Lonergan.
The two statistics courses were straightforward, but Huang's personality and perspective shone in a course focused on international trade.
"I don't think he has the mindset of, 'Oh, I have to have an A,'" Dr. Lonergan said. "It's more, 'What am I learning? How much am I increasing my knowledge?'"
For all Huang's adaptations in class, his acclimation to popular culture is equally striking. He has acquired an appreciation for American TV shows and has seen several local stand-up comedians. He also has become involved with intramural soccer.
At Augustana, Huang feels at ease.
"People here are quite friendly," he said. "It's quite different from what I imagined. "Overall, it's really great."