May 10, 2012
2012 Season - 9th-inning rally falls short at North Park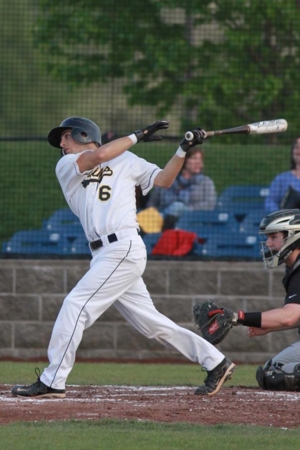 Junior Kurt Schmidt had two of Augustana's five hits, including one in a three-run ninth-inning rally, but the Vikings still dropped their CCIW tournament opener 4-3 at North Park.
CHICAGO, Ill.-Augustana's ninth-inning rally came up just short Thursday as the Vikings dropped their CCIW tournament opener 4-3 at North Park. Trailing 4-0 going to the ninth, the visitors put three runs on the board, and had the bases loaded, but the hosts escaped with the win.
North Park starter Steve Kuligowski had the Vikings' number through eight innings, and struck out Jacob VanDuyne to start the ninth. However, VanDuyne reached on a dropped third strike. Jeremy Juhl (Glenbard East HS, Lombard, Ill.) followed with a fielder's choice grounder and Mike Barker (Centennial, Colo. Grandview HS, Marina del Rey, Cal.) was hit by a pitch. A Grant Stewart (Sterling HS, Sterling, Ill.) single to center loaded the bases. Kurt Schmidt (Grayslake Central HS, Grayslake, Ill.) singled to right, scoring Juhl with Augustana's first run and Joe Cecchi (Romeoville HS, Romeoville, Ill.) drove in Barker with another fielder's choice. That brought Nick Soldano out of the North Park pen. He hit Kyle Lenihan (Romeoville HS, Romeoville, Ill.) to load the bases again and then walked pinch hitter Brandon Jasper (Central HS, DeWitt, Iowa) to force in Stewart, cutting the lead to 4-3. However, Soldano got Kevin Serna (Rolling Meadows HS, Arlington Heights, Ill.) to ground to second for the final out.
After Kuligowski retired Augustana in order in the top of the first, the hosts jumped on top 1-0 in the bottom of the frame. North Park's first four batters each came up with base hits, including Matt Rice's leadoff double. However, Viking catcher Jim Sandberg (JK Mullen HS, Littleton, Colo.) gunned down a runner trying to steal and Mike Trotta (Notre Dame HS, Chicago, Ill.) got a key one-out pop out by Joe Belmonte before fanning Kyle Williams to end the inning without any more damage.
Joel Bonnett's leadoff homer in the second made it 2-0 North Park and the hosts added an unearned run in the fifth. Trotta hit Rice to start the inning and committed an error allowing Zac Worsley to reach before loading the bases with another hit batter. Tony Sanchez grounded to short and the Vikings got the force at second, but couldn't turn the double play, allowing Rice to score North Park's third run. Trotta again got out of further trouble when Belmonte lined to Schmidt at second, who doubled off Sanchez at first to end the inning.
Meanwhile Kuligowski was handcuffing Augustana. The Vikings' first hit, a second-inning single by Schmidt, was erased on a double play. In the third, Augustana couldn't take advantage of a pair of North Park errors and Barker reached on an error to lead off the fourth, but was doubled off second on a Schmidt fly to center, ending the inning.
The only other runners to reach against Kuligowski in the first eight innings were Juhl, who had an infield hit in the sixth and Lenihan, who had a leadoff single in the seventh. Lenihan was erased on a double play.
North Park took a 4-0 lead and knocked Trotta out in the eighth with a walk, followed by a wild pitch and an RBI single by Williams. Freshman Eric Egan (Oswego East HS, Aurora, Ill.) came on in relief and sandwiched a pair of strikeouts around a walk to get out of the inning.
Trotta took the loss, falling to 7-2 on the season. Schmidt, with a pair of singles, was the only player in Augustana's lineup with more than one hit.
Now 25-16, Augustana takes on Elmhurst in an elimination game on Friday, May 11 at 10:00 a.m.