May 9, 2012
2011 Season - Six Vikings named to Hampshire Honor Society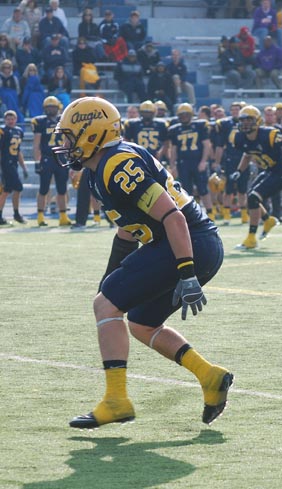 Mitch McGilliard was one of six Augustana football players named to the Hampshire Honor Society by the National Football Foundation.
Six graduating seniors on the Augustana football team were honored as members of the 2012 Hampshire Honor Society by the National Football Foundation. The Vikings honored are: David Lee (Springfield HS, Springfield, Ill.), Ben Hall (University HS, Normal, Ill.), Zach McCullough (St. Charles North HS, St. Charles, Ill.), Mitch McGilliard (Neuqua Valley HS, Naperville, Ill.), Jason Wagner (Burlington Central HS, Elgin, Ill.) and Cody Wickenhauser (Tri-Valley HS, Downs, Ill.).
In order to be eligible for inclusion into the Hampshire Honor Society, the player must be a starter or significant contributor and have finished his final year of eligibility. The student-athlete must also carry at least a cumulative grade point average of 3.20. This is the sixth year that the National Football Foundation has sponsored the Hampshire Honor Society and a total of 721 players representing 232 schools from NCAA Divisions I, II and III and NAIA are included on the list.
Lee was a three year starter at quarterback for the Vikings and served as team captain along with Wickenhauser. Lee was the Vikings offensive MVP three years in a row and set a total of eight school passing and total offense records during his time at Augustana. He holds career pass completions (515) and attempts (839) records as well as single-season marks for passing yards (2411), pass completions (195), pass attempts (317) and total offense (2,665). He also holds the single game records for completions with 28 (three times) and passing yards (429). He was a semi-finalist for the National Football Foundation's William V. Campbell Trophy and played in the 2011 Tazon de Estrella (Bowl of the Stars) in Puebla, Mexico. He will graduate with a degree in business and management and has a 3.478 grade point average.
Wickenhauser, who was actually the Vikings' team captain in both 2010 and 2011, was a linebacker and recorded 25 total tackles (18 solo and seven assists) as a senior. He graduated in the fall after the 2011 season was over with a degree in biology and a 3.442 GPA. He was the winner of the Jerry Freck Award by his teammates at the end of the campaign.
McCullough was a second team all-conference selection at wide receiver with 34 catches for 409 yards. He finished his career sixth on the school's all-time receptions list with 81 and fifth in career receiving yards with 1,329. He is an accounting major with a 3.676 GPA.
Hall was a four-year starter in the secondary and was the fourth leading tackler on the team in 2011 with 45 total tackles. He had 31 solos and 14 assists and contributed four pass deflections, two tackles for loss, two pass interceptions and a fumble recovery. He is a biology major with a 3.358 GPA.
McGilliard played outside linebacker and recorded 37 total tackles, which was seventh on the team. He had 21 solos and 16 assists. The finance major has a 3.534 GPA.
Wagner played wide receiver and caught 11 passes for 110 yards in 2011. He is an accounting major with a 3.447 GPA.