May 5, 2012
2011-12 Season - Paustian leads Vikings at CCIW Tournament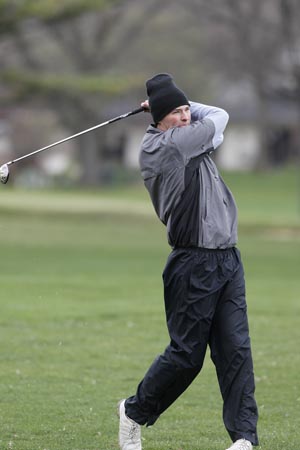 Junior Jeff Paustian was the top finisher for the Vikings at the 2012 CCIW Tournament.
KENOSHA, Wis. - Junior Jeff Paustian (Geneva HS, Geneva, Ill.) turned in the top performance for the Augustana men's golf team at the 2012 College Conference of Illinois & Wisconsin Championship. The CCIW tournament was held over two weekends with the first two rounds taking place on April 27-28 at Oakwood Country Club in Coal Valley, Illinois and the second two rounds in Kenosha, Wisconsin at Strawberry Creek Golf Course.
Augustana finished eighth in the team standings with a four round total of 1,308. The Vikings shot 339 and 316 during the first two rounds and then came back with a 333 and a 320 in rounds three and four. Illinois Wesleyan won the meet with a score of 1,190 (308+292+301+289) with Carthage taking second at 1,204 (305+300+304+295). Millikin was third with a total of 1,215 (306+302+311+296). Wheaton placed fourth with 1,224 (309+310+304+301) and North Park took fifth at 1,258 (322+317+311+308). North Central's sixth place total was 1,292 (318+324+326+324) and Elmhurst's seventh place figure was 1,303 (336+322+328+317).
Paustian had a four round total of 321 and finished in a tie for 26th place in the individual standings. He rebounded from an 87 on the first day to record scores of 79, 79 and 76.
Freshman Jake Groselak (Lemont HS, Lemont, Ill.) and freshman Grant Murphy (Dunlap HS, Peoria, Ill.) tied for 31st with identical total of 328. Groselak shot 79, 81, 84 and 84 while Murphy went 87, 81, 84 and 76. Junior Curtis Lubic (Kaneland HS, Sugar Grove, Ill.) recorded a 336 (88, 78, 86, 84) with freshman Max Channon (Wheaton-Warrenville South HS, Wheaton, Ill.) and freshman Josh Kukla (Zion-Benton HS, Winthrop Harbor, Ill.) both carding 344s. Channon went 89, 78, 91, 86 while Kukla had 86, 83, 89, 86.