May 7, 2012
2012 Season - Gibbs, Watson, Ledezma All-CCIW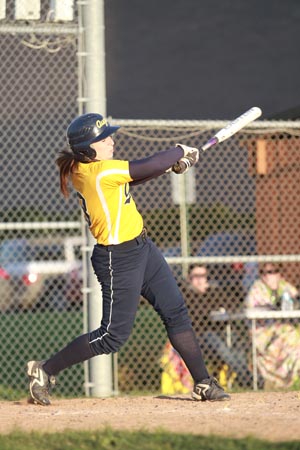 Senior center fielder Jillian Gibbs was named to the CCIW all-conference first team Monday.
NAPERVILLE, Ill. - Augustana senior center fielder Jillian Gibbs (Rock Island HS, Rock Island, Ill.) has been named to the College Conference of Illinois & Wisconsin all-conference softball first team for 2012. Sophomores Krista Watson (Coal City HS, Coal City, Ill.) and Courtney Ledezma (United Township HS, East Moline, Ill.) were named to the second team.
Gibbs hit .313 with six home runs and 17 RBI this season. She led the Vikings in homers, tied for the team lead with four steals (without being caught) and was second in slugging with a .542 mark. In CCIW play, she finished third in the league in slugging percentage (.698), tied for third in homers (four) and fourth in total bases (30).
Watson, a shortstop, led Augustana with a .380 batting average as well as a .570 slugging percentage and .429 on-base percentage. She also led the club with 25 runs scored, 46 hits, 18 doubles and 69 total bases and tied for second with 22 RBI. She ranked 10th in the CCIW with a .356 batting average and tied for third with five doubles in league play.
Ledezma, a first baseman and pitcher, was the Vikings' RBI leader this year with 26. She hit .344 with two home runs and a team-leading four triples. In the circle, she went 8-6 with a 2.98 ERA and struck out 66 in 91 2/3 innings.
2012 CCIW ALL-CONFERENCE SOFTBALL TEAM
| | | | | |
| --- | --- | --- | --- | --- |
| FIRST TEAM | School | Pos. | Yr. | Hometown/H.S. |
| Kathleen Campbell | Millikin | C | Sr. | Harrisburg, Ill./H.S. |
| Lindsey Mikulecky | Elmhurst | C | Jr. | Union Grove, Wis./H.S. |
| Alyssa Schrader | Carthage | 1B | Sr. | Plainfield, Ill./South |
| Jenna Lawrenz | Wheaton | 2B | Sr. | Wheaton, Ill./North |
| Courtney Martin | Illinois Wesleyan | SS | Jr. | Hopedale, Ill./Stanford Olympia |
| Vicki Pyan | Carthage | 3B | So. | Crystal Lake, Ill./South |
| Jillian Gibbs | AUGUSTANA | OF | Sr. | Rock Island, Ill./H.S. |
| Meg Griffin | Elmhurst | OF | Fr. | Naperville, Ill./Central |
| Katie Morman | Carthage | OF | Fr. | Kenosha, Wis./Shoreland Lutheran |
| Jenna Anderson | Millikin | U | Sr. | Gurnee, Ill./Warren Township |
| Allie Riordan | Illinois Wesleyan | DP | So. | Streator, Ill./H.S. |
| Krystina Leazer | Carthage | P | Jr. | Des Plaines, Ill./Elk Grove |
| Molly McCready | Illinois Wesleyan | P | So. | Bloomington, Ill./Tri-Valley |
| Whitney Schafman | Millikin | 1B - At-Large | Sr. | Taylor Ridge, Ill./Rock Ridge |
| Audra James | Illinois Wesleyan | OF - At-Large | Fr. | St. Joseph, Ill./St. Joseph-Ogden |
| | | | | |
| SECOND TEAM | School | Pos. | Yr. | Hometown/H.S. |
| Kaity Crane | Illinois Wesleyan | C | So. | Bloomington, Ill./Normal Community |
| Jessica Toth | Illinois Wesleyan | 1B | So. | St. John, Ind./Hanover Central |
| Mary Caron | North Central | 2B | Sr. | Romeoville, Ill./H.S. |
| Krista Watson | AUGUSTANA | SS | So. | Coal City, Ill./H.S. |
| Emma Clark | Illinois Wesleyan | 3B | Jr. | Morton, Ill./H.S. |
| Ana Pistilli | North Park | OF | Sr. | Chicago, Ill./Loyola Academy |
| Cora Jeffers | Millikin | OF | Jr. | Sherman, Ill./Williamsville |
| Clare Bukowski | Elmhurst | OF | So. | Berwyn, Ill./Morton |
| Courtney Ledezma | AUGUSTANA | U | So. | East Moline, Ill./United Township |
| Lindsay Nauman | Elmhurst | P | Sr. | Byron, Ill./H.S. |
| Alyssa Vorel | Illinois Wesleyan | P | Jr. | Homer Glen, Ill./Lockport |
| Lauren Kitterman | Millikin | P - At-Large | Jr. | Bloomington, Ill./Tri-Valley |
| Vlasta Mangia | North Central | P - At-Large | So. | Cicero, Ill./Morton |
| Lesley Guenard | Wheaton | 1B - At-Large | Sr. | Hanover, Mass./H.S. |
| Keri Leach | Illinois Wesleyan | OF - At-Large | Jr. | Hopedale, Ill./Stanford Olympia |
CCIW Co-Pitchers of the Year
Krystina Leazer - Carthage
Molly McCready - Illinois Wesleyan

CCIW Player of the Year
Alyssa Schrader - Carthage

CCIW Co-Coaching Staffs of the Year
Illinois Wesleyan
Carthage

CCIW Newcomer of the Year
Courtney Martin - Illinois Wesleyan

CCIW Softball Batting Champion
Allie Riordan - Illinois Wesleyan