May 7, 2012
2011-12 Season - Carr, Wilkinson share MVP award for 201-12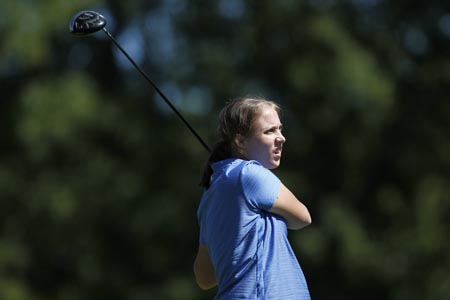 Senior Brittany Carr was named the co-MVP on the 2011-12 Vikings' women's golf team.
Senior Brittany Carr (Lincoln-Way East HS, Frankfort, Ill.) and junior Morgan Wilkinson (Westmont HS, Westmont, Ill.) have been chosen as Co-Most Valuable Players for the 2011-12 Augustana women's golf team. Wilkinson was also selected as a captain-elect for the 2012-13 season, along with junior Megan Vandersee (Sterling HS, Sterling, Ill.).
Carr led the Vikings with an average round of 88.7 strokes this season, while Wilkinson was right behind at 88.8. Each was a medalist this once this year. Carr won at the Loras Women's Spring Invite on April 1 and Wilkinson captured Monmouth's Fighting Scots Invitational on April 27. Each had a second-place finish as well, with Carr taking second at Mt. Mercy in the fall and Wilkinson tying for second at the Augie Invite on April 19.
Vandersee, who tied Carr for low score at Loras, averaged 91.1 strokes this season, fifth-best on the team.
Sophomore Jamie Lawrence (Moline HS, Moline, Ill.) was chosen as the team's Most Inspirational Player. She had an average round of 92.4 strokes and captured a third-place finish in helping the Vikings to the team title at the Benedictine Invitational in the fall. That performance also earned her CCIW Golfer of the Week.
Kaitlyn Czerwonka (Batavia HS, Batavia, Ill.), with a 99.5 per-round average, was chosen as Most Valuable Freshman.
Sophomores Kelly Olson (Prairie Ridge HS, Crystal Lake, Ill.) and Megan Alano (Lockport Township HS, Crest Hill, Ill.) shared Most Improved Player honors. They averaged 103.4 and 105.8 strokes per round, respectively.
2011-12 AUGUSTANA VIKINGS WOMEN'S GOLF LETTERWINNERS
| | | |
| --- | --- | --- |
| NAME | YEAR | HOMETOWN/HIGH SCHOOL |
| Megan Alano* | Sophomore | Crest Hill, Ill./Lockport Township |
| Dena Capitani** | Sophomore | Hinsdale, Ill./Hinsdale Township |
| Brittany Carr****(C) | Senior | Frankfort, Ill./Lincoln Way East |
| Emily Comperda* | Sophomore | Geneva, Ill./HS |
| Kaitlyn Czerwonka* | Freshman | Batavia, Ill./HS |
| Kelly Farina** | Sophomore | Bloomington, Ill./Normal West |
| Jamie Lawrence** | Sophomore | Moline, Ill./HS |
| Katelyn Lazar** | Sophomore | Sherman, Ill./Williamsville |
| Kelly Olson** | Sophomore | Crystal Lake, Ill./Prairie Ridge |
| Megan Scott* | Freshman | Elmhurst, Ill./York |
| Megan Vandersee*** | Junior | Sterling, Ill./HS |
| Morgan Wilkinson*** | Junior | Westmont, Ill./HS |