May 7, 2012
2011-12 Season - Wrestling announces 2012 award winners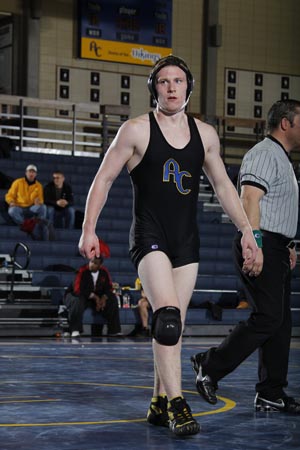 Junior Matt Burns, shown here moments after winning the CCIW title at 165 pounds, won both the Sacrifice Award and the Most Improved Wrestler for the 2011-12 season.
Augustana wrestling head coach Eric Juergens' has announced his 2011-12 team award winners and a trio of conference champions heads the list. Sophomore Jordan Richardson (Grandville HS, Wyoming, Ill.) was named the Vikings' Most Valuable Performer. Senior Alberto Quiros (J. Sterling Morton HS, Cicero, Ill.) earned his fourth straight Hardest Worker Award and junior Matt Burns (Naperville Central HS, Naperville, Ill.) won the Sacrifice Award. Burns also shared Most Improved Wrestler with freshman Connor Cummings (Downers Grove North HS, Woodridge, Ill.).
Richardson won the CCIW title at 174 pounds and went on to finish third at the Great Lakes Regional in Minneapolis, Minnesota and eighth at the NCAA Division III National Tournament in LaCrosse, Wisconsin. His performance at nationals earned him All-America status, making him the first Augustana grappler since 2003 to achieve that honor. He won individual titles at the Knox Open (at 184 pounds) and Central Tournament. Richardson finished the year with a 38-11 record, leading the team in wins and tying him for 20th on Augustana's all-time single season wins list.
Quiros, who won the 2012 conference championship at 149 pounds and shared CCIW Most Outstanding Wrestler honors with Richardson, was named Hardest Worker for the fourth consecutive year. He finished second at the Great Lakes Regional and advanced to the national meet. He earned CCIW Wrestler of the Week recognition after winning the 149-pound weight class at Central and finished the year with a 36-11 record. The team's lone senior was also Augustana's male Merle Chapman Award winner this spring.
Burns stormed through the CCIW 165-pound weight class to win the title as the fourth seed. He also captured a third place finish at the Great Lakes Regional and, like Richardson and Quiros, advanced to nationals. He finished 28-17 this year.
Cummings, a freshman 184-pounder, finished 8-10 and shared Most Improved honors with Burns.
2011-12 AUGUSTANA WRESTLING LETTERWINNERS
| | | | |
| --- | --- | --- | --- |
| NAME | WEIGHT | YR | HOMETOWN (HIGH SCHOOL) |
| Alexander Bowers* | 157 | Fr | Noblesville, Ind./HS |
| Thomas Browne* | 133 | Fr | Hainseville, Ill./Grayslake |
| Matthew Burns*** | 165 | Jr | Naperville, Ill./Central |
| Connor Cummings* | 184 | Fr | Woodridge, Ill./Downers Grove North |
| Abraham Duran** | HWT | So | Aurora, Ill./East Aurora |
| Hunter Feraco*** | 184 | Jr | Battle Creek, Mich./Gull Lake |
| Greg Gogonas** | 141 | Jr | Austin, Texas/James Bowie |
| Cody Heche*** | 174 | Jr | Cary, Ill./Cary-Grove |
| Tyler Hernandez*** | 141 | Jr | Maricopa, Ariz./Bloomington |
| Ian Knepshield*** | 184 | Jr | Ford City, Pa./Shady Side |
| Derek Law* | 141 | Fr | Colorado Springs, Colo./Air Academy |
| Gary Miller* | 174 | Fr | Littleton, Colo./Columbine |
| Steve Monaco* | 197 | Fr | Hickory Hills, Ill./Stagg |
| Mitch Musgrove** | 149 | So | Andover, Ill./Orion |
| Walter Piech* | 149 | Fr | Mokena, Ill./Lincoln-Way East |
| Steve Poffenberger*** | 133 | Jr | Paw Paw, Mich./Allegan |
| Alberto Quiros**** | 149 | Sr | Berwyn, Ill./Morton |
| Matthew Regnier*** | 197 | Jr | Riverside, Ill./Riverside-Brookfield |
| Jordan Richardson* | 184 | So | Wyoming, Mich./Grandville |
| Hector Ruiz* | 141 | Fr | Aurora, Ill./East |
| John Schraidt* | HWT | Fr | Riverside, Ill./Riverside-Brookfield |
| John Seaman* | HWT | Fr | Munster, Ind./HS |
| Kevin Sundberg* | 157 | Fr | Paw Paw, Mich./HS |
| David Tessiatore* | 157/149 | Fr | Downers Grove, Ill./North |
| Eric Timko* | 149 | Fr | Geneva, Ill./Community |
| Torey Welch* | 157 | Fr | Littleton, Col./Valor Christian |
| Seth Whan* | 174 | Fr | Viola, Ill./Sherrard |
| Zackary Wheeler* | 141 | Fr | Marseilles, Ill./Seneca |