May 5, 2012
2011-12 Season - Vikings fall in third place match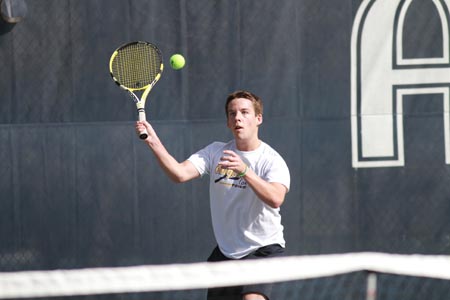 Sophomore Grant Wick picked up a victory at number six singles during Augustana's 6-3 loss to Carthage in the third place match of the CCIW Tournament.
ROCK ISLAND, Ill. - Carthage defeated Augustana 6-3 for third place in the College Conference of Illinois & Wisconsin men's tennis tournament on Saturday, May 5 at the Lower Campus Courts. The Vikings, who dropped a gut-wrenching 5-4 decision to Wheaton in the semi-finals the night before, end their season with a 16-11 overall record.
Carthage jumped out to a 2-1 lead after the doubles competition with Augustana picking up a win at number three where junior Will Palmer (Schiller International School, Leicester, England) and sophomore Kevin Bayles (Homewood-Flossmoor HS, Flossmoor, Ill.) defeated Alex McLean and Conor Moon 9-8.
The other two Viking wins came at number five and six singles. At number five Bayles beat Nick Boomgarden 5-7; 6-3; 10-8 and sophomore Grant Wick (Windsor HS, Fort Collins, Colo.) defeated Brian Howes at number six by a score of 6-3; 6-4.
SINGLES
1 - Jeff Lotz (C) beat Adam DeSimone (A) 6-1; 6-1
2 - Daneric Hazelman (C) beat Andy Wall (A) 6-3; 6-2
3 - Matt Whiteside (C) beat Jack Cullen (A) 6-2; 6-3
4 - Alex McLean (C) beat Colin Arnold (A) 1-6; 6-4; 7-6
5 - Kevin Bayles (A) beat Nick Boomgarden (C) 5-7; 6-3; 10-8
6 - Grant Wick (A) beat Brian Howes (C) 6-3; 6-4
DOUBLES
1 - Jeff Lotz/Daneric Hazelman (C) beat Adam DeSimone/Andy Wall (A) 8-0
2 - Matt Whiteside/Nick Boomgarden (C) beat Jack Cullen/Colin Arnold (A) 8-4
3 - Will Palmer/Kevin Bayles (A) beat Alex McLean/Conor Moon (C) 9-8