May 5, 2012
2012 Season - Vikings settle for split with Millikin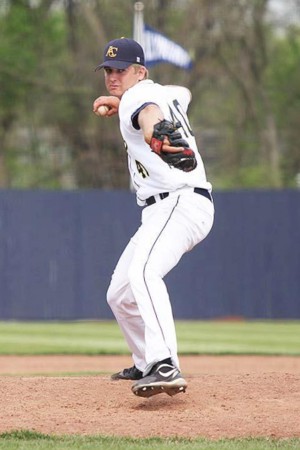 Senior reliever Josiah Martin recorded his fifth save of the season and lowered his ERA to 1.12 with 2 2/3 scoreless innings Saturday. Augustana split its doubleheader with Millikin, winning the opener 5-2 and dropping tha nightcap 12-5.
MOLINE, Ill.-Augustana got another solid start from ace Mike Trotta (Notre Dame HS, Chicago, Ill.) and a save from Josiah Martin (Canton HS, Canton, Ill.) in a 5-2 game one win Saturday but dropped the nightcap of its doubleheader with Millikin by a score of 12-5. The Vikings were eliminated from CCIW title contention, but did secure a spot in next weekend's conference tournament. They complete their three game series with the Big Blue on Sunday, May 6 at 11:00 a.m.
GAME ONE: Augustana 5, Millikin 2
Trotta went seven innings in Saturday's opener to pick up his seventh win in eight decisions this season.
His teammates staked him to an early lead with three runs in the third. Kevin Serna (Rolling Meadows HS, Arlington Heights, Ill.) led off the inning with a double to right center. Jacob VanDuyne (Wilmington HS, Wilmington, Ill.) moved him to third with a bunt single. Jeremy Juhl brought home the first Viking run, scoring Serna with a sacrifice fly to center while VanDuyne moved to second on a heads-up baserunning play. After a Kurt Schmidt (Grayslake Central HS, Grayslake, Ill.) single and stolen base, VanDuyne scored on Grant Stewart's (Sterling HS, Sterling, Ill.) infield grounder which resulted in a Millikin error. Joe Cecchi (Romeoville HS, Romeoville, Ill.) forced Stewart at second with a fielder's choice ground ball and then worked the double steal with Schmidt scoring from third. Cecchi made the third out of the inning on the play.
Millikin took advantage of three hits and a walk to get on the scoreboard in the top of the fourth, but Trotta left the bases full of Big Blue runners to keep the score at 3-1.
In the bottom of the frame, Kyle Lenihan (Romeoville HS, Romeoville, Ill.) led off with a single to right center and moved to second when Big Blue center fielder David Peters bobbled the ball. Anthony Concialdi (Fremd HS, Barrington, Ill.) reached on a bunt single and Jim Sandberg (JK Mullen HS, Littleton, Colo.) was hit by a pitch to load the bases. Serna scored Lenihan with a sac fly to center and Concialdi came home on a bunt single by VanDuyne to give the Vikings a 5-1 lead.
Millikin cut it to 5-2 with an unearned run in the sixth, but Trotta again left three Millikin runner stranded.
Trotta completed a scoreless seventh before giving way to Martin, who threw a scoreless eighth and ninth to pick up his fifth save of the season.
Trotta scattered eight singles while walking two and fanning four.
VanDuyne, Schmidt and Lenihan led a nine-hit Augustana attack with two base knocks each.
Game Two: Millikin 12, Augustana 5
The Big Blue jumped out in front 9-0 after fine inning in the nightcap and cruised to a 12-5 win.
The visitors got to Viking starter Seth Davis (J.K Mullen HS, Aurora, Colo.) for three runs in his four-inning stint. Millikin scored two runs in the second on the strength of two hits and a pair of walks and used a single, a walk and a wild pitch to add a run in the third.
The Big Blue pulled away with a six-run fifth. Junior Rick Erickson (Lake Zurich HS, Hawthorn Woods, Ill.) came on in relief of Davis and struck out Peters to open the inning. However, Kollin Haws followed with a double and Dan Weber drew a walk. It still looked like Erickson might escape unscathed when he fanned Theo Facer, but a single and a walk forced in a run and knocked him out in favor of Ben Heaton (Bloomington Central Catholic HS, Heyworth, Ill.). Millikin added four runs on two singles, an outless fielder's choice and an error before Heaton fanned Haws to end the inning.
An RBI double by Mike Barker (Centennial, Colo. Grandview HS, Marina del Rey, Cal.) and a two-run single by Stewart cut the deficit to 9-3 in the sixth, but the Big Blue got one right back off Brian Konecke (Lakes Community HS, Itasca, Ill.) in the top of the seventh. They scored a pair of unearned runs in the ninth and the Vikings had single tallies in the seventh and ninth to account for the final.
VanDuyne and Stewart each had two hits and two RBI and Barker and Lenihan also had a pair of hits each. Davis took the loss and fell to 3-2.