May 4, 2012
2011-12 Season - Close decision ends CCIW title hopes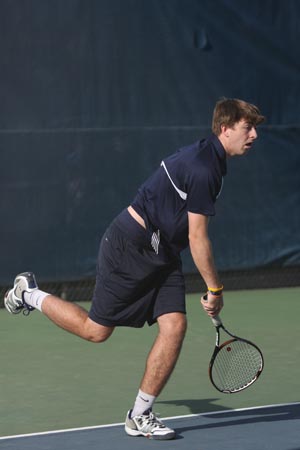 Junior Jack Cullen picked up a 7-6; 6-4 victory over Jordan Williams of Wheaton at number three singles in the CCIW semi-final loss to the Thunder on Friday, May 4 at the Quad City Tennis Center.
MOLINE, Ill. - Augustana dropped a tough 5-4 decision to Wheaton in the semi-finals of the College Conference of Illinois & Wisconsin men's tennis tournament on Friday, May 4 at the Quad City Tennis Club. The Vikings fall to 16-10 overall and will now face Carthage at 10:00 a.m. on Saturday, May 5 for third place.
The Vikings took a 2-1 lead on the number one seeded Thunder after the doubles competition. The number one team of sophomore Andy Wall (Notre Dame Academy, DePere, Wis.) and senior Adam DeSimone (Bettendorf HS, Bettendorf, Iowa) beat Josh Ward and Jordan Williams 8-4 and moved to 16-12 on the year.
The number three team of sophomore Kevin Bayles (Homewood-Flossmoor HS, Flossmoor, Ill.) and junior Will Palmer (Schiller International School, Leicester, England) beat Joel Parrish and David Buursma 9-7. Bayles and Palmer are now 4-0 this year.
It was nearly 3-0 after the doubles as the number two team of junior Jack Cullen (Edgewood HS, Madison, Wis.) and sophomore Colin Arnold (Sterling HS, Sterling, Ill.) fell 8-9, 5-7 in the tiebreaker to Miles Greenwald and Taylor Johnson. Arnold and Cullen are 18-5 on the season.
Cullen picked up a 7-6; 6-4 win over Williams at number three singles to go to 11-13 while sophomore Grant Wick (Windsor HS, Fort Collins, Colo.) beat Greenwald 6-2; 6-4 at number six and moved to 9-4.
SINGLES
1 - Taylor Johnson (W) beat Adam DeSimone (A) 6-1; 6-4
2 - Josh Ward (W) beat Andy Wall (A) 6-1; 6-4
3 - Jack Cullen (A) beat Jordan Williams (W) 7-6; 6-4
4 - Joel Parrish (W) beat Colin Arnold (A) 6-4; 6-2
5 - David Buursma (W) beat Kevin Bayles (A) 7-6; 7-5
6 - Grant Wick (A) beat Miles Greenwald (W) 6-2; 6-4
DOUBLES
1 - Andy Wall/Adam DeSimone (A) beat Josh Ward/Jordan Williams (W) 8-4
2 - Miles Greenwald/Taylor Johnson (A) beat Jack Cullen/Colin Arnold (A) 9-8
3 - Kevin Bayles/Will Palmer (A) beat Joel Parrish/David Buursma (W) 9-7